When I open up a Finder window on my Mac, is there a way to sort the files by size, biggest to smallest? And be able to see the size of each file? It usually opens in icon view, which is annoying!
The Mac operating system, MacOS X, does its best to default to the right sort of display for various uses, but it's not always correct. Icon view, where each file is represented by a picture that's typically related to the program that can open the file, works great in a lot of situations. Icon view isn't useful if you want to know more about files, like how old they are or their size! Fortunately, MacOS X Finder has all sorts of semi-hidden features and capabilities that are worth knowing.
Of all possible attributes, file size is perhaps the most interesting because what is the size of a folder? Is it the accumulated size of everything within the folder? Is it the size of the data structure needed in the file system to store all the file names? Or the file information blocks? Or is it better to just not display anything to avoid confusion? Turns out that different systems display each of those options, depending on your usage context. Confusing, for sure.
Let's focus on the regular Finder window in MacOS X as it's the most common view for a lot of users. If I have a quick peek at my Downloads folder, here's what I'd see:
Notice that the Finder is giving me a bit of additional info under some of the files: file size or image dimensions. How do you get this? Glad you asked! Choose File > Show View Options (or shortcut by typing in Command-J) and you'll get the View Options window:
It's near the bottom: check "Show Item Info" and that information will show up on the Finder view. Notice while you're viewing this tiny window that there's a "Sort By" option too. It's defaulting to sorting by "Name" but you can choose size too.
There are a lot of easier ways to change your view too, however. Look at the tool bar along the top of the Finder window. Here it is, big enough to see the icons:
Leftmost, selected, is icon view. That's the tiny squares. The next button, all the horizontal lines, gets you to list view, which is what we'll want. The triple column view? That's known as "columns" view and is great if you're jumping around in folders and subfolders. Finally, the rectangle with the tiny dots below is "gallery" view, great for folders full of images. Line, dots, line dots? That's file grouping and if you hold down the Option key, you can use it to change sort order too!
Click to switch to list view by choosing the four horizontal lines and you'll see something like this:
Hopefully you already know that you can easily click on a column header – like "Kind" – and sort by that datum. A second click and it'll reverse the sort. Easy enough. What's not obvious is that if you Control-click (e.g., hold down the Control key while clicking) on any of the column headers, you can pull up a menu of all possible info that can be included. Like this: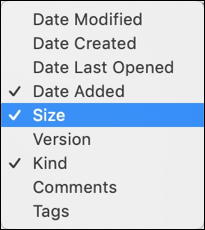 The check marks indicate which columns should be shown, in addition to the name, which always shows up! But you can see that the Finder window shows "Date Added" but there are three other dates associated with a given file that can be displayed instead, or in addition! Most importantly, you can add "Size", as desired.
Now that Finder window shows size. A single click on the Size column header and the files are now sorted by size and
Nifty, eh? And now you know how to not only display the info you want in list view but how to sort by any of those columns too.
Pro Tip: I've been writing Mac help tips for many years, so please check them out while you're here!