My neighbor was telling me that she gets a photograph of every letter left in her mailbox from the postal service. What a great service! How can I sign up [for "informed delivery"] and how much does it cost?
It's easy for people to complain that the US Postal Service (USPS) hasn't upgraded, updated, or innovated in the last decade or two, but the fact is that the enormous agency does keep adding interesting new features. One of my favorites is what your neighbor was telling you about: Informed Delivery. A completely free service, it basically loops you in to the enormous data stream of information traveling through the postal service as mail is accepted, routed, and delivered throughout the United States of America.
Just to put a few numbers to this discussion, The USPS has over 640,000 employees and delivers 429 million letters per day and 24 million packages each day too. It adds 4,800 new addresses every single day, and 39 million people subscribe to Informed Delivery. Oh, and all without a single dollar of taxpayer money received for operating expenses. Quite an impressive operation considering how much of its expenses are covered by those $0.55 first-class postage stamps…
But back to Informed Delivery. The way the system works is that as mail is added to the overall postal system, it's scanned and routed. The scan includes a photo of the entire front of the item and that's what's shared with Informed Delivery. It's not your local carrier taking a photo of each letter before slipping it in your mail slot, and occasionally will be off a day, but overall, a simple and smart service. Let's get you signed up!
HOW TO SIGN UP FOR USPS INFORMED DELIVERY
As a first step, go to informeddelivery.usps.com to sign up. You'll see this: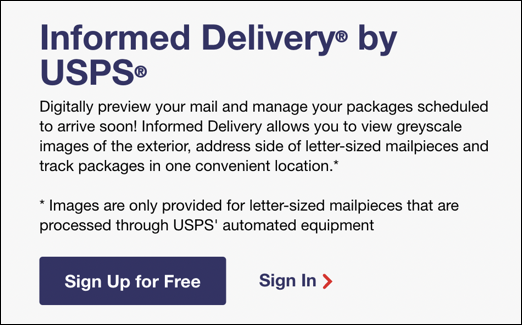 I want to reiterate that you should ensure you're at USPS.COM for this, not a third-party site, nor a site that claims you have to pay a subscription fee for this service. It's free.
A click on "Sign Up for Free" and you'll begin a pretty typical journey through signing up for an online service…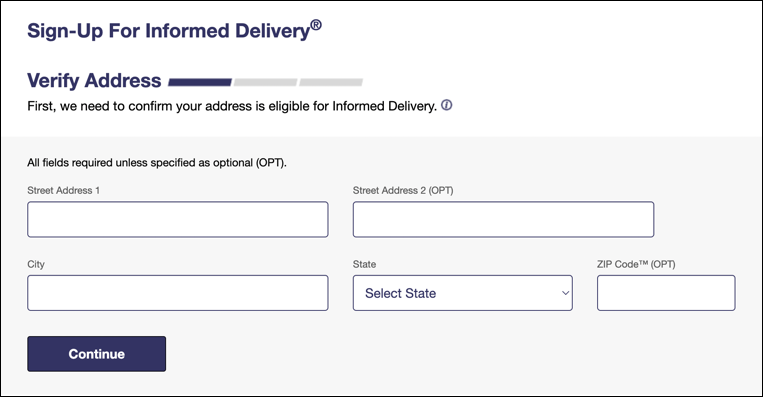 Type in your address as the Postal Service corrects it, so an official abbreviation for your street, avenue, circle, or court, the proper spacing for the street name, etc. It'll suggest a fix if you're not quite spot on once you click "Continue"…
Most importantly, notice that it's affirmed that at my address in Boulder, I can indeed receive Informed Delivery notifications. Phew! If you aren't eligible, I'm not sure that there's much you can do, but you could try emailing this group to ask why your home, apartment, condo, or business isn't allowed to subscribe.
You'll want to read the Terms & Conditions and remember that if your email is compromised then that person will then have access to your incoming physical mail, including bills, letters from other businesses, etc.
All good? Click "Continue".
CREATE USERNAME AND PASSWORD FOR USPS.COM
Now it's time to set up a username and password. And, as you'll see, the postal service is serious about you choosing a good password! No "puppylove" or "123password":
I suggest you consider using a username that you don't use on other sites, then utilizing a tool like 1Password to manage this and all your other site passwords. In terms of a password? Well, it'll remind you:
As I said, "puppylove" just isn't going to cut it. Once you do have a password that works, you will need to enter a couple of security questions and answers, then you can proceed. The last few checkboxes on that page are thus:

I recommend that you don't check them so that you don't get spam from USPS, which you've otherwise just signed up to receive. Okay, maybe it's not "spam", per se, but I'm confident it will produce email in your inbox that you won't be interested in. So, yeah, spam. 🙂
WHAT INFORMED DELIVERY LOOKS LIKE
Once signed up, you'll see information on the previous week's deliveries. Mine looks like this: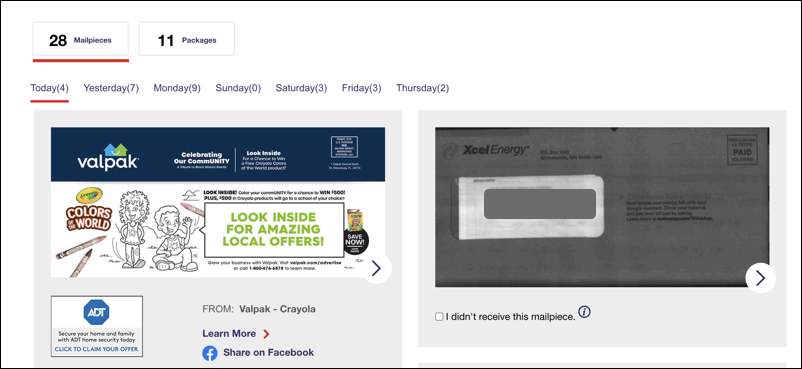 You can see that the Valpak mailing and a bill from Xcel Energy are part of today's mail delivery, and that there are a total of 4 items that will be included in today's delivery (the tiny "(4)" adjacent to "Today" near the top). Notice that Monday was a big day for mail with 9 items delivered, while last Thursday only saw two items in my mailbox.
Perhaps the most useful feature of Informed Delivery is the little checkbox below each item pictured: "I didn't receive this mailpiece". Wait a day or two in case it's delayed by the carrier, but if you don't get something you should have, check that box and you can begin a trace to try and recover the otherwise lost item. Very simple!
More fun is that I also have 11 packages in the mix, which I can view by clicking on "Packages" at the top. Here's what it shows:
The top one's out for delivery, so should arrive today. The second is still a few days away; it estimates Feb 11 for delivery, two days from today. The bottom one was delivered on Feb 5, 4 days ago. Yep, I did get a package on Saturday.
SIGNING UP FOR NOTIFICATIONS FROM USPS
Once you're signed up you can then opt to receive a daily email digest of all letters and packages that should be delivered that day. It's a simple on/off toggle:

If that's showing "YES", you're signed up. You can also sign up for text message notifications for packages too, either of everything or just a specific event or type of delivery:
I signed up for text messages that notify me of package delivery, as you can see. Immediately below it, the site will display what phone number it will use, so double check that's correct so your texts don't go to someone else! When I signed up, I immediately got two notifications on my phone:
Expected delivery on… wait! That's today! Sweet. As a side benefit, these text notifications will also serve to tell you when your mail has been delivered to the mailbox if it's otherwise a hassle to get to your box!
That's it. Now you know how to sign up, set up notifications, and explore all the information shared by the USPS through this excellent and surprisingly free service. I'm glad I'm signed up.
Pro tip: I've been writing about Internet, Web, and computing basics for quite a few years now and have amassed an enormous library of free help tutorials and guides. Why not check out my Computing Basics Library for more useful and interesting tutorials while you're here? Thanks!