I want to give a couple of books to my husband as a surprise, but he's always home and always opens any package we receive. How do Amazon Lockers work and how can I have something delivered to an Amazon Locker?
You have exactly the right solution to your problem with an Amazon Locker. Used to be if you wanted to surprise someone, you'd have a friend or neighbor receive or intercept the package, but in most communities, there are banks of lockers available at the local market, gas station, or similar. If you do have that option, it's really simplicity itself to order things and set the delivery address to your local locker, rather than your home or place of work.
Better yet, there's no additional fee or charge and many Amazon Lockers have 24-hour pickup so you can swing by on the way home from a shift and grab your books, whether it's 6pm or 3am. You do, however, have to pay attention when you select which locker you're going to use because while some are available 24×7 there are others that are only business hours Monday-Friday, which could be really frustrating if you have speedy delivery just to have it wait a few days for you to finally gain access!
I needed to order a replacement USB-C cable a few days ago, so I decided it was the perfect opportunity to have that delivered to a local Amazon Locker, rather than my house. To start, don't use one-click purchasing: You want to change the delivery address! Do that in the shopping cart. It looks like this:

Enter the zipcode nearest where you want to pick up your books. Remember it can be near work, home, or across town just to keep things discrete and mysterious! In my town of Boulder, Colorado, there are a number of options, as shown: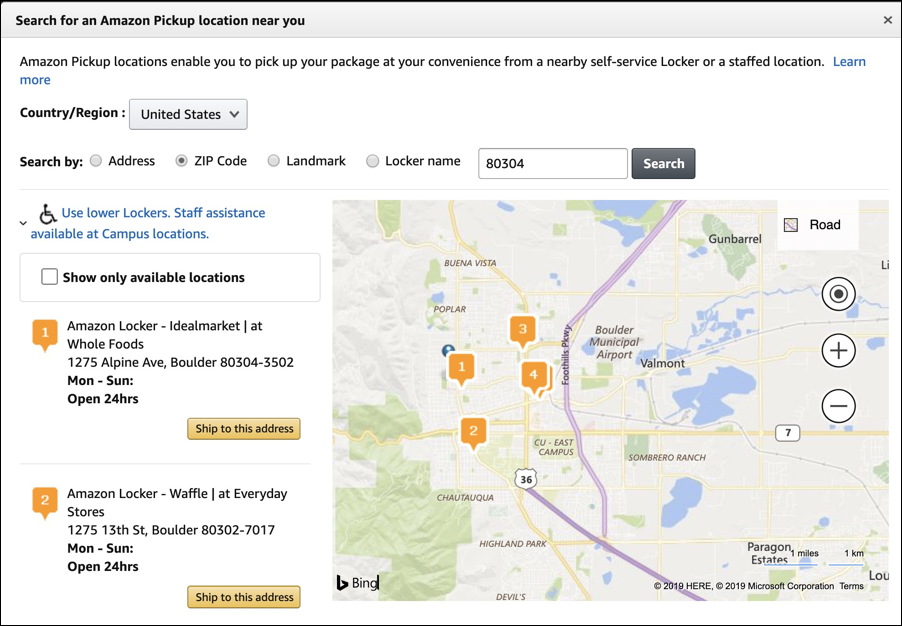 As I said earlier, pay attention to hours and accessibility. Two of the addresses on the list for Boulder have much more constrained hours of access and availability: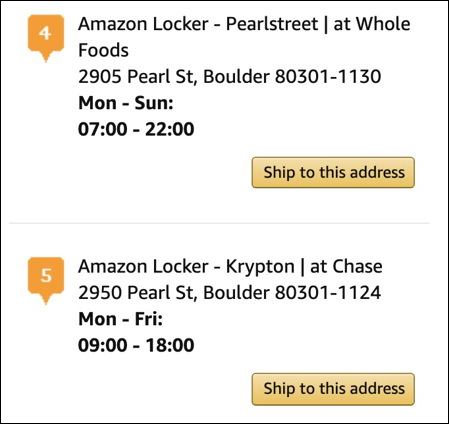 I can live with Pearlstreet – 7am – 10pm, but Krypton, below it, is only 9-6 Mon-Fri!
And yes, every single locker anywhere in the world has a unique name. Pearlstreet is named after the street address of the Whole Foods (also, of course, an Amazon company) but Krypton? I think there are some random names assigned in this scheme…
Figure out which one will work best, and choose "Ship to this address". It'll be shown like this:

There is one warning that Amazon displays that you definitely want to know about:

So apparently they sweep the lockers clean every few days, so don't get something delivered the day after you leave for a two week European holiday!
Complete the transaction and the next notification you'll receive will be in your inbox a few days later when the package arrives and is ready for pickup: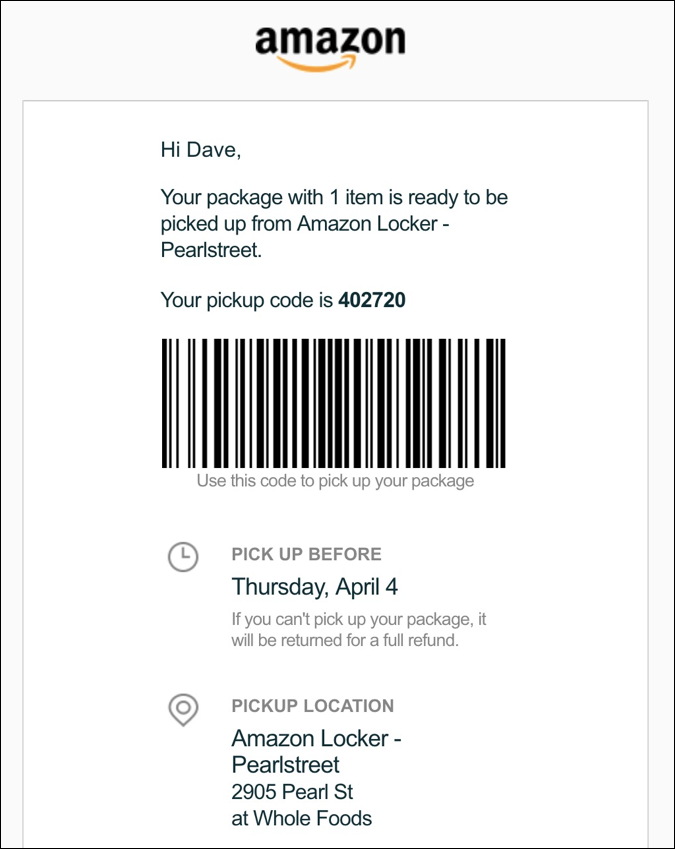 You'll also probably get a text message from Amazon with the same code – 402720 in my case – but without the bar code. You can punch it in on the locker, but that seems old school when there's a bar code to scan.
I headed over to the Boulder Whole Foods and found the locker just inside the front door: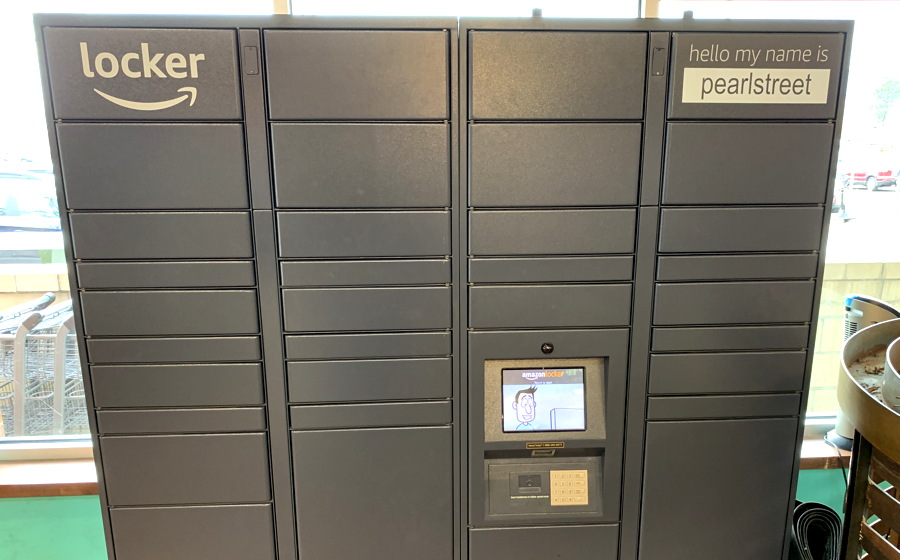 Notice that the name on the locker itself matches up with my pickup notice (in case there's more than one locker in the facility, like at a college dorm complex). Below the touch screen is a scanner: I just held my phone under the scanner so it could see the bar code from the email notification, and a few seconds later one of the lockers just popped open:
There's my package, all ready to pick up! Ridiculously easy. Pull out your package, slam the door shut, and you're done. Walk out with your new products, books, gizmos, whatever you ordered now received and ready to enjoy. Pretty cool, all in all.