My girlfriend shared her location yesterday as she drove from work and I could watch her progress on my computer. Very cool! How can I do that too and share my location from Google Maps with her?
Since our smartphones always know where we are geographically – a requirement for them to work on cellular networks – it's not a huge leap that there are programs letting you share that location information in real time with others. The most popular of these location tracking apps is probably Glympse, and I've written about how to use Glympse to share your route progress before.
Google Maps is a simpler solution for many people, however, because it's already installed and because you're probably using it for your driving directions anyway. I use it constantly to minimize being stuck in traffic and it's fantastic for that! #bigfan
What you can't do with Google Maps on mobile, however, is share your progress without having a route, so you'll want to start by getting directions from your current location to your destination. I'll start by getting directions to Fascination Street, a fine art studio in the Cherry Creek area of Denver: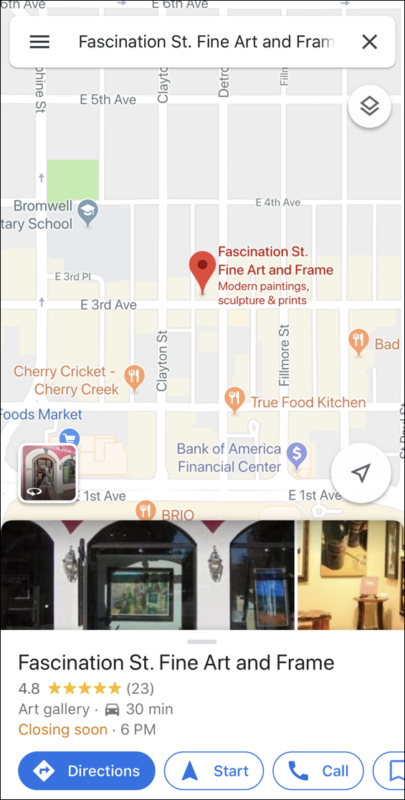 You know the drill. Tap on the blue "Directions" button on the lower left.
Now you'll see the options in terms of routes:
Probably doesn't really matter which route you pick since it's going to share your actual progress and driving route, but why not use Google Maps as intended and pick the fastest route? 🙂
Proceed by choosing the blue "Start" button once you've decided which route to take (tap on the time balloon to choose a different route than the default if you prefer). Now you'll see this:
Here's where we blaze new territory! Instead of just driving, now you want to tap and drag to pull "up" the bottom white portion. That reveals a bunch of additional features and options:
You can see the top option: "Share trip progress". That's what we want, but before you tap, do have a quick glance at the other options. Really helpful to know, particularly "search along route" to find a supermarket or coffee shop that won't slow you down!
But, yeah, let's stay on task. Tap on "Share trip progress" and you'll have a wide variety of different ways you can proceed:
You can see the people with whom I often share data – Gareth, Ashley, Christian and Steve – but below it note that there are ways to share via Message, email, Twitter posting, etc.
I'm going to text the share link so I'll tap on "Message" which produces this:
(I've trimmed it down to save space, but it won't be weirdly shrunken on your phone!)
That's basically it. Now they get the link and either on the computer or a mobile device, they'll see your progress, as I am watching my friend Mario head towards me in the below: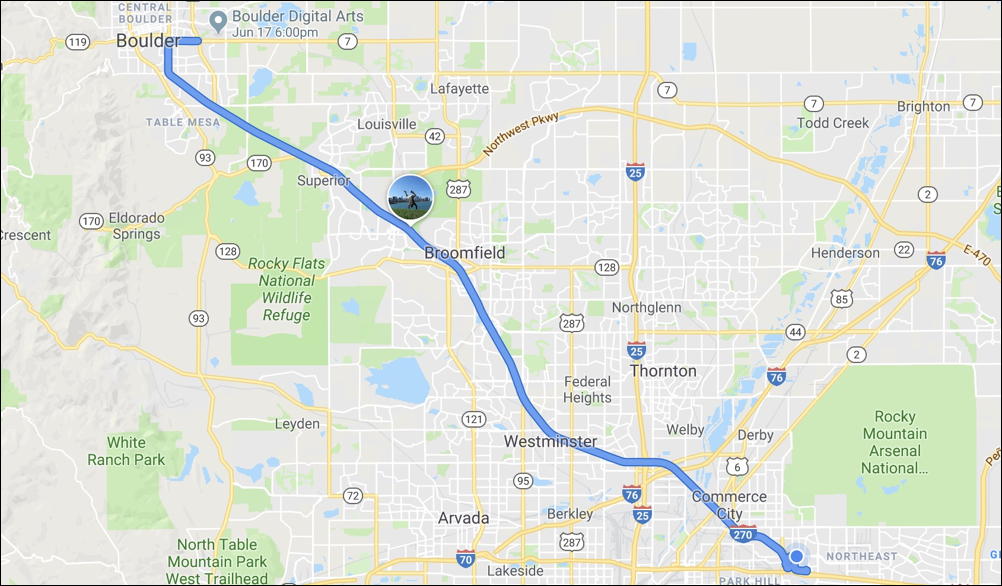 It's pretty darn cool to watch the little icon move along, slowing down for traffic and speeding up when they're going faster. I really appreciate when my friends or family share this sort of information with me, so I share it with them quite a bit too. And now you can too!