I believe there's a way that I can share my iPhone screen and the app I've been writing with colleagues on a Zoom video conference or meeting. But I'm not sure how. Can you step me through the process, please? I have the latest versions of iOS, MacOS X and Zoom.
One of the areas where Zoom really shines as a video conferencing and educational tool is with its quite powerful screen sharing capabilities. Sure, you can share the screen of the computer you're using – or a specific app's window if you prefer – but there are a lot of other things you can share too, ranging from a rudimentary "white board" to your Apple iPhone or iPad. If you think about it, that means you can also set it up as a second camera for Zoom meetings too, and that's just what lots of teachers do: Have their phone on a tripod pointing down onto a sheet or paper so they can demonstrate solving equations, sketching an illustration or similar.
This works particularly well with Apple devices because AirPlay is so easy to work with. There's a way to share an Android device screen from your computer's Zoom app [see Zoom tech support for details] but it's a bit more convoluted…
Anyway, you'll want both your iPhone and your Mac to be on the same wireless network for this to work properly. Start out within a Zoom meeting using the separate Zoom app on your Mac system:
You want to click on the Share Screen button along the bottom. It's conveniently highlighted in green to make it stand out versus the other controls and buttons along this navigational bar. (If you're not seeing a Security button, by the way, you need to upgrade your Zoom app!)
As I said, there are a lot of sharing options. Here's the main window that offers up the Basic sharing (you can learn more about Advanced and Files sharing in my Zoom sharing tutorial):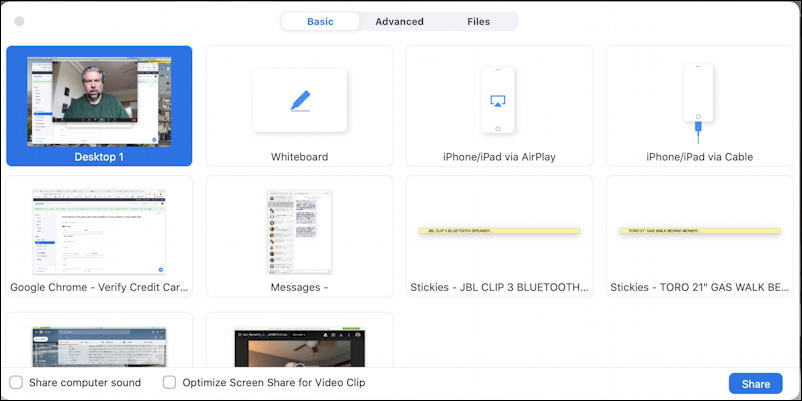 Most people either jump to Desktop or find the window from the app they want to share (e.g., PowerPoint) but notice that there's a Whiteboard (not very exciting, unfortunately) and two iPhone/iPad options: iPhone/iPad via AirPlay and iPhone/iPad via Cable. If you can, I recommend you use the cable connection and ensure that your phone is plugged into your computer as it's a more reliable connection and easier to work with, but there is something irresistable about the wireless connection. For this demo, I'll choose iPhone/iPad via AirPlay.
The entire Mac computer screen is replaced by this prompt: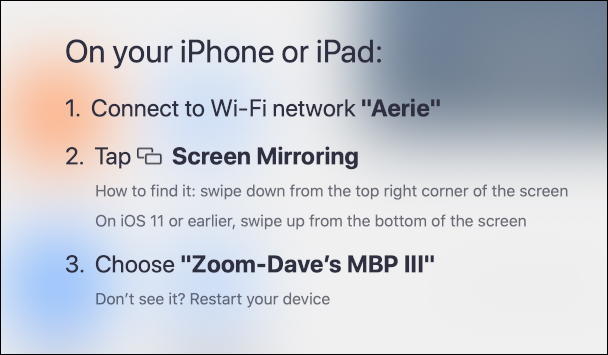 Now pick up your iPhone or iPad and swipe down from the top right corner into the center of the screen. This convenient shortcut screen will pop up:
Yours might vary slightly because you can customize this screen with your favorite buttons and features, but it will always have the Screen Mirroring button approximately in the middle of the screen. Tap on it and you should see any AirPlay devices you might have, like an AppleTV, along with the Zoom app itself: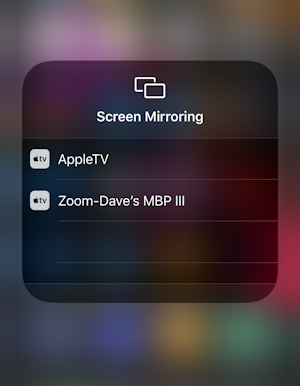 Pretty cool actually! Now tap on "Zoom-Dave's MBP III" (well, it'll have your computer's name, not mine!) and instantly the screen will be duplicated on your Mac: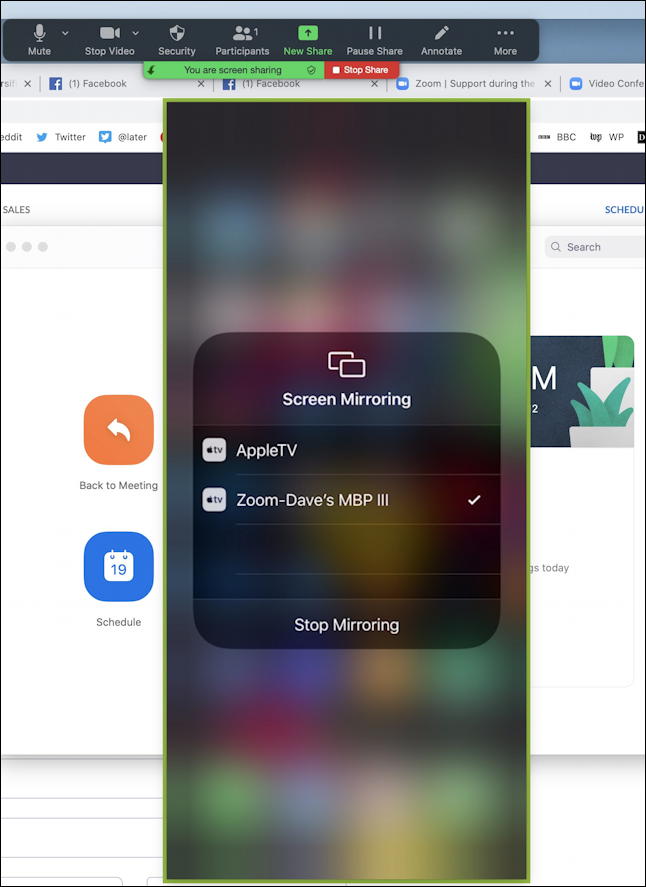 Notice the new controls along the top: "You are screen sharing" in green and the all-important "Stop Share" in red. The control bar also jumps to the top of the screen too, and you should have a little window showing your webcam camera's view of yourself too.
Now you can do whatever you'd like with your iPhone and it'll be mirrored on everyone's screens in Zoom. So you can, for example, point it out your window so everyone else can see your view and the local weather:
I haven't figured out if you can rotate the AirPlay image from vertical to horizontal in Zoom, but some iPhone apps automatically rotate (like games that force a horizontal or landscape orientation) while others just end up weirdly sideways. Experiment with your desired app or apps to see how that plays out!
In any case, there you go, you're now sharing your iPhone screen with your Zoom meeting participants. Switch apps, demo your own app, even connect to your own meeting in Zoom and create zoomception and drive people bonkers! When you're done, either stop sharing on your phone or, better, click on the red "Stop Share" on your Mac screen. Done. Cool, eh?
Pro Tip: I have quite a few Zoom tutorials here on the site and encourage you to check out my Zoom help while you're here! Thanks.