I'm baffled. When I am on my Facebook business page, I go to share posts and don't have my timeline shown as an option. Other people seem to be able to share those posts on their timeline, but I cannot. What's busted and how can I fix it?
The problem you're facing on Facebook is related to a bit of an identity crisis. Not you, but your identity on Facebook itself. Here's the problem: When you are managing a business page, you switch to the identity of the page so that if you leave comments or interact with content on that page, it's identified as being you, the page, rather than you, the individual. Meanwhile, everyone else who comes to that page is still in their individual identity so can share, comment and do all sorts of stuff without incident.
Fortunately, nothing's broken. It's all a matter of learning how to switch your identity for a specific task when you're on Facebook and interacting with content on your page. Of course if you're trying to share anything you've posted on your personal page this doesn't apply (tho it's a bit odd to share your own content off your own page!) so most people don't bump into this issue.
Let's have a closer look by checking out a post that I made recently on my Facebook AskDaveTaylor page, which you have "liked", right? 🙂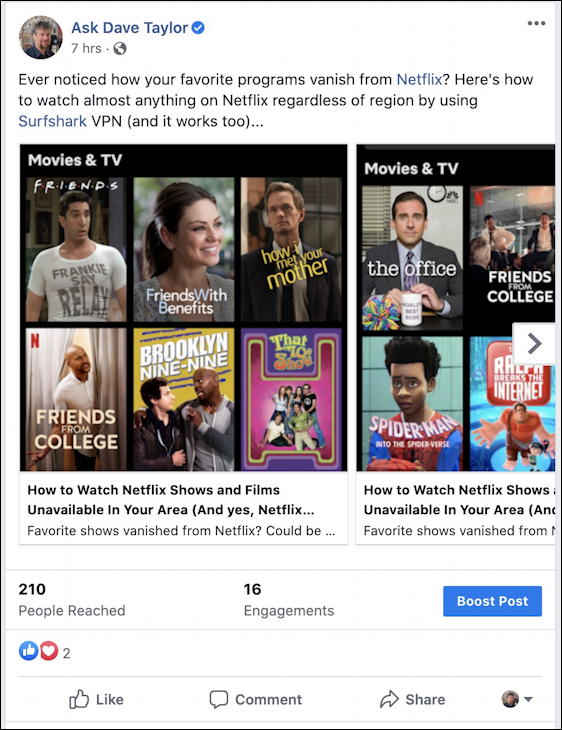 Looks like it's starting to get some traction, which is good. I'd like to share this to my personal timeline on Facebook to give it a bit more visibility, though, so I'll click on "Share"…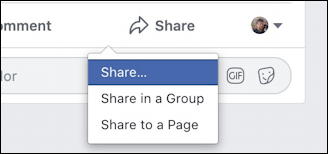 Oddly few choices, but I don't want to share on another page nor do I want to share in a group. I want to share on my own personal timeline! Best possibility? Well, hopefully "Share…", which is what I choose.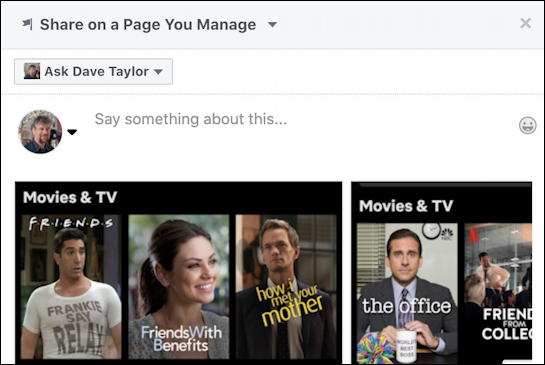 The top option is still "Share on a page You Manage" and the ID shown immediately below it is my Facebook business page ID, not my personal ID. Hmm…  Most people simply click on the "Share on a Page You Manage" assuming that your personal timeline will show up as an option and let you fix the problem. Right? Ahh, well, not so much.
Where's that dang timeline? It's hidden, because I'm not using Facebook as an individual but rather as the admin of this particular business page or fan page. Okay, so what happens if I click on the "Ask Dave Taylor" ID box?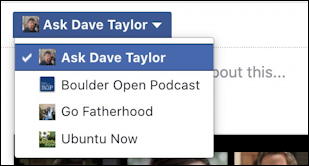 Nope. That shows me the other pages I manage. Not useful. To actually change back to your personal ID you need to back up to the original post and click on the tiny circular profile photo icon. A menu pops up: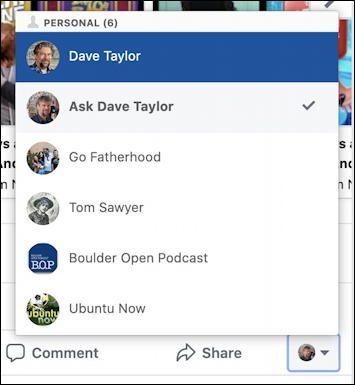 Ah, this time my personal Facebook ID shows up. Huzzah! Now when I choose that, the Share menu is quite different: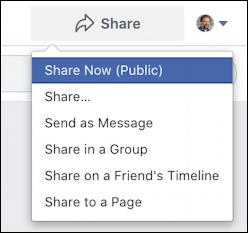 Now when I choose "Share…" I have the option of sharing it on my personal timeline with a comment, as desired: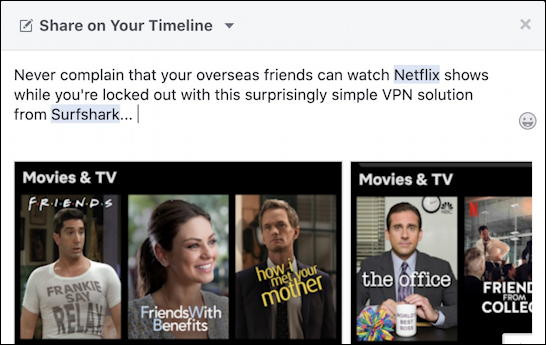 In fact, I added a prefix and then can easily click to POST and share it on my timeline from the business page I manage on Facebook. Mission accomplished. Key to remember in the future is that tiny profile icon pic on the lower right that lets you change your ID for that action.
Pro Tip: I've been writing about Facebook for many years and have a ton of Facebook help here on the site. Please check it out. Then please also go ahead and "like" AskDaveTaylor on Facebook while you're at it too. Thanks!