My husband and I are heading to Tahiti for three weeks on a big holiday. So excited! But I want to set up my Yahoo Mail so people don't get worried if they don't hear from me; is there a way to set up a vacation responder in Yahoo Mail?
Turns out that Yahoo Mail does support a vacation autoresponder and it's quite easy to set up and specify a start and end date for your messages too. Yahoo Mail should also track what recipients have received your vacation autoresponder message and not send it twice, but I'm not quite sure of that.
And props to you for choosing to go to somewhere as exotic as Tahiti and then planning on being unplugged. Nowadays people seem to be unable to disconnect from the Internet for more than a few minutes and don't be surprised if your lodging in even as exotic a location as Tahiti has wifi in each room or in the main lobby!
I'll put dreams of warm tropical breezes aside, however, and jump into Yahoo Mail. Log in, then look on the top right for the gear icon:
A click on Settings and a menu pops up with styles and color schemes. But the very bottom of the menu has a far more important option: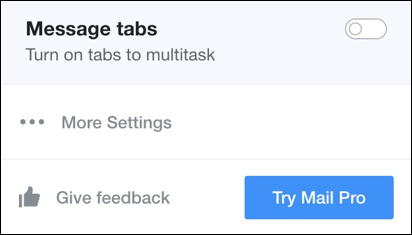 It's that "More Settings" link, even though it's certainly unpossessing, isn't it? Anyway, click on "More Settings" to proceed, then look on the left side for the surprisingly large number of preference categories: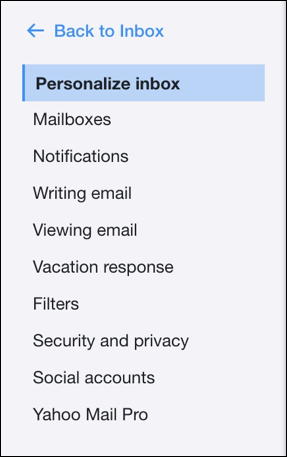 You'll want to select "Vacation response", at which point you'll then be able to turn on the Yahoo Mail Vacation Responder and specify the duration of your vacation and your email response message. Let's start with the dates of your holiday: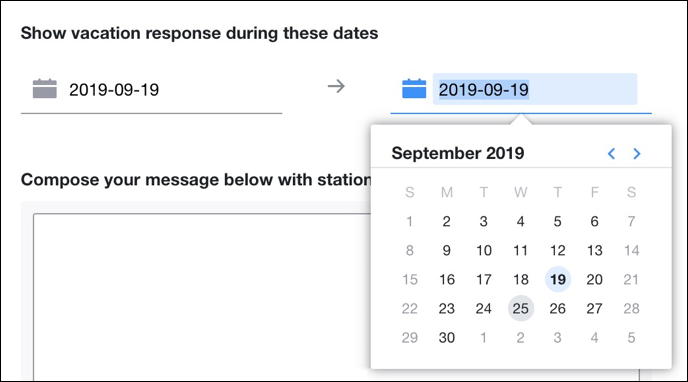 Super easy to set up, really. Just realize that as far as Yahoo is concerned, your vacation starts at 1 minute after midnight and runs until midnight on the day you specify.
Got that to match your travel? Then you can compose your response message: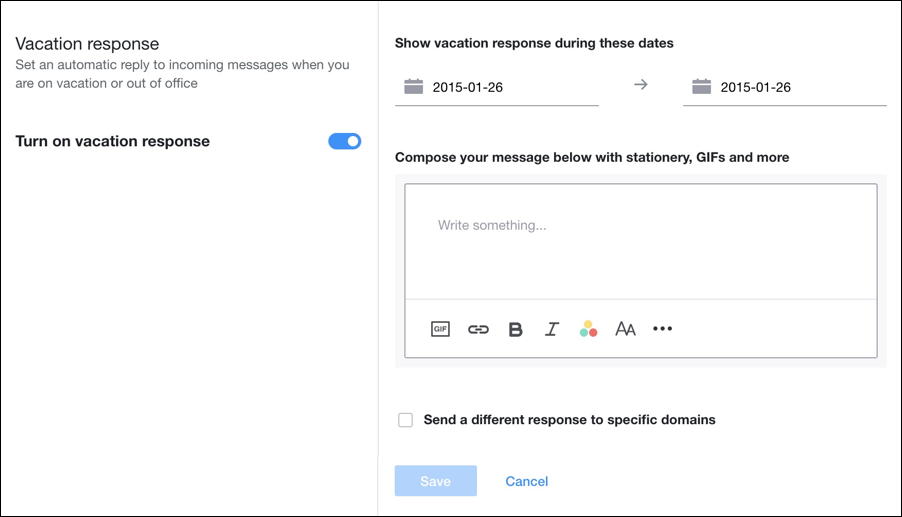 That line of icons at the bottom of the compose window? That lets you include an imagine, links, and modify the text you type in with bold, italics, different sizes, etc. My suggestion is to skip most all of these, however, in the interest of something that's short and succinct. Like what I've typed: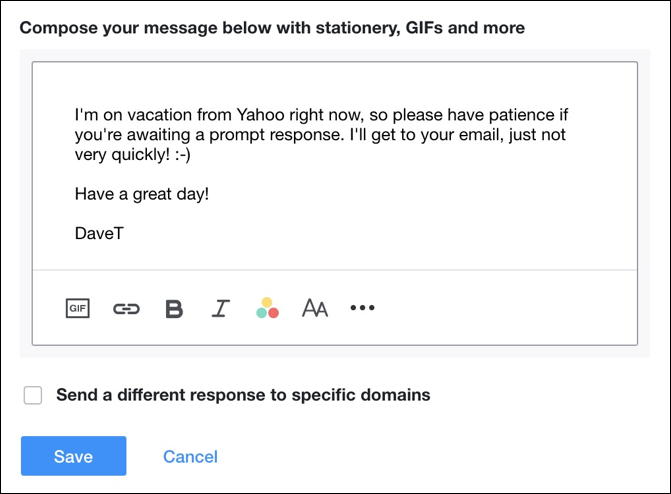 All looks good? Notice if you have a different message for, people at your work than anyone else, you can set that up by checking the box "Send a different response to specific domains". Failing that, however, one message for everyone works fine too. Once you're done click on the blue "Save" button to get it all queued up.
Yahoo Mail will confirm you're good to go: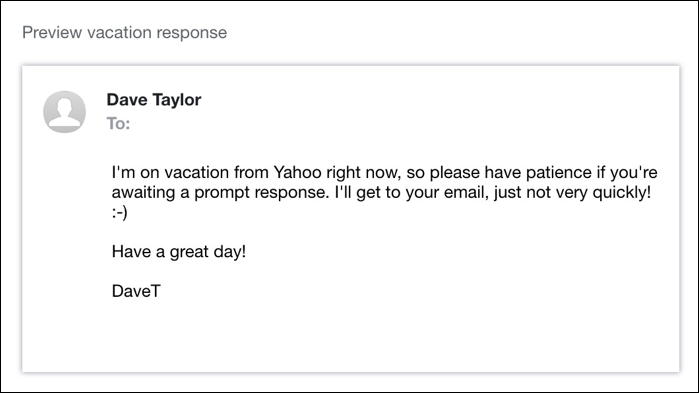 And that's it. Done. Close the window and start packing! e taime faahiahia mau!
Pro Tip: I have a lot of Yahoo Mail Help here on the site, please click and check it out!