I am really intrigued by the Apple AirTags trackers and want to slip one in my purse so I can always know where it is. How do I get started setting the AirTag all up properly, though?
Apple has some of the easiest setup and configuration processes in the entire consumer electronics world, and it's no surprise that the Apple AirTags setup is equally easy. There are a few gotchas, however, not the least of which is that you need to use an iOS device (probably an iPhone) and it needs to be logged in to your iCloud account and online. I know, I tried to set mine up while offline, and, well, it didn't end well, as you'll see.
You might also want to have some basic familiarity with the Find My program, a great utility to keep track of all your Apple computer gear too, from iMacs to MacBook Airs, iPad Pros to your iPhone. My friends and I even share our locations via the Find My service so we can track each other's progress towards a mutual destination. You do have to enable Find My, however. Start here: How to Set Up Find My on your iPhone or other Apple device.
HOW TO SET UP AN APPLE AIRTAG WITH AN IPHONE
I picked up an AirTag of my own to hook up to my computer bag, so I can step you through the process. Again, make sure that you are logged in to iCloud and have enabled Find My on your iPhone before you start. Here's the tag I bought: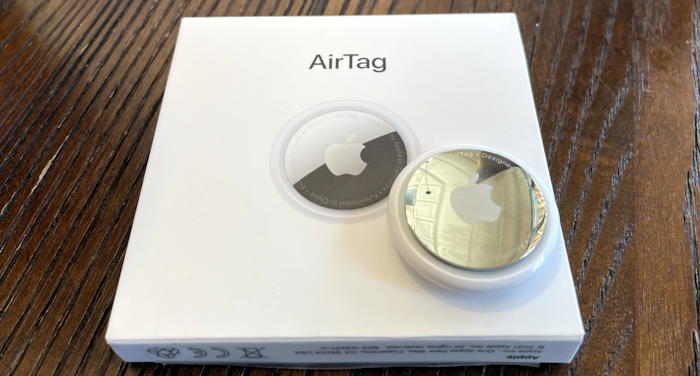 They're beautiful little gizmos, about the size of a quarter (though a lot thicker). If you're curious about the dimensions, they're 1.26 inches in diameter, have a height of 0.31 inches, and weigh 0.39 ounces.
As soon as I bring my new AirTag near my iPhone, a window pops up on the screen:
Tap on "Connect" to proceed and it'll ask the first of two identifying questions: name, then emoji. First, name: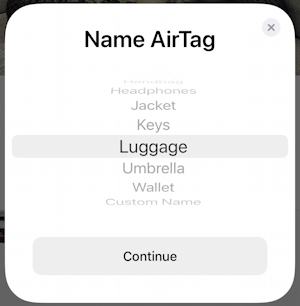 I choose a custom name for mine: Computer Bag. Quite easy to do.
Then it's time to specify an emoji for the Find My map display: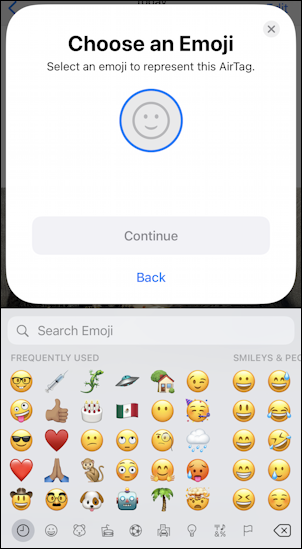 Have fun with this, if you're so inclined, you're probably the only person who will ever see this emoji after all. I choose the laptop emoji since it's my laptop computer bag!
With those two specified you'll be prompted to confirm that you want to attach this AirTag with your iCloud / Apple Account: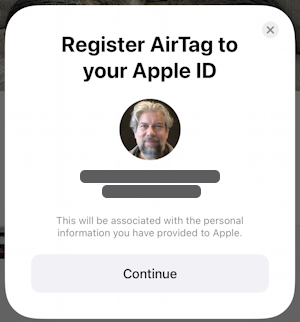 Ready? Tap on "Continue" and if you're offline, well, now's when you find out that you just kind of wasted your time: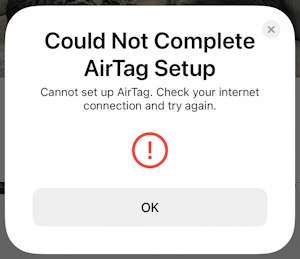 If, on the other hand, you're actually online at the time, you'll see this instead: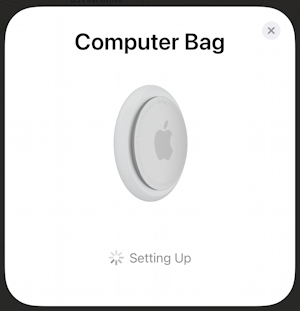 And after a few moments, assuming all goes well, you'll actually see the new AirTag on a map showing your current location:
Nice. And sure enough, that is indeed where I am located.
WORKING WITH AIRTAGS IN FIND MY
Once you have that setup, tap on "View in Find My app" and you'll see the much more typical view: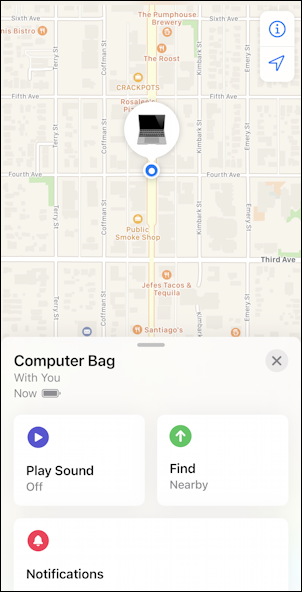 NOtice the functions on the bottom portion in particular. Tap on "Play Sound" and your AirTag will beep, helping you find your purse, wallet, keys, computer bag, whatever. Very helpful. Not only that, but if you're nearby (as it shows above) you can tap on "Find" and it'll show you arrows on the screen to help you zero in on the specific location of the tag. Finally, notifications help you track what's been going on with the tag too (and is where I imagine low battery indicators will show up eventually).
One more screen. Click on "Find My" and "Items" and you'll see your item, with name and emoji, on a map at any time:
And that's it! Mine is now hanging on my computer bag, as you would expect:
Pretty nice experience overall. If I leave my computer bag in my car, this will also help me find my parking spot next time I'm in the city too. 🙂
Pro Tip: I've been writing about Apple and computer systems for quite a while. Please check out my iPhone help and computer basics help both while you're visiting the site. Thanks!