It's maddening; my kids will watch their shows on my Netflix profile instead of using their own and everything gets messed up. Suggested shows and movies, where I am in shows, even what's in my 'finish watching' queue. How can I set a PIN so they can't use my Netflix profile?
Sites like Netflix work great when each user respects the design of the system, just as your user accounts on your computer work much better when different users switch to their account, rather than just using whatever account's logged in. But getting users to do the right thing is tough, and 10x when it's children because they're very focused on their goal (watch the show already!) rather than the ecosystem. I see it as kind of similar to how my kids forget to put condiments back in the fridge after they've prepared their meals, but that might just be my kids! 🙂
Anyway, back to Netflix. Yes, the system is definitely designed so that one person uses a profile and multiple users on the same Netflix account use distinct profiles to avoid intermingling shows, movies, recommendations, etc. Profile support is widely implemented across all the Netflix apps and programs too, so whether you want to watch from your Windows tablet, your Android phone, your AppleTV or using the Netflix app built-in to your smart TV, it'll all work the same. Unfortunately, though, setting that PIN, like many administrative tasks in Netflix, requires that you log in to your account with a Web browser from a Mac or PC computer.
When you log in, you'll see this:
Yes, we have a profile for our pets. They don't actually watch Netflix, of course, but it's handy to have a profile that you can use to poke around and watch shows that won't be reflected in your own profile!
More importantly is that "Manage Profiles" button. It's not how you get to the security area where you can add a profile PIN. Instead, choose a profile and proceed. Now, on the top right, you'll see your profile pic. Click on it to bring down this menu: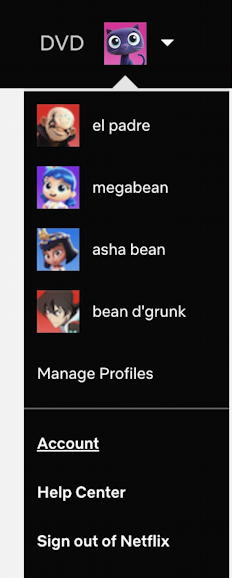 What you want to choose here is "Account". Click or tap on that and you'll move to a whole new area of Netflix that has lots of useful settings and preferences available for all profiles and for the account itself.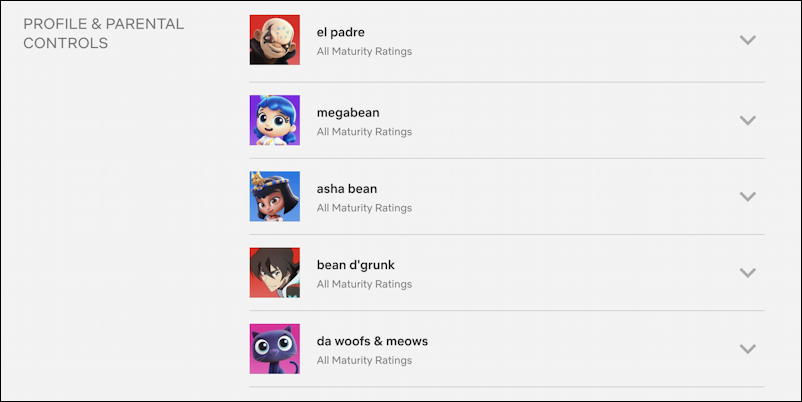 Parental controls. Yes, Netflix lets you actually manage what of the library a given profile can access. Savvy kids know they can just switch to Mom or Dad's account to sidestep it but once you set up that PIN? OOhhh a whole new ballgame! In my case, my youngest is 16 so everyone gets to watch whatever they want, as denoted by "All Maturity Ratings". Hmm… thinking about it, maybe the woofs & meows account should have some restrictions. 😀
I'm going to set up a security PIN on the spare profile, da woofs & meows, which is done by clicking on the "V" downward arrow symbol adjacent to that profile. A list of options appears, in the midst of which is the following: Profile Lock:
That's the one! Click on "Change" to set up a Netflix profile lock. Since you don't want your kids locking you out of your own profile (yes, they could ostensibly do that!) Netflix prompts for the account password before continuing:

Hopefully you know your password! Once you've entered that and verified yourself, it'll ask if you want to require a PIN for access to this particular Netflix profile:

Don't think 4 digits is enough? Well, that's just simple math: There are 10,000 possible 4-digit PINS so even if your kids are super enthused about it, it'll potentially take them months to guess (unless it's a number you use everywhere, like on your smartphone or digital door lock, that is). To proceed, check the box adjacent to "Require a PIN to access <profile name>". It'll then prompt you for the PIN itself:
Tip: 0 0 0 0 is probably not going to keep anyone out of your Netflix profile. So be at least a smidge more creative. 🙂
Once you've entered your PIN, click on "Save" and it's set up! Now your list of profiles looks just a bit different:
So what's changed? Now when you are at that very first "Who's Watching?" prompt, choosing a PIN protected Netflix profile generates a challenge to enter the correct PIN: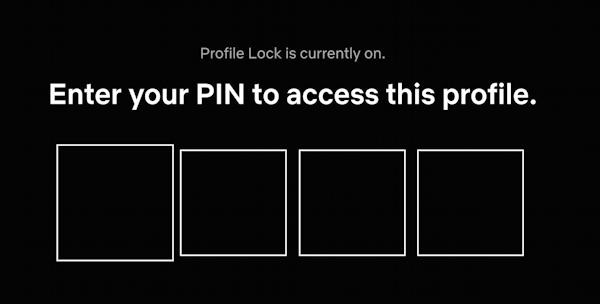 And now you're all set up. If you still see random movies and TV suggestions showing up, you'll know it's just Netflix using its flakey recommendation engine to try and match your viewing with new content, not your kids messing up your profile! Which gets you back to the great question of Netflix: what do you want to watch next?
Pro Tip: I've been writing about how to navigate Netflix and other online services for years. Please check out my computer basics area for lots of useful tutorials and how-to articles and improve your digital life!