I love sending text messages with the various visual effects from Messages on my iPad, like Loud or Fireworks. Can I send texts from iMessage on my Mac using the same effects, or is that iOS only?
There was a point when the Mac interface to Messages – then known as iMessage, now it's just "Messages" – was limited to just texts and photos, but that's been updated for quite a while. The problem is, the way Apple chose to add the Effects and GIF library access turned out to be somewhat puzzling and non-obvious. On your iPad – which runs iPadOS now, not iOS! – all you do is tap and hold the send arrow to access all those fun effects. Same on the iPhone.
But on the Mac access to text effects in Mac Messages has nothing to do with that send arrow. It's all hidden under the "A" applications button, which I imagine most people miss entirely because they either don't know what that button does or just assume it's for installed Message apps like payment processing, which they might not have installed. Let's not talk about it, though, let me show you how it's done…
HOW TO SEND A TEXT MESSAGE WITH EFFECTS FROM MESSAGES
I haven't heard from my mate Harry Potter in a while, so I'll send him a quick text message with effects from my MacBook Pro. I'm running MacOS 12.5 on the system so if you have an earlier version of the operating system you might have a slightly different version of iMessage [err, Messages]. A tap on the "A" icon and you can see the choices:

Notice that I've composed the text message before I click on the application icon (the "A"). Also notice that there's no send button. No wonder they can't tie it to that. But why not have one so it's more consistent with the mobile interface?
Anyway. Anyway, click on "Message Effects" and you'll find that all of the various effects are available in a very attractive palette: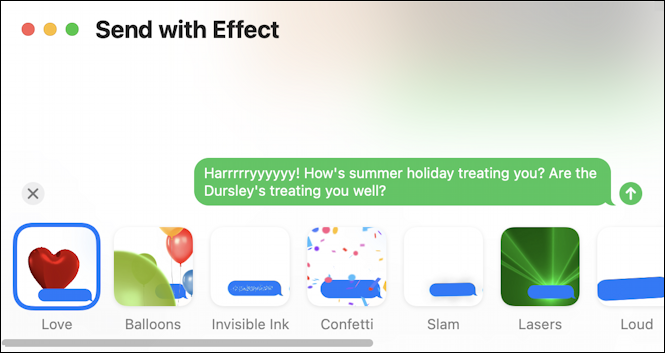 Click on each one to get a preview. Like "Lasers"…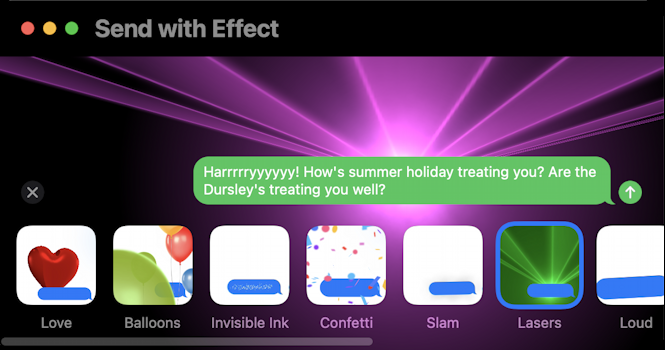 or perhaps Fireworks is a better effect for your message?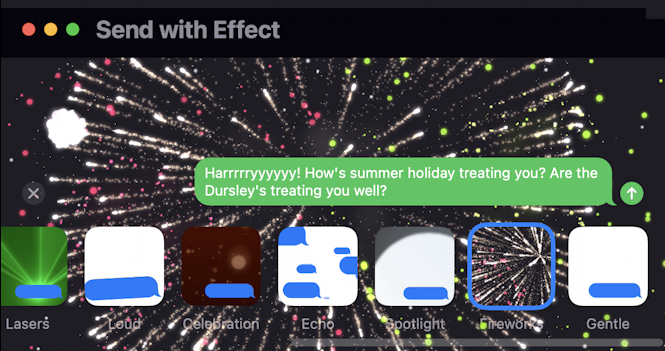 I know Harry, so I know he's going to prefer the Slam Effect. A click to preview it, and then a click on the arrow (which shows up in this view. Go figure) and it's sent!
ACCESS THE EMOJI LIBRARY IN MESSAGES
While we're in Messages and poking around, did you know that every single emoji on the Mac has a name, and there are thousands of them in the library? Click on the smiley face icon to the right of the message compose window and you'll be able to check it out: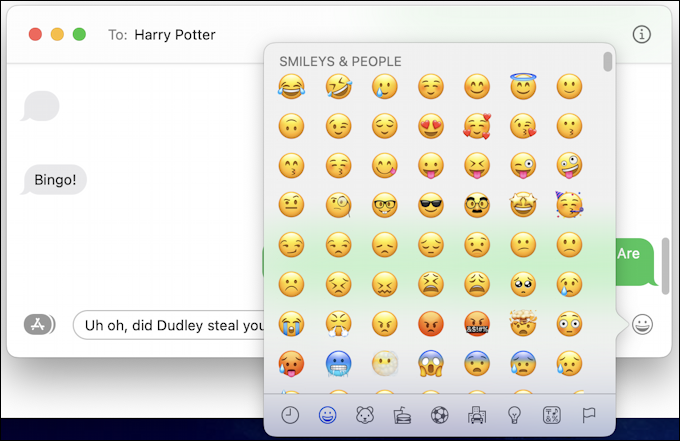 Scroll upward and a search box will appear. Try typing in 'star', 'angry', 'fish', or 'mexico' and you'll see that it's a great way to expand your emoji vocabulary!
ACCESS THE #IMAGES ANIMATED GIF LIBRARY IN MESSAGES
One more, something that I use every day and really enjoy quite a bit: The animated GIF library is accessible from the "#images" option on the same menu you used to access Message Effects. Choose "#images" and you'll see a grid of tiny animated images: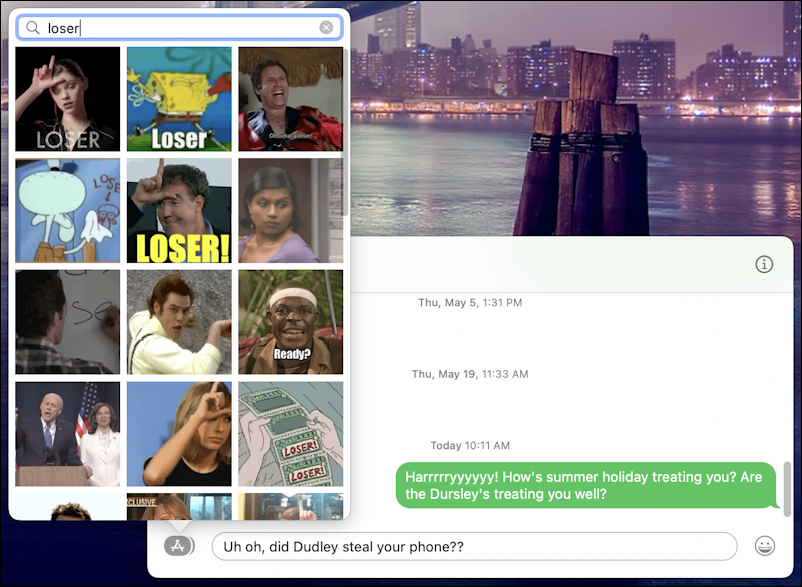 Notice on the top of the catalog of images there's another search box. I've typed in "loser" and already typed in a short second text message in the above image. A click on one of the Gifs – and there are often hundreds shown as a search result, the system library is enormous –  and I can send it to Harry (or Dudley) as shown: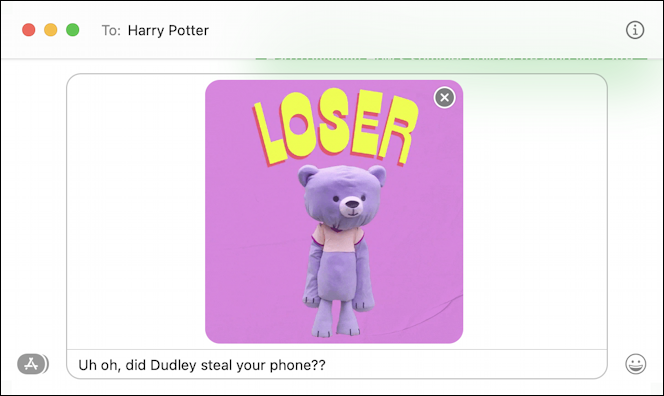 The image itself is actually animated, but I'm just showing a screen capture. Still, it's great fun to find just the right animated image when you're in the middle of a conversation. Check it out.
Between all of those features and options you should be ready to take your iMessage / Messages experience to the next level!
Pro Tip: I've been writing about the Mac since the very first system was released. Back in the era of the "fishbowl" design! Heck, I started my computing career on an Apple II. Please check out my extensive Mac Help Library while you're visiting. Thanks!