I've been talking with a potential client and he wants to set up a conference call with his boss. He said "send me a Google invite and I'll forward it along" but I don't know how to send a Google invite. HELP!
There are three main calendar programs on the Internet at this point in time: Google Calendar, Apple Calendar and Microsoft Outlook. Each of them has the ability to create multi-attendee events and send email invitations so everyone has the same information about time, date, connection options, etc. Handy. Unless you don't know how to create an event invitation, that is! Perhaps the most confusing of them all is Google Calendar (and when someone says a "Google event" that's what they mean), so let's focus on that.
First off, you'll want to be set up with Google Calendar. If you're using an Android device and are using its calendar for scheduling, odds are good that it's Google Calendar underneath. Handy, really. You can hop over to calendar.google.com if you're not sure. I use the Web-based interface for Google Calendar and then have events automatically imported into my Apple Calendar so that I have a consistent schedule across all my devices. Confusing, I know! Just hop over to the Web interface for Gcal [get it? Google Calendar] and you'll see a grid of dates and times. Find an empty spot that matches your meeting time and date…
Now click on the time & date and an event will appear, along with a window for you to enter details: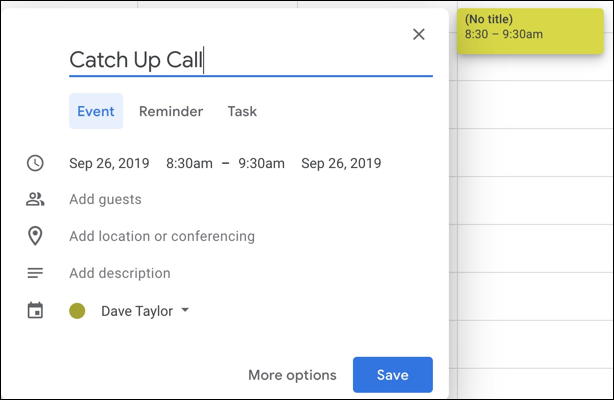 A good title is obviously really helpful for all parties involved, but notice you can specify start and end time, add guests, add a location or conference info, add a description and even specify which of your calendars (if you have more than one set up) should own this particular event.
I've added some useful info, but still no guests.
Let's fix that by typing in someone's name. Here's where it sharing a contact database with Gmail is really helpful because you need only enter a few letters for a list of names to appear, as you can see:
Ooops! It's not a Danny I want to invite to this meeting, but a Richy. I type in the name and click on the matching suggestion and we're done. Right? Well, almost. I mean, it looks like it's done: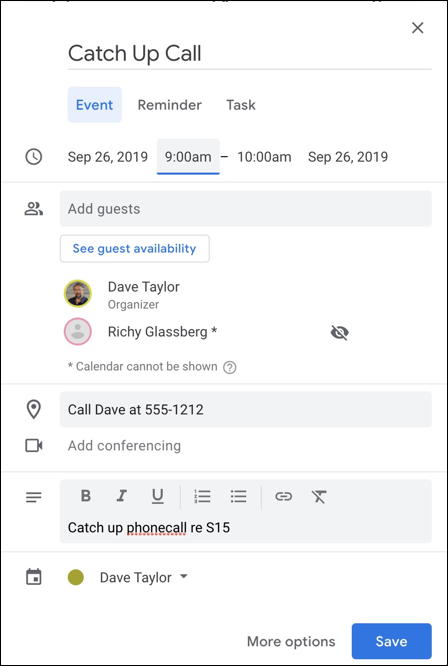 Problem is, we haven't sent that invitation yet. So how do you actually have Google Calendar send out event invitations? By saving the event. Not intuitive at all, but that's how it works. As soon as you click "Save" you'll see:
A ha! Click "Send" and congrats, you've just sent Google event invitations from Google Calendar to attendees! Not too difficult once you realize that the invitation sending option comes after you've saved the event!
Pro Tip: I've been writing about Gmail and Google services for years. Please check out my Gmail help and general computer tips and tutorials while you're here!