Dave, I've heard that 5G connectivity is fast, but it also consumes a lot of power. Since my Android phone already has crummy battery life, can I disable 5G or just limit it to when I really need lots of bandwidth?
With all the hype about 5G wireless networks and how they'll obsolete regular old wi-fi and offer blazing fast speeds anywhere you go, not much is discussed about its impact on device battery life. The fact is, though, the circuitry required for 5G to work on your phone is more power intensive than the older 4G or LTE network connectivity. For most people, it might mean that they need to recharge more often, but if you're already carefully managing your power usage to maximize battery life with your mobile, that difference can be a major problem.
Interestingly, the cell phone companies know that it's a potential issue and both iOS and Android have settings that let you manage how your device utilizes the 5G network, if at all. If your entire online experience is texting, social media, and an occasional TikTok video, you don't really need the speed boost of 5G at all: Getting the latest gossip from Twitter is only going to be fractionally slower without it.
CHOOSING WHEN TO USE 5G ON AN ANDROID PHONE
The good news is that Android includes what's known as adaptive connectivity. The bad news is that it's a part of Android 13 and at the current moment, it's only accessible on Google Pixel phones, as is common with the latest Android features. It's worth a look if you're on a different Android device, but it might take a little bit before your phone offers this capability.
Start by going to Settings and searching for "adaptive":
Let's start with the last match – "Adaptive connectivity" – to see a bit more about the setting. Tap on it and you'll get a smidge more info:
Not much explanation at all but what it does offer (without mentioning 5G at all!) is that this setting will "extend battery life and improve device performance by automatically managing your network connections." Rather vague, really, but it's worth enabling to try to eke out a bit more battery life out of your smartphone.
Most everyone, however, should have access to the Adaptive Charging, which is another smart feature to enable. Tap on that on the Settings search results screen:
There's really no reason not to enable both Adaptive Charging and Adaptive Battery to help with your phone's battery life. That's it. But what about on an iPhone?
ADAPTIVE 5G CONNECTIVITY ON AN IPHONE
On the iPhone things don't get the same name, but the feature is available. Indeed, when Apple added Adaptive Charging, it did so in a rather typically clumsy manner and caused all sorts of anxiety and upset. You can read more about it here: Working with Apple's Clean Energy Charging Feature.
To get to the iPhone's adaptive connectivity feature, go to "Settings"…
Your iPhone might have a different label, but it's "Cellular" or "Mobile Data" that you want, the fourth entry in the first box of choices in Settings. I believe it differs based on carrier, if you're curious. Mine, on AT&T, has "Cellular", so that's what I'll tap.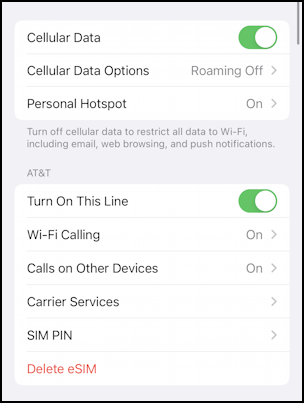 If you have Cellular Data disabled entirely, I don't think you'll be able to access the "5G Auto" setting, as Adaptive Connectivity is called in the iOS world. If not, tap on "Cellular Data Options", the second entry.
Mine is already set to "5G Auto", which is what you want, but let's tap on "Voice & Data" anyway to see what options are available:
here's where you can choose to always just use LTE, force 5G any time it's an option, or let the phone figure out what you need based on the network query: 5G Auto. It's nice to have the option!
Before I wrap up, notice the Data Mode of "Allow More Data on 5G". That's another one worth exploring, so tap on it to see the choices:
This relates to how much cellular data your iPhone will use while you're online; you can force it to use the least data possible when not on Wi-Fi with "Low Data Mode", most suitable if you have a metered or measured connectivity plan. If you have unlimited bandwidth, you can enable "Allow More Data on 5G", which might have a small deleterious effect on battery life, but allows app updates and more through the cellular network. Don't want to decide? Choose "Standard".
And that's it. Between those settings you can see how to set up your Android or iPhone to manage your use of the 5G cellular network, balancing speed with extended battery life. Good luck!
Pro Tip: I've been writing about the Apple iPhone since the original iPhone 1 was released. Please check out my quite extensive iPhone help area for lots and lots of useful tutorials and tips!