The latest Windows 10 update seems to have made my photo editing software super unstable. It's now crashing all the time! How can I uninstall or back up from a Windows update so I can use the app again?
Between the thousands of hardware configuration possibilities and the millions of programs running on PCs around the world, it's perhaps no surprise that some of the Microsoft Windows Updates end up having unexpected consequences. There's no way that the company can test every possible program, configuration and setup, even with its Windows Insider program and beta release strategy. Usually, however, the responsibility falls on the app developers so in reality it's your photo editing software that's probably at fault in this situation. But… there are thousands of obsolete programs that are no longer maintained but still a critical part of people's computing experience and usage. And sometimes Microsoft does get something wrong with an update and needs to fix the fix, as it were.
Given that one of the features of Windows is the ability to uninstall an update with a click or two, it's clear that you are not an isolated case. Plenty of people dutifully apply an update when it appears – or have their computer apply it automatically – and the find that something on their system no longer works properly. So let's look at how to uninstall a patch or system update and why sometimes that still won't fix the problem…
HOW TO UNINSTALL A WINDOWS UPDATE
Easiest way to start on your PC is to search for "view update history". In fact, you probably won't even need to type that many characters to get to the right system setting:
That's what you want: "View your Update history". Click or tap to choose that and you'll see a list of the various app and system updates you've applied in the last few weeks or months:
You can see that I've applied both Feature Updates (most recently on 10/21/20) and Quality Updates (most recently on 1/22/21, just a few days ago). Handy to know is that you can always jump here and look at "See what's new in this update" if you're ever curious about what has actually updated.
For our task, however, click on "Uninstall updates" and the next window basically offers up the same information, but in a more succinct manner:
This shows that I have 12 Microsoft Windows update, 1 Microsoft Visual C++ update and 1 Adobe Acrobat Reader DC update. Not every update can be uninstalled, however, and some simply don't show the uninstall button, as you can see when I click on the Acrobat Reader entry:
The help message is reasonable, but there's no actually "Uninstall" or "Change" link anywhere. That's because you can't reverse the Acrobat Reader update (which makes me wonder why it shows up on this list at all, but that's another story).
Click on one of the Windows updates, however, and you'll see something subtly different:
In this instance, I'm going to uninstall the latest Microsoft Visual C++ 2010 x86 Redistributable update, known informally as KB2467173. Okay, so maybe that's not its informal name, but you get the gist!
Because this update has a checkpoint in the system, the Uninstall button shows up, as highlighted. A click on that and…

Why not? After all, "check for updates" will just surface the update again and it's easily remedied if anything goes wrong.
A click on "Yes" and you'll be again prompted, but this time by the Windows security subsystem: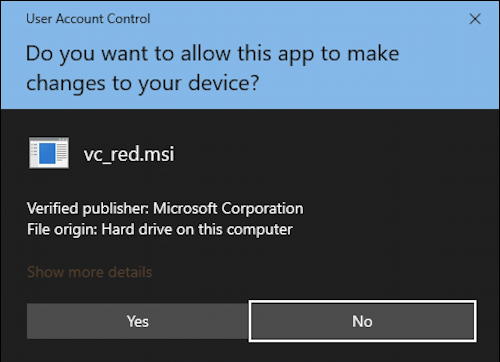 It's verified publisher Microsoft, but it's also a bit confusing that the app itself is vc-red.msi rather than something a bit more mnemonic (and less worrisome) like uninstaller.msi. Anyway, another "Yes" and it's uninstalled. Done.
REINSTALLING AFTER AN UNINSTALL
What if you then test out your program and find that it's still unstable? That would point to the update not being the culprit but something else going on. In that instance, it might be worth re-installing the update after all. Problem is, sometimes you can't do that because it's not recognized as an applicable update. For example, I rolled back C++ earlier, but now when I Check for Updates you can see that it does not show up as an available update:
In this situation, there's not much you can do other than simply wait for the next update in the cycle that will include the update you uninstalled and more additional. Also note that sometimes comprehensive system updates can override individual uninstalls too. It's a complicated system!
I hope that helps you get back up and running with your photo editor. Good luck!
Pro Tip: I've been writing about Windows since they were running on a Xerox ALTO and Microsoft was focused on command lines. Please check out my quite extensive Windows 10 help area for hundreds of useful tutorials and how-to articles. Thanks!