Hi Dave! I want to rotate my printouts from Word 90 degrees before printing. Is there any way to do that in Windows?
At its simplest, printers work by getting a stream of dots and rendering them as specified on paper. Whether that's done with a laser or a jet of ink, the tech hasn't fundamentally changed for quite a while now. The language that printers can use, however, has become more sophisticated and most systems use Adobe's Portable Document Format (PDF) as their basic page / information layout language.
Microsoft Word, however, is a word processor focused more on helping you write the next memo for work, a scientific paper or your next novel. It has some fancy features for layout, margins and borders, but generally speaking it's all about the words.
Which leads to the obvious question: Are you stuck? Is there no way to rotate your printout 90-degrees before you actually have it rendered by your printer? Turns out there is, but it's not within MS Word itself. It's part of the standard Windows print dialog. Let's have a look…
First off, since I don't have Microsoft Word on my test computer this week, let's use WordPad instead. Lots of shared code and it'll work just fine for our demo:
This is an excerpt from the remarkable and dark novel Heart of Darkness by Joseph Conrad. If you've seen the movie Apocalypse Now, know it's based on this novel.
Anyway, within WordPad there's no way to rotate text but if you choose File you'll see there are some Print options:
You can just use Control-P to print, but the above is more useful because you can see the options available. Choose Print and this likely familiar dialog box pops up:
You have probably looked at this dialog box dozens of times, but did you ever click "Preferences"?
Do so: Click "Preferences".
This is how you're used to reading documents because it's our typical style for books, magazines, newspapers, etc. Shorter lines, taller pages. But here's where you can change orientation from Portrait to Landscape and rotate everything 90-degrees: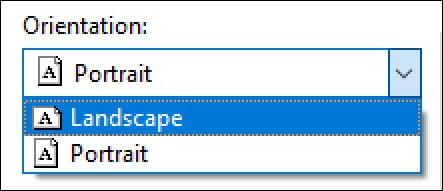 Landscape is more how your computer or TV are oriented; wider, shorter. You can rotate your printout similarly, as the preview thumbnail illustrates:
Notice that all your content will likely reflow to reflect the longer lines, but that's what you'd want. Once you've changed orientation, you can also go into page view in Word (or WordPad) and see how it affects layout before you actually print. Or, print to PDF: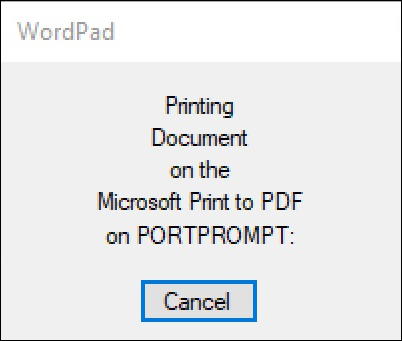 Now you can check the PDF preview to see if it's laid out correctly prior to using print paper and ink on your printer! Either way, that's how you rotate your printouts from Microsoft Word 90-degrees in Windows.
Pro Tip: I've been writing about Windows for years. Please check out my extensive Windows help library while you're here on the site!