I don't know what happened, but suddenly my Facebook is all in French! I don't read French so I don't know how to restore it to English as my preferred language on Facebook. Help!!
C'est une tragédie! Mais nous pouvons le réparer! Which is to say "don't panic, we've got this." In fact, since Facebook uses the same layout regardless of which of the many languages it supports, if you know the layout of what to do and where to go, you should be able to basically guess your way back to your preferred language, whether you start out in French, Cantonese or Basa Jawa. Facebook says that it currently supports over 100 languages, which I believe. Then again, Esperanto is one and "Pirate", yes Pirate, is another…
Anyway, let's get on with it, shall we? As I said the key is to realize that the menu and page language changes, but the layout remains the same. So start out right on the home page and click on the tiny triangle on the top right. You'll get a menu of basic settings and pages that looks like this: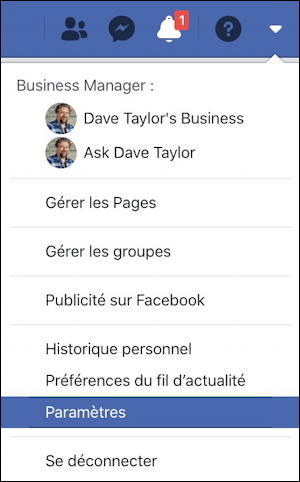 As I have highlighted, you want the choice that's one from the last. The very last one is "log out" so that's not what you seek! Instead, you want 'Settings' or 'Preferences'. In French, paramètres. In Basque it'd be ezarpenak, Punjabi would show it as Saiṭigaza, Samoan as faatulagaga and, finally, in traditional Chinese as Shèdìng. Handy, right? 🙂
Turns out it doesn't really matter what page you go to, because you want to scroll to the bottom, but let's look at the Settings page in French since that's what you'll see:
What you want is along the bottom of the page. You can't get "to the bottom" on the Facebook home page because each time you scroll down it fills in more information from your newsfeed so it's maddening, but not useful. Instead, going to a sub-page eliminates what they call "infinite scroll" and you can get to the very last line of the page. In this instance it's this:

Just below the copyright you can see a list of the most common languages, notably including English (US).
That's the one you want. Click on "English (US)" and it should instantly be all fixed up!
Don't see your language? A click on the "+" reveals a LOT more languages, over 100 in all: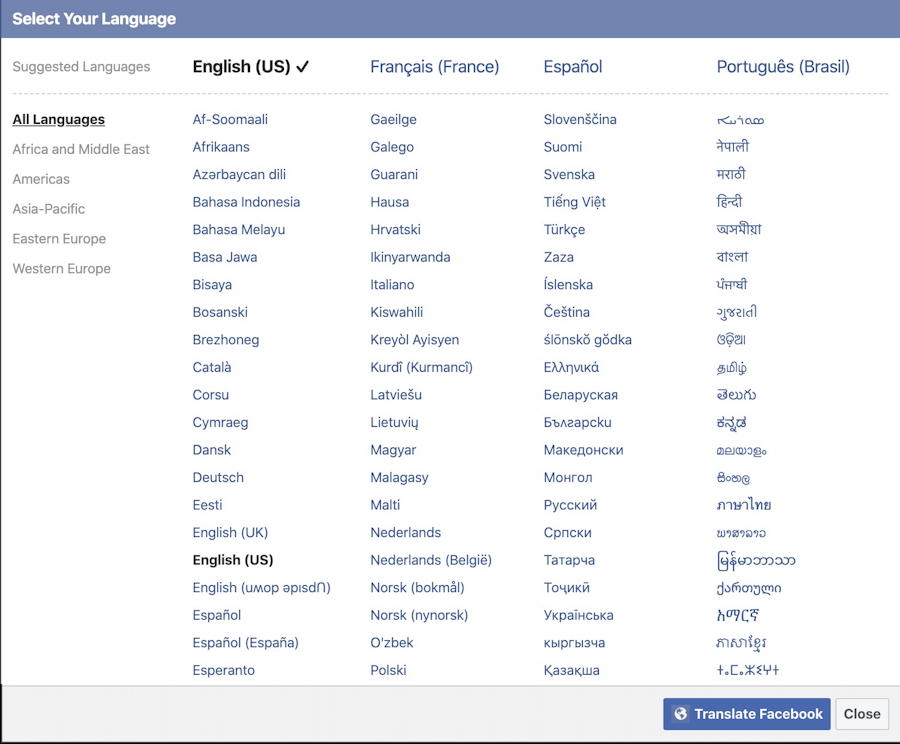 No way around it, that's a lot of language options. Notable is "English (Upside down)" which can be fun. Some of these languages you'll probably have to look up to find what countries they're associated with. For example, Basa Jawa is a language spoken in Indonesia and Zaza is one of the Turkish languages spoken in the region.
And that's it. Keep in mind that you need just look at the very bottom of any page other than your home page on Facebook and you'll be able to find the most common language options and switch with just a click. Even if you're in something that's otherwise completely incomprehensible to you. mission accomplie!
Pro Tip: I've been writing about Facebook for many years. Please do check out my extensive Facebook help area while you're here and don't forget to Follow AskDaveTaylor on Facebook too for more fun and unique content.