I have separate accounts for each of my kids on the household Mac system (an iMac running MacOS X 10.15.1). Except my son's forgotten his password! How can I reset it so he can use it again?
First, the good news: If your iMac is set up like most systems, you have an administrative account and your kids have regular user accounts. I certainly wouldn't be giving my kids administrative accounts on one of my computers, that's for sure! The even better news is that if it were your son's Mac and he had forgotten his password, it's rather a pain to reset the admin password if you forget it [here are some instructions from Apple: How to Reset Mac Admin Password]
One thing to think about to remedy this in the future is to use the password hint field. Worst case, you can actually duplicate the password itself in the hint box, though that means anyone who thinks to request the hint can then log in to that account. I like to have a mnemonic that helps them remember the password instead, something not too cryptic but still not just the actual password repeated. For younger kids, a super simple password hint would be best, like "your favorite pokemon?".
Let's jump in and solve the problem. For this, we'll use my "Susie" account on my own Mac system. Here's Susie, unable to log in:
See Susie. See Susie cranky because she can't log in. Poor Susie.
To fix this I'll need to log in to my own account. Once done, Apple > System Preferences lets me check to see if I'm set up as administrator on this Mac system:
Notice on the left, under my account name, it says "Admin". *phew* this saves a lot of hassle.
You'll also notice that all the other accounts are greyed out. That's because I need to validate my admin password to gain access to the other accounts on the system. That's done by clicking on the yellow padlock on the lower left.
A click and I see this:
This is just your basic system password, so enter the same one you use to log in to your Mac from the first page. For me, the password is, um.. err.. wait a second! You don't need to know that to proceed!
Enter your account password and you'll see the account info all unlocked in the System Preferences window. Click on the account in question: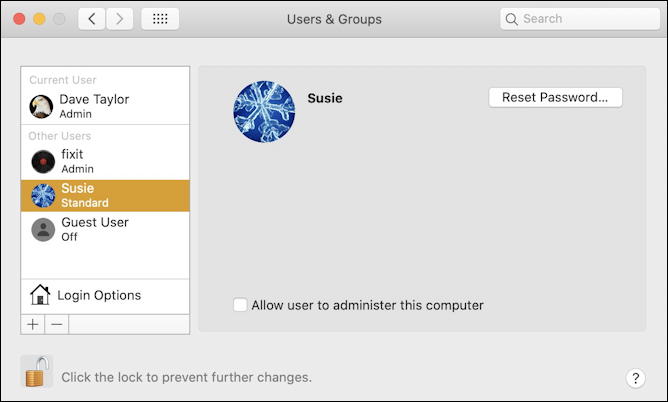 I've chosen Susie (a "standard" account, as you can see on the left side) and a "Reset Password…" button appears. That's what you want!
Click on "Reset Password…" and you'll be prompted for the new password for this particular account:
Here's what I was talking about with the password hint, btw. Enter something useful for helping remember the password, but not the actual password itself if you can help it. Here's what I did to sort of help Susie along:
How does that hint suggest the actual password? Well, I hope Susie knows! 🙂
More seriously, just click on "Change Password" and you're done. Password reset, and if a hint is needed, well, you know what it is:
So that's it. If you can't get to their account or you need to reset the password on an admin account, check back with Apple for specific instructions. There are a couple of options, so don't panic!
Pro Tip: I've been writing about the Mac system forever. Please check out my quite extensive Mac help library for tons of tutorials!