I've been wondering about whether the location information included in my photos is still included when I share it with friends, either through SMS text messaging, email, or social posts. How can I tell? More importantly, how can I remove this GPS info?
Odds are that if you are taking photos that include GPS geolocation information – latitude and longitude – it's associated with your photos however you share them. The culprits here are smartphones, actually; to work they must have precise location information so they can connect to the closest cell tower. This geolocation information is then easily attached to photos. The upside is that it's really useful to be able to "locate" your photos by shooting location and galleries based on maps are an obvious win for road trips and holidays.
But when you take a selfie at home or share a photo of your latest kitchen creation, do you want the rest of the world to be able to zero in on your exact house or apartment building from anywhere in the world? Probably not. Making this more confusing, some services do strip out GPS information when you share photos, while others ignore the entire issue. And it varies by operating system too: Microsoft Photos can't even recognize GPS information in photos that have that information included in their EXIF data.
REMOVING GPS GEOLOCATION INFO IN MAC "PREVIEW"
Let's start by looking at a photo I took with my Apple iPhone 13 Pro. I'm going to open it up in Preview on my Mac…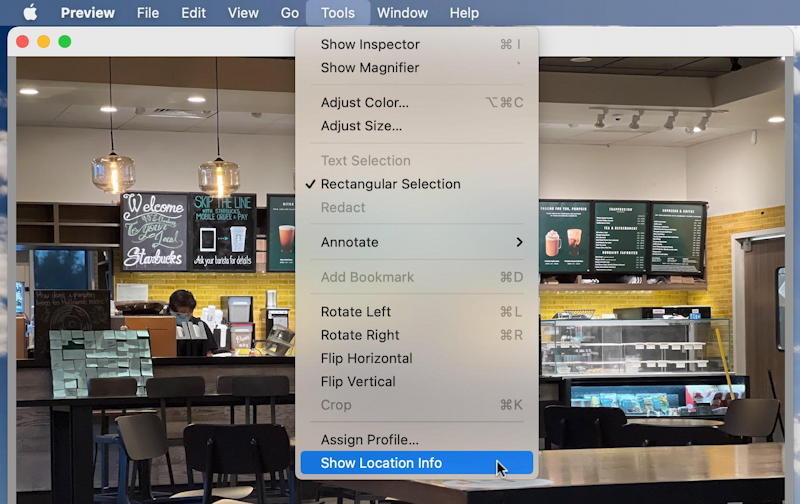 As you can see, it's a photo from within a Starbucks. But where? A click on "Tools" shows that the last item, "Show Location Info", is an available choice. This means that there is GPS information included with the photo. A click on "Show Location Info" and the details are revealed: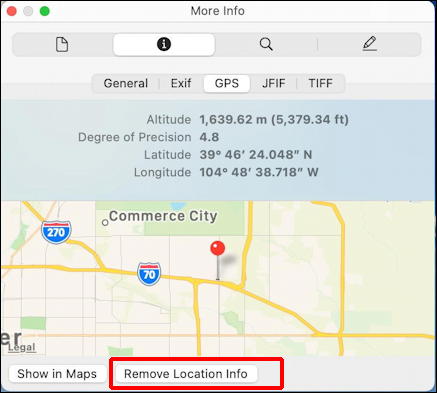 You don't even have to rely on the tiny map because you can search Google Maps for latitude/longitude. Try it by clicking on this: 39°46'24.1″N 104°48'38.7″W. Pretty amazingly accurate, to within just a few feet: I was indeed inside the Starbucks shown.
Much more importantly, however, is the button at the bottom: Remove Location Info. A click and location information is stripped out of the photo. Save it with a new name and you can compare the two versions if you want. Or just open it up in Preview and notice that the "Show Location Info" option is now grayed out:
What about photos that friends and family send me via text message? Most of them have location info already removed, but one of my friends texted me a photo of his dinner that I saved on my Mac and opened up in Preview.
Did it include geolocation info? Oh, heck yeah, and in remarkable detail: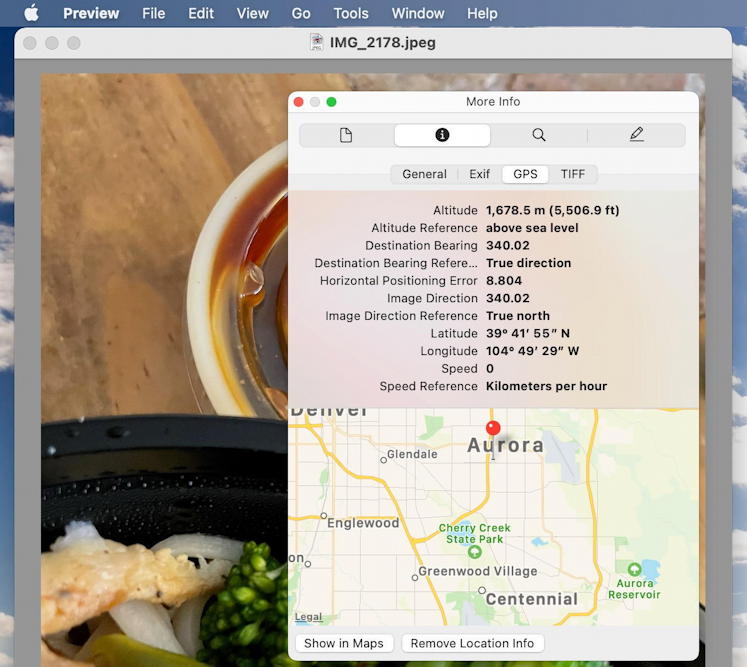 That's very specific information [slightly tweaked to mask his location] that includes altitude and what direction he was facing when he took the photo. He was startled to learn that information was included, needless to say. Should text messaging automatically strip this information? I think so. But it clearly doesn't.
A click on "Remove Location Info", however, and it was completely purged of this data:
Still, should it be our responsibility to remember to manually remove this information before we share photos? Yes, you can go into Settings > Privacy > Location Services > Camera to stop your camera from recording GPS information, but that's frustrating because it's actually useful info.
I will observe that when I shared a photo with GPS information to my Facebook friends, then downloaded that photo from Facebook, all of the GPS location information had been removed, so at least that software recognizes the privacy implications of not stripping this info out. But other services? Might be time to check all your privacy settings once again.
MEANWHILE, GPS INFO ON THE PC
So what about on Windows? Interestingly, a photo with GPS information had the "location" data in Microsoft Photos show up as blank. But when I tried right-click > Properties on the very same photograph, I was shown this:
It's displayed in a slightly different format, but clearly the photo in question – from that same Starbucks – still includes latitude and longitude – and altitude! – information.
Fortunately, Windows includes "Remove Properties and Personal Information" as a link on this window. A click on it and you can pick and choose what to delete, or just delete everything by selecting "Create a copy with all possible properties removed":
In both cases, Mac and Windows, there are built-in OS tools to remove location information from photos, which is great. They're not easy to find or remember, which isn't so great, and it's still frustrating that you can only really have one or the other, not choose whether to share that info too when uploading the photo to your favorite social service.
At least you know how to check to see if your photos and images have location information, though, and how to strip it out if you're so inclined. That's a big step towards the privacy you seek. Good luck.
Pro Tip: I've been writing about Windows and MacOS since the early days! Please check out my huge Mac help library and my Windows help library (now with Windows 11 tips too!) for hundreds of useful tutorials and how-to guides while you're visiting. Thanks.