Hi Dave! I'm wondering if there's any way I can record audio directly on my Windows 10 system? Specifically, I'd like to be able to record audio messages to students, but I'd also like to record the occasional parent conference call off my phone too.
There's a great audio recorder that's included in Windows 10 called Voice Recorder. While the user interface is as minimalist as you'll find, it does a good job and lets you do everything you might want without downloading a single new app. However, be aware that generally speaking, if you're trying to record another program you're using – like Zoom or Microsoft Meeting – that also wants access to the computer's microphone, you're going to be out of luck. Just like your Webcam video stream, only one program can access the microphone at a time.
So it'll work great for you recording voice memos (which is a fun idea and something your students will enjoy) and you can use Voice Recorder to record a meeting you attend in person with others (though your computer will need to be open and running the entire time) it won't work to record a video conference. Tools like Zoom offer their own recording feature, however, so that should have you covered and it includes the video portion too.
Phone calls are interesting. Generally speaking you can't easily record a phone call on an Android or iPhone but there's a workaround that utilizes Voice Recorder that I use and it works great: Put your phone call on speaker, place it adjacent to your computer screen, then use Voice Recorder on the PC to record the entire discussion. Legally you'll want to either request permission or at least notify the other party that you are recording the conversation, but that's up to you.
RECORD YOUR VOICE WITH VOICE RECORDER ON WINDOWS 10
For a demo, let's just record a snippet of your voice with Voice Recorder. As you'll see, it's really easy to work with once you get the hang of its austere user interface. Start by searching for "voice recorder":
Note: If for some reason you don't have this program installed on your PC, you can get a copy of it from the Microsoft Store for free. Just search for "Voice Recorder" and make sure that the publisher is Microsoft before you proceed.
Voice Recorder app. Yup, that's the one. Click or tap to launch it and you'll see the starting screen: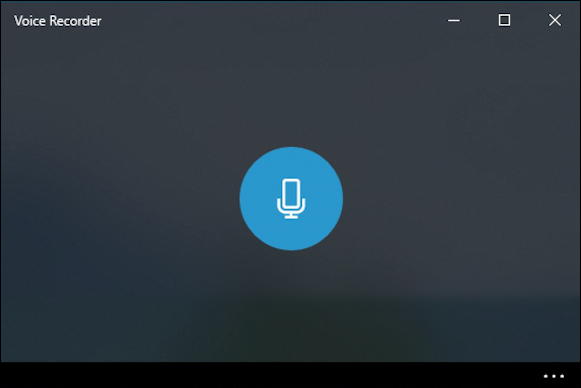 That's it. No help, no text, no toolbar. Easy to understand how people might look at that, panic, quit and then say there's no easy way to record your voice on a PC!
But the UI's austere, not missing completely: Click or tap on the blue microphone (yours might be a different color based on your theme, of course) and it'll start recording. To access the few controls, click on the "•••" tucked onto the lower right corner:
For this first invocation, it's not a bad idea to choose "Microphone settings", though that's going to just take you to the corresponding Control Panel from within Windows 10 itself…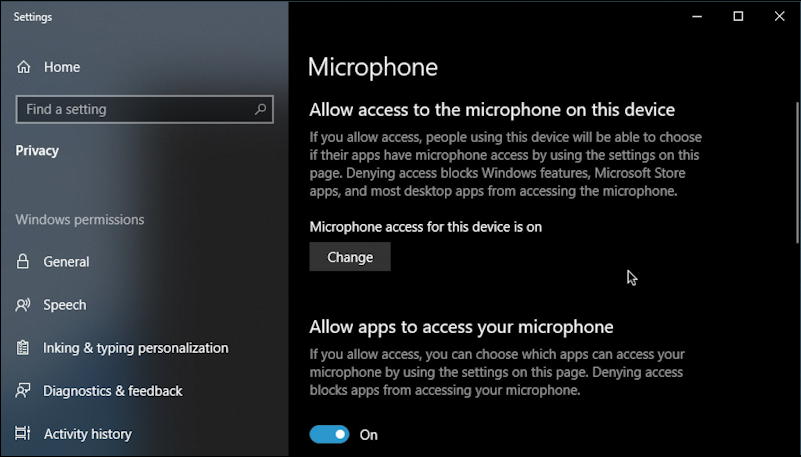 Looks good? Voice Recorder is listed further down as an app that does have access to the microphone? Good. Close that window and go back to the app itself.
Now click the blue button and start talking! As you'll see, the display gets a bit more informative: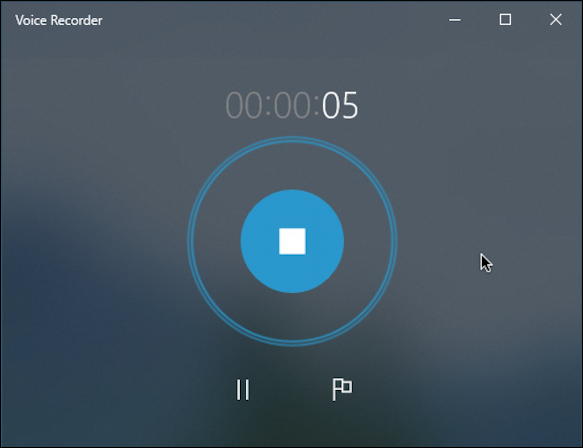 The blue circle is animated and shows that the recording is proceeding, as does the running timer along the top. Along the bottom are pause (without stopping the recording, you can click it again to resume) and the flag button which lets you identify key points in the recording to easily access them later. I'll click on it so you can see in the subsequent audio how it's displayed.
Done recording? Click on the blue circle with the white 'stop' square and it'll wrap up the recording. Voice Recorder then keeps its own list of every available recording, shown, again, in a pretty austere manner: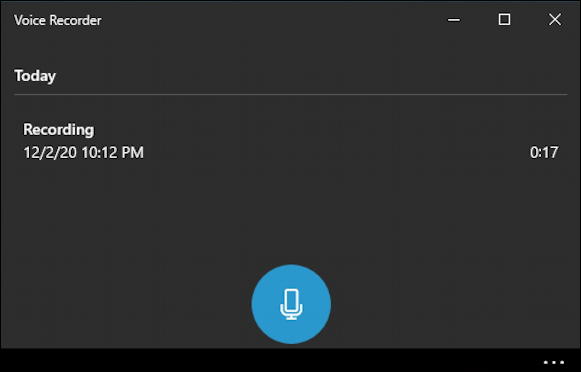 Click on the listing for this recording and you'll be able to listen to it: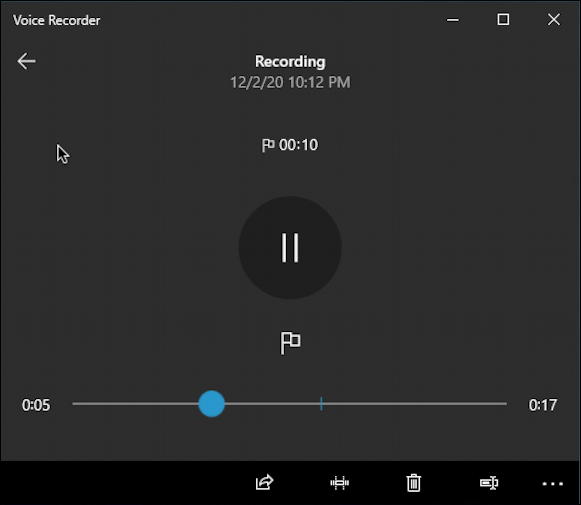 Notice the tiny blue mark along the playback timeline? That's the spot marked from clicking on the flag icon during recording! Handy. Also note that there are a bunch of icons that have appeared along the bottom too. They are, left to right, the share feature, a crop tool to get rid of the dead air at the beginning or end as desired, the trashcan to delete the recording and rename, which is very helpful to ensure you know what's what with your list of recordings. Finally, the "•••" menu also includes a new option to see the source file of this particular recording, very helpful if you want to move it onto your Desktop or save it in a project or class folder.
You can also get to the share, delete and rename functions, along with "Open file location", by right-clicking on a recording while viewing the full list of all your available voice recordings, as shown:

Renamed, trimmed, and ready to share with a student via email or instant message? You can do that!
Choose "Open file location" and you'll see the audio files for everything you've recorded: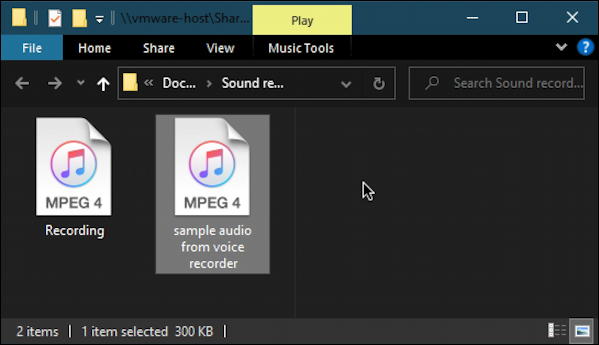 Now you can drag the file onto your Desktop or into an appropriate window in an app like an email program, PowerPoint presentation or similar. And that's it. Done. In case you're curious, here's the sample audio, click to listen: Sample Audio from Voice Recorder.
You can see that since it's recording whatever the computer mic is picking up, you'd use exactly the same process to record an in-person meeting with colleagues or parents, and if you had a phone on speakerphone right by the mic, you could easily record a phone call too.
Hope that helps you out!
Pro Tip: I've been writing tutorials on how to get things done on Windows for quite a while and have amassed a significant library of Windows help here on the site. Please do check it out while you're visiting! Thanks.