I like to record a sort of audio diary where I talk about what happened so I can go back and listen to it later. Is there a way to record audio memos or similar on my Android phone? I have a Samsung Galaxy S8, if that matters.
Android has always shipped with a great utility called Recorder. It does just what you seek, and, of course, every smartphone has a microphone or it wouldn't be very useful when it's used as a telephone replacement. But that Recorder program can do a lot more than just record your personal "vlog" because it can record conversations that it can 'hear', not just you talking. One great use: Have it unobtrusively record a college lecture so you can listen to it again while you're studying, a terrific live performance so you can enjoy it again later, or record a conversation with a tax attorney or business mentor. Again, the unobtrusiveness of the phone makes it a great recording device. Heck, people are used to smartphone sitting on tables and desks already!
What's even better is that if you have a Bluetooth device hooked up like earbuds, it will automatically use those for the microphone, so you could even get an external mic to have even better, clearer results. The most modern smartphones do a good job with the audio pickup, though, since, as I said, that's rather a critical function for a smartphone, right? 🙂
RECORD YOUR VOICE WITH RECORDER
To start, go to your "All Apps" view in Android. Typically just swipe up from the home screen. On my Android device, I see this list of apps: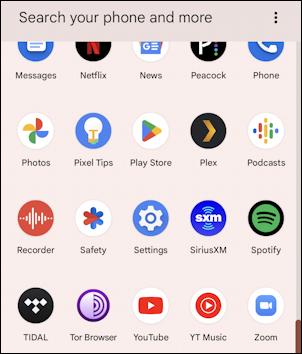 Can you see it with its big, cheery red icon? Tap on "Recorder" and since you've never used it before, it pops up this warning message rather than a list of saved recordings:
The best way to try it out is to just use it. Tap on the red "record" button and start talking!
You'll notice the blue waveform shows that it's 'hearing' you – it would be a flat line if it didn't receive any audio input – and that there's an elapsed time indicator near the bottom. On the Pixel 6 Pro that I used for testing, it can also build a real-time transcript and recognize that it's speech too, as you can see if you look closely.
Done talking? Tap on the red button which will now pause the recording.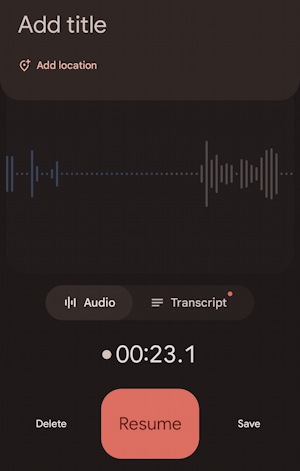 It allows you to specify a title and location, as desired, but if you ignore that it will simply save with a date and time as the filename, which makes it easy to organize. Note that again the red button has changed, this time to "Resume". You can pause and resume as many times as you want. Done? Tap on "Save" instead.
HOW TO TRIM THE START & STOP ON AN AUDIO RECORDING
Maybe you want to trim down the start and stop on your recording, as is often the case. Doable!
In fact, one power feature of Recorder is that you can trim the start and stop points, so if you started recording, got interrupted, then started again, you can easily chop out the false start…
Here, for example, I've tapped and dragged my finger to a point about 10 seconds into the recording (as shown on the timeline at the bottom). At this point if I tap on the scissors icon along the top, it will automatically use that as the start point and create a bubble that will be the trimmed audio:
Now the bottom bar has a sort of pipe overlaying the portion that I want to save. I can tap and drag the end spot if I want to ensure I get every last second, then the buttons on the top become tappable: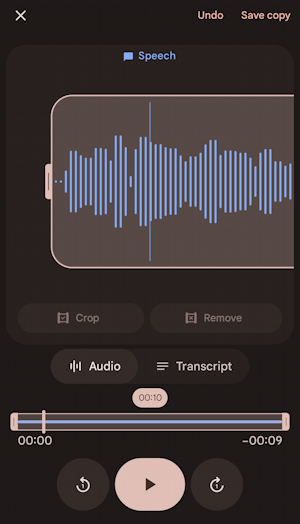 Tap on "Save copy" and the trimmed audio will be saved as a separate file. Got it wrong? Delete the trimmed version and try again!
Now the program will show both the original and the cropped or trimmed versions as separate recordings: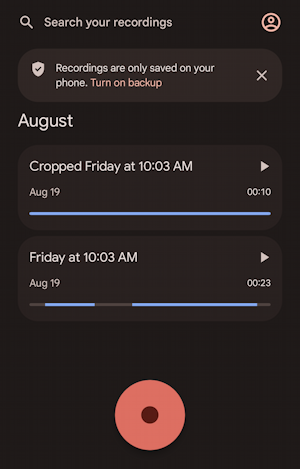 Now, how do you get the recordings out of the Recorder app?
SAVING AND SHARING AUDIO RECORDINGS
Turns out that's easy too. When you'll looking at the list of recordings, tap on one, then tap on the (vertical) "•••" button on the top right. A menu with a couple of options will appear: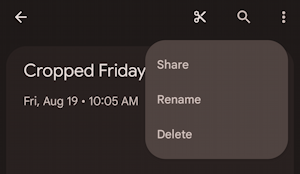 You can rename the recording as desired and delete it, but "Share" is the path to accessing the audio file outside of this app. Tap on "Share".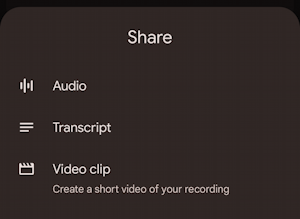 You can share the transcript (handy if you're going to turn it into a Word document or email), a video clip of your audio recording, or, most useful of all, the audio file itself. Tap on "Audio" and you'll have a list of channels through which you can share or save the audio file:
I'm going to choose "Gmail" from this list so I can email it to myself on another computer. I know, there are more sophisticated methods like Google Drive or Dropbox, but email is easy. A tap and I'm in the Gmail for Mobile app, composing an email with the audio file already attached and ready to send:
Pretty easy once you get the hang of it. Experiment a bit with the start/stop editor trimming utility within Recorder and I think you'll find it a great boon for all your voice recording tasks.
Pro Tip: I've been writing about Android and Google forever! Please check out my extensive Android help area while you're here, for lots more useful tutorials and guides! Thanks.