A former employee of mine has asked me to write up a recommendation for them on LinkedIn. How do I do that?
LinkedIn has two different processes for recommending someone, the easy way — "endorsements" — and the slightly harder way "recommendations". The former you see all the time and there's much discussion about whether it's even worth the effort or not, it's the keywords like "marketing" and "sales" that people basically vote on.
Recommendations, however, are more valuable and commensurately a bit more work both. But don't worry, if you can avoid the voting process of endorsements, it's easy to accomplish.
To start, find the LinkedIn page for your former employee. You should probably be connected, though I'm not positive you need that as a first step.
Then you'll see something like this:

Don't be fooled, though! That endorsement isn't what they seek.
Instead, scroll down a ways, often quite a ways, until you see this:

In this case, it's my colleague Roger we're talking about, but your prompts will be basically the same.
Click on "Recommend Roger" (with the other person's name as appropriate) and now you'll see what's involved:
There are two parts to this, as shown: the recommendation (which they can opt not to publish, by the way) and your message to the person about the recommendation. Since they asked you, the second part is just busywork, but I would highly encourage you to spend some time crafting the recommendation itself.
Ready?
Scroll down to part two of the recommendation system: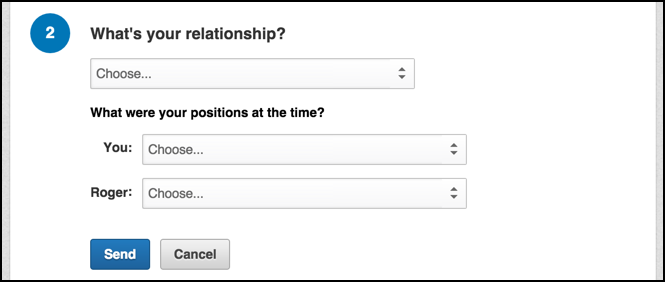 As is appropriate, choosing the right relationship is important for the recommendation to have value. There are a lot of choices: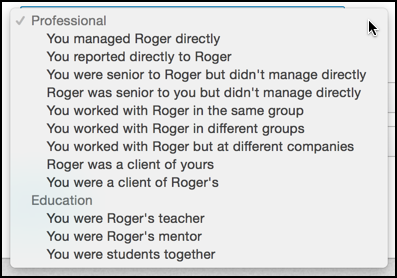 And, finally, when you click "Send" after filling everything in, you'll see this briefly shown on screen:

Once they approve the recommendation, it'll be live on their LinkedIn profile forevermore…