My son put all of my app icons on the first and second screens on my new Android phone, but not in the order I prefer. How can I remove apps I don't want and rearrange those I do want to keep?
Not to sound like it's related to Harry Potter, but once you know the secret to arranging and rearranging apps on your Android device, it is actually pretty easy! The key realization is that there are three gestures: tap, long-tap, and long-tap-and-move, and each yields a different result. The first, a tap, is what you're used to and how you launch an app so you can play the game, check the sports scores, text someone, etc. long-tap and some apps have a shortcut menu that pops up with handy ways to go straight to a specific action without having to launch the app.
That long-tap-and-move, however, that's where it's all at. Once you start moving the app icon, things show up on the screen that allow you to move the icon to a new location, delete the app, or even uninstall the app. What's the difference? "delete" removes it from the screen though it's still in all-apps view, while "uninstall" actually removes the app from your phone or tablet. Let's have a look, shall we?
APP SHORTCUTS ON YOUR ANDROID SCREEN
To start out, tap and hold on a few app icons. Rather surprisingly,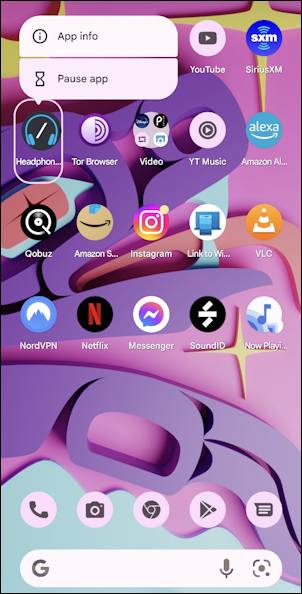 But with the long-tap, if I move my finger even just a tiny bit, the screen changes quite a bit: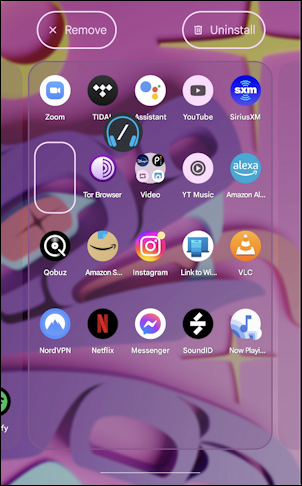 Notice the "Remove" on the top left, and the "Uninstall" on the top right. The icon itself is now floating too, as  I move it around on the screen. If there's an open space, a box shows up (you can see one where it moved from) and if you move an app icon between icons, they'll move around to make space for it. Want to move it to another screen entirely? Drag it to an edge: You can just barely see the Spotify icon on the left edge, for example.
I'm going to get rid of this particular app, however, by "Remove"-ing it. Easy enough; drag it to the "Remove" spot: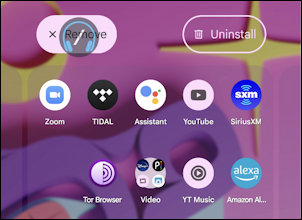 Remember, though, that this doesn't remove it from the device entirely, it removes it from this screen. To remove it from the phone or tablet, drag it to "Uninstall" instead.
HOW THE ALL-SCREENS ROW WORKS DIFFERENTLY
The last row of app icons works differently because they show up on every screen. Very handy and typically where you put your most important apps, including phone, camera, photo gallery, play store, and chat: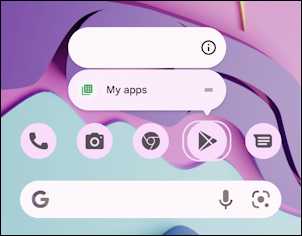 Turns out that they have shortcuts too. A long-tap on the Google Play store reveals what's shown above. Move it and you'll find that it's one of a group of apps that cannot be deleted as they're core parts of Android. You can tell because the "Uninstall" button doesn't show up on the top: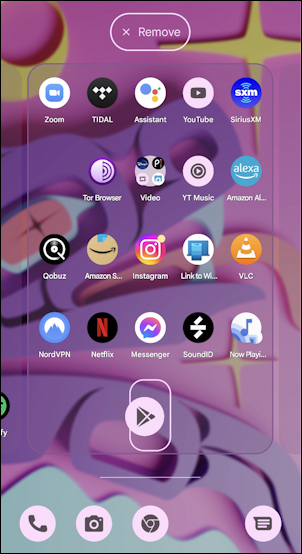 Even more interesting is that there are placeholder app icons that show up if you remove an app from the all-screens view, leaving it blank. In this instance, the Settings icon shows up, complete with shortcuts: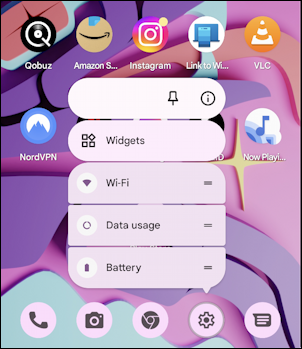 You can move one of these, but it won't stay removed. You can, however, move a different app icon on top of one of these placeholders and it'll appear instead, allowing you a bit more flexibility with icon arrangement.
Meanwhile, play with your app icons to see which have good shortcuts. Spotify has lots of options:
Most of those are songs or playlists I have listened to recently, but notice you can search directly from this view. Handy! You can also drop Spotify onto the bottom row by simply dragging it there while tapping: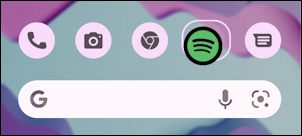 That's it, just about everything you need to know to organize, arrange, and even delete or uninstall apps on your Android phone or tablet. Have fun getting it all set up!
Pro Tip: I've been writing about Android since it was first released. Please check out my extensive Android help area while you're visiting! Thanks.