I'm a huge fan of the Amazon Kindle and have one that I carry with me. Sometimes I'm just sitting in front of my PC at work and want to keep reading my book, but on screen. Is there a Kindle reader for Windows? If so, where do I download it?
People don't talk about the Kindle as much as they did a few years ago, but the devices have gotten quite a lot better and the overall Kindle ecosystem is now really rich and supports just about everything you can imagine. In fact, you can read Kindle books directly from a Web browser, without any software needed, which means that you could read your Kindle books on your TV if you wanted! Or even in your car, if you have a Web browser as part of your infotainment system. Doesn't get more flexible than that.
The Kindle reader app can be found in just about every app store for various operating systems, from Android to MacOS X. With one odd and notable exception: It doesn't show up in the Microsoft Store. Do Microsoft and Amazon just have a bit of a tiff happening behind the scenes? Maybe. Either way, you can still download and install the Kindle Reader for Windows app, it's just a bit more hassle than going straight to the store.
But let's start with that web-based reader. It's easy, just go to read.amazon.com and once you've logged in, you'll see all your Kindle ebooks and be able to click, zoom, change fonts and read to your heart's content: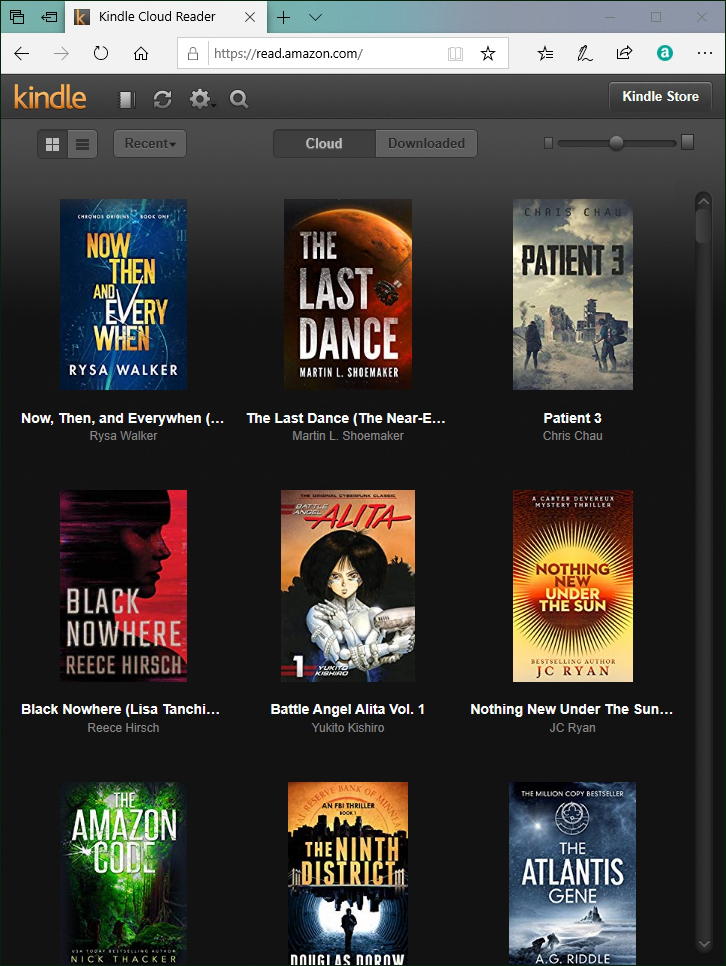 The above is shown in Microsoft Edge, the default Windows browser, and as you can see, it looks great and has the familiar interface you'd find on a Kindle, even to the Cloud / Downloaded tabs. So you can use this and once you're logged in, keep it open in a tab in your browser. Done. Easy.
But… what if you do want to get the Kindle Reader for Windows app for your PC? As I've already mentioned, the results of a search for "kindle" in the Microsoft Store is rather confusing: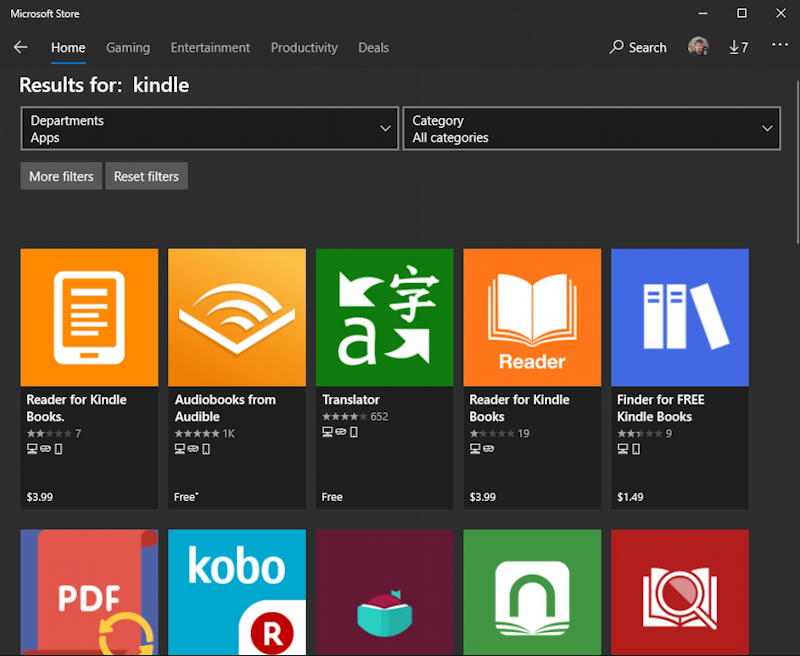 Third party apps for $3.99 or more? What happened to the free Windows Kindle reader app from Amazon itself? Again, I cannot explain why it's not in the Microsoft Store but there's a workaround…
In the Amazon store itself it turns out that the Kindle Reader for Windows app is just another item, so search for "kindle reader for windows" on Amazon.com and you'll find this: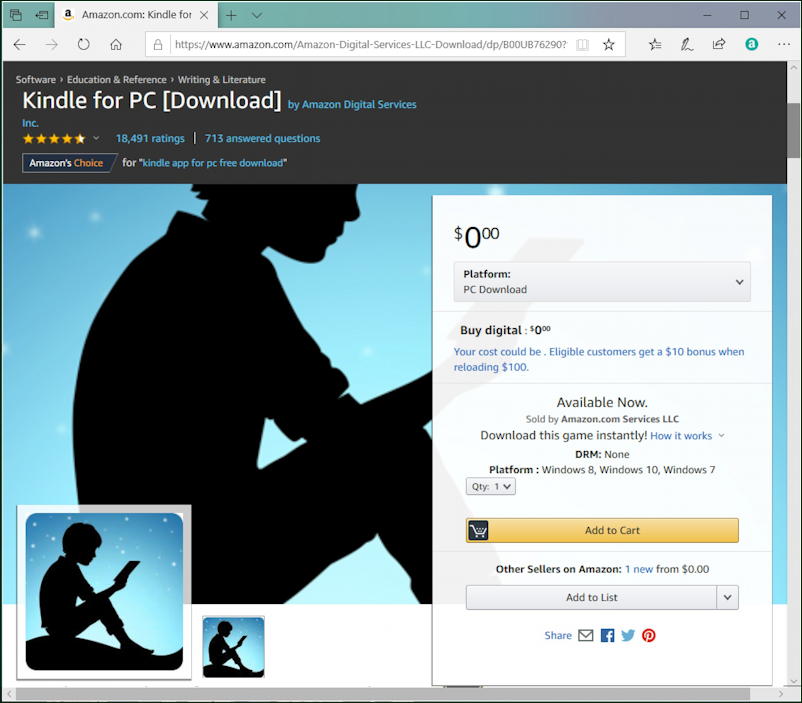 As you can see, it's free, but you still have to go through the purchasing sequence. That means you'll need to click to "Add to Cart" then "purchase" this software (remember it's free so you won't be billed anything). Once you've completed this transaction you'll be left looking at this:
Amazon will email you a receipt that includes a download link but why wait? Instead, click on "Your Digital Items" from the receipt shown above. It takes you to a special page on Amazon.com that lists all digital downloads you've ever purchased through the site, including, yes, our Kindle reader:

That's it! Now just click or tap on the "Download" button and you'll see the following pop up on the bottom of your Web browser:
It's safe to click on "Run" so please do so (though generally I highly encourage people to be cautious about running downloaded .exe files or similar. If you aren't 100% sure of the source, just click "Cancel"). Windows 10 also protects you from unknown executables by popping up this warning: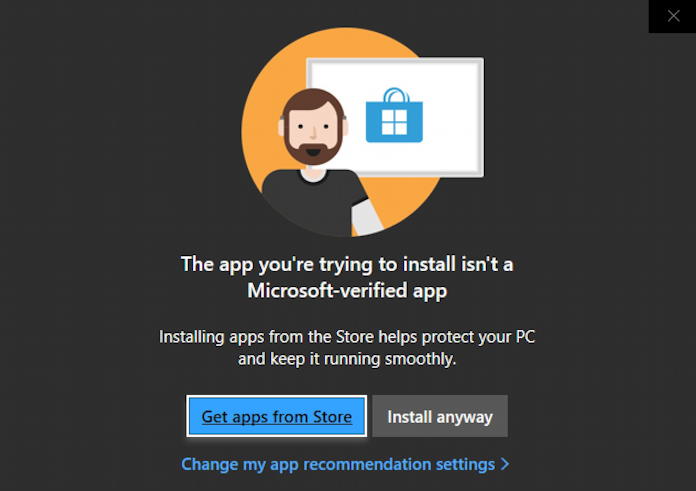 At this point you might want to say Microsoft, Amazon, figure it out. This is kinda ridiculous!
Whether you think this should be easier or not, however, click on "Install anyway" and it'll proceed to install the Kindle Reader for Windows, launch it, and prompt you to log in to your Amazon account. Once you've done so, your app will offer up a list of what's in your ebook library: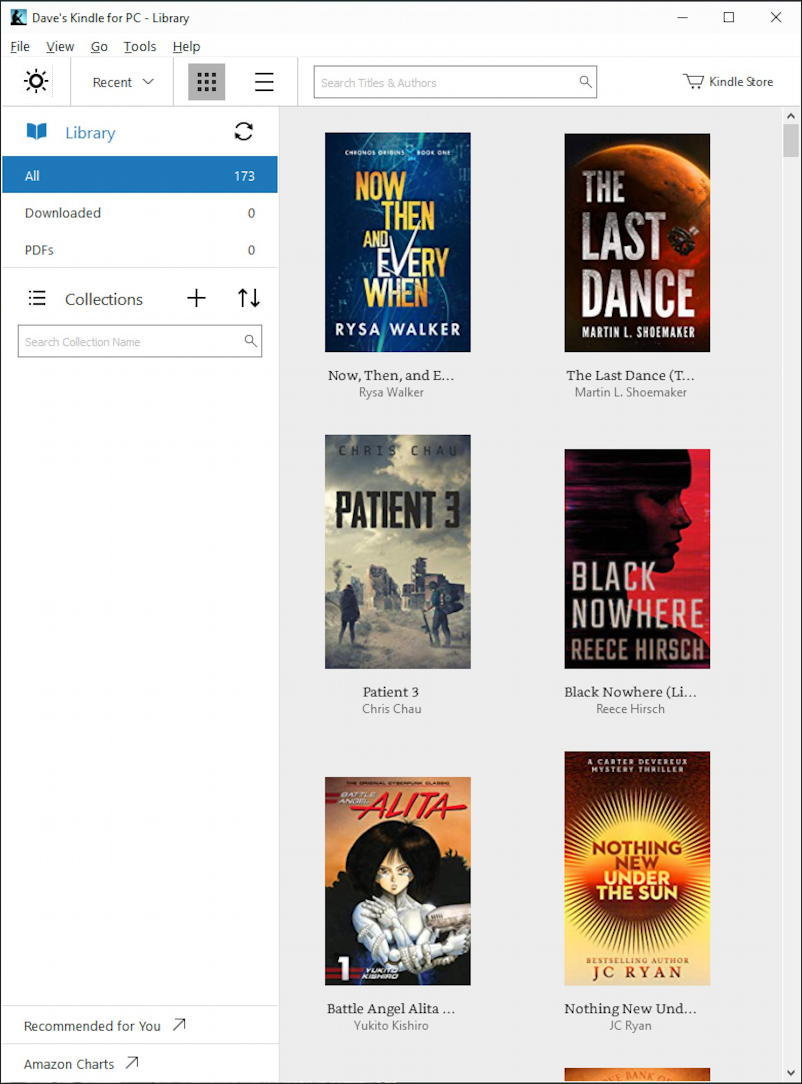 More functional but a bit less sleek than the Web interface, ironically. You can switch to "dark mode" easily by clicking on the "light" icon on the top left. Try it! And enjoy reading your Kindle books on your PC too.
Pro Tip: I've been reading books on the Kindle for many years. Please check out my Kindle help area for more tutorials that can help you too!