I downloaded Firefox to give it a try and now it's the default Web browser. What's the best way to ensure that everything switches back to Microsoft Edge since I don't really like Firefox that much?
Now that Microsoft Internet Explorer has finally been retired, many Windows users are using the default Microsoft Edge browser, but a surprising number of alternatives are available too. From Brave to Chrome, Firefox to Tor, you can definitely spend hours downloading and exploring different variations on the theme if you're so inclined. Generally, that's a safe thing to do but sometimes it can mess up the default app settings on your PC, particularly if you accidentally click "Yes" when it prompts to become your default browser.
While you may think that launching your favorite browser and then specifying you want that to be the default browser would fix the problem, it turns out that there are some settings that don't get updated properly. As a result, it's a good idea to go into your Windows settings and double-check everything's switched back as you desire. Let's go through the process and you'll see what I mean…
ASK CORTANA: HOW TO CHANGE THE DEFAULT BROWSER?
To start out with a small dose of whimsy, however, let's just ask Cortana how to change the default Web browser to Microsoft Edge: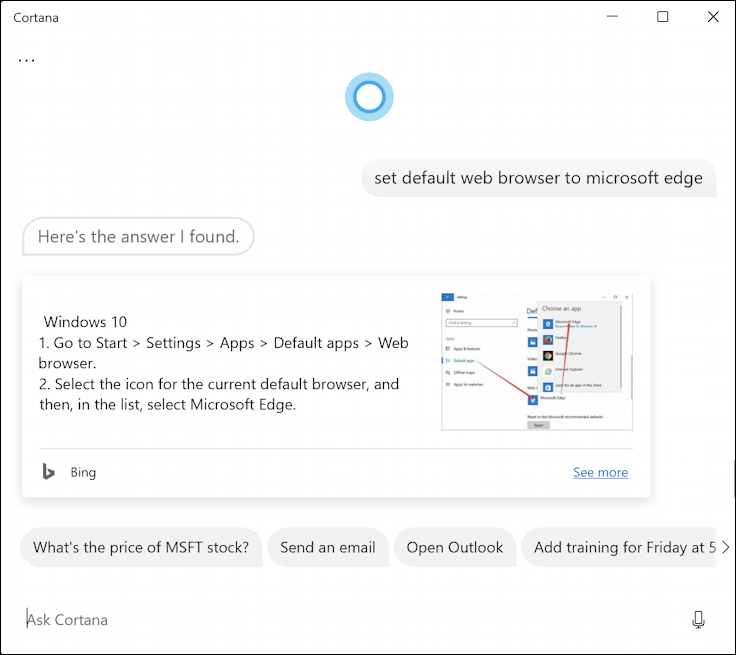 The answer is related to Windows 10, not Windows 11, for no obvious reason. I was kind of hoping that Cortana could actually accomplish the task, not just be a proxy for a simple Web search. Or at least offer a button to jump to the right location in Settings. Sorry, Cortana, you're not particularly useful in this situation!
CHANGE DEFAULT PC WEB BROWSER
Instead, let's use Windows search itself to look for "default browser":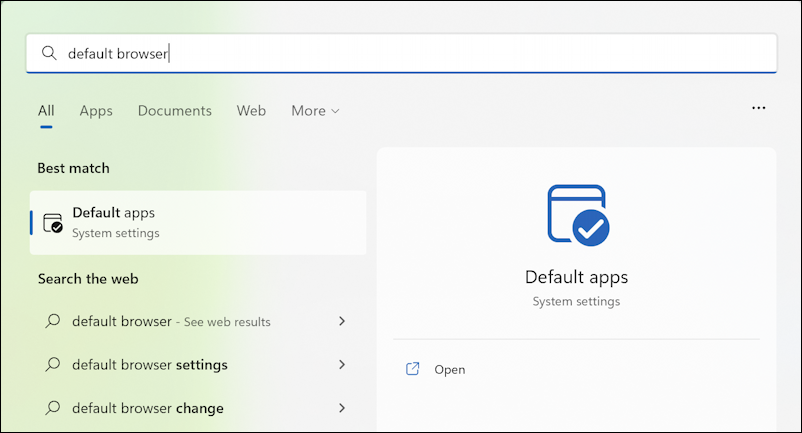 The search system links to the section in System Settings that we need: Default apps. Worth noting is that while Cortana might feel a bit sidelined by the Microsoft development team, Windows search is terrific and can really help you navigate your PC. I encourage everyone to try different types of searches to see how it can help you be more efficient.
In this instance, click on "Default apps". Here's what you'll see:
This is organized in an interesting way because it's app-oriented, rather than filetype or link type oriented. This means you have to find the program you want to be utilized for specific types of content, then see if it's associated with those link and file types. Scroll down a way and you'll find "Microsoft Edge", as shown: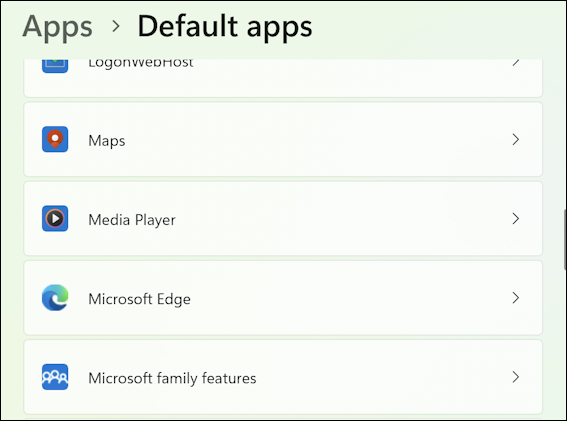 A click on "Microsoft Edge" and you can see what filetypes are associated with this particular program: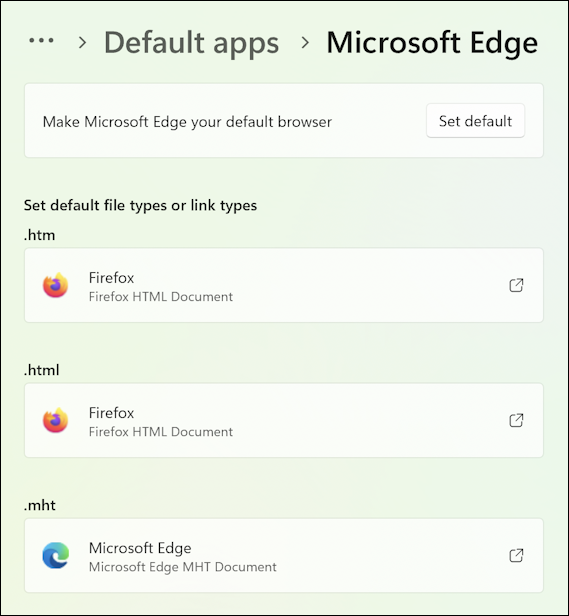 Both .HTM and .HTML links and file types are still associated with Firefox in this instance, though .MHT files are going to be opened by Microsoft Edge. Confusing. We could click on the "Make Microsoft Edge your default browser", but let's put this window aside for a moment and jump into Microsoft Edge itself.
MAKE MICROSOFT EDGE YOUR DEFAULT WEB BROWSER
In the Edge program itself, choose "Settings" from the "•••" menu on the top right. Then go into "Default browser" (it's on the left side, as you can see in the below image):
This "Make default" button looks like a duplicate of what we were seeing in System Settings but does it offer the exact same functionality?  It is the most common way that people are going to switch to having Edge as their default, so go ahead and click on "Make default" and close Edge.
Now let's move back to System Settings. If you closed that window, just search for "default apps" again, then click on "Microsoft Edge" in the list of apps and programs on your computer. Now it'll show this:
Looks like it did the job, right? Ah, but if you scroll down just a little bit…
CLEANING UP AFTER CHANGING DEFAULT WEB BROWSER
Turns out that it didn't quite reassign every single file type that could be associated, as is revealed:
So you can see that while .SHTML and .SVG are also assigned to Microsoft Edge, somehow .PDF links and filetypes are still associated with Firefox. Weird. Perhaps a bug in the Microsoft Edge code to change default browser, but then again, if you'd assigned PDF files to something like Adobe Acrobat Reader, you wouldn't want Edge taking over that mapping, would you?
In any case, the fix is easy. Just click on the white box that shows the wrong mapping and all the possible choices will appear in a familiar Windows pop-up:
You could get to this same window by right-clicking on a PDF document on your computer, then choosing "Open with…". Either way, choose Microsoft Edge (if that's your preferred solution), click "OK", and you're done. While you're in Default Apps, make sure you go through and ensure everything's associated with Microsoft Edge or a helper app, as desired!
Pro Tip: I've been writing about Windows since the introduction of the popular operating system. While you're here, please check out my extensive Windows help area for hundreds of other useful tutorials and how-to articles. Thanks!