I've been using a Chromebook and so far, so good, but how do I produce various international currency symbols in my writing without a huge amount of fuss? Do I need a special app?
Since the dawn of computing, people have struggled with generating symbols that aren't represented directly on the keyboard. Then we added emoji and it got 100x more complicated because not only are there now thousands of emoji (over 3400, actually!) but there's not a keyboard in existence that also offers emoji keys, entertaining though that would be. This leads to the same question in every operating system, whether you're on an iPad, a Linux system, an old PC, or a fancy new Chromebook: How do you generate these newfangled symbols and characters? And, of course, emoji?
The ChromeOS team has been working on this very issue and in the last dozen or so updates, they quietly added a new emoji and symbol pop-up shortcut window, of which most people probably remain unaware. You can get to it at any time, in any app, by simply pressing the magnifying lens key + shift + space. In the latest update to ChromeOS – ChromeOS 112.0 – this window now adds a specific area for symbols, including currency symbols.
EMOJI AND SYMBOL SHORTCUT WINDOW IN CHROMEOS
Let's say someone's asked you to convert 100 ₾ to US dollars. Unsure about that symbol? It's the Georgian Lari, the official currency of the nation of Georgia (tucked between Turkey and Russia, on the Black Sea, if you're not sure of its location on the map too). Fortunately, you don't need to know the currency name, you just need to recognize its pattern and symbol.
Poised partway through entering this query into Google, you press the Magnifying Lens + Shift + Space keys and this pops up: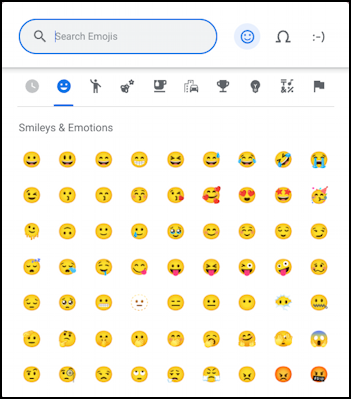 What's new is the omega symbol on the top – Ω – which is the shortcut to get to the symbols table:
We'll come back to that in a moment, but for now, let's see the third major area of this window: ASCII art. Click or tap on the ":-)" to see:
Honestly, I don't know why this is included unless it's just a fun throwback to the era before emoji when we had to struggle to represent different facial expressions with regular Latin-1 characters. It was a dark time. 🤣
CHOOSING SYMBOLS ON A CHROMEBOOK
Going back to the Symbols view (the Ω symbol), now it's time to click on "Currency":
Very handy, no question, but there are some curious omissions that I expect will be fixed in ChromeOS 113. I'll get back to those. For now, simply find and click on the Georgian Lari currency symbol: ₾
Now you can do that Google search:
I'm being a bit lazy here by using the "$" as a shortcut for US Dollars. Still, Google gets the drift and promptly shows a conversion table:
So that 100 ₾ = $39.45.
What's missing, however, are some of the more basic currency symbols like the Japanese Yen, which looks like this: ¥ or sometimes¥. It's unclear why it didn't make it to the Currency listing in the ChromeOS utility, but I expect it will all show up soon enough. It's interesting that MacOS has a similar utility and when you view currency, it offers more choices:
The good news is that you can always use the name of a currency instead, if you know it. For example, "convert 100 yen to usd":
Anyway, suffice it to say, ChromeOS does have a handy symbol and emoji tool that can make your life a lot easier with currency and any other symbols required. Even an old school ASCII confused smiley.
Pro Tip: I've been writing about Chromebook systems for many years! Please check out my extensive Chromebook help area for hundreds of useful tutorials and guides! Thanks.