Dave, help! My company has a field office in Istanbul and I just read that the official name of that country has changed from Turkey to Turkiye, with a double-dot atop the "u". How can I produce that accented character correctly so I don't get tripped up in documents and email messages?
Accents and other variations on letters are collectively known as diacriticals and are important for accuracy when writing words in other languages. English has some too, like résumé, but common usage often drops those accents so it reads more like "resume" and we're just supposed to know how to pronounce it (especially the trailing vowel). Work in multiple languages, however, and it goes from desirable to required, because often words without those diacriticals can represent entirely different words in other languages.
As a result, every operating system has a way to produce diacriticals while typing, whether you're on a Mac, Windows PC, or even a Chromebook. Often that's done with a separate utility that offers a catalog of all possible letter and diacritical variations, but there are handy shortcuts too. Certainly, it's always proper and respectful to match the accents and other diacriticals being used by people using another language! Let's have a look…
PRODUCING DIACRITICALS IN MACOS
One of the easiest systems is MacOS: Simply hold down the character you want to modify with an accent or other diacritical and it will show a tiny pop-up window of all the possibilities. For example:

Tap on "2" and you'll get the gravé accent on top of that 'e', just like my earlier example of résumé. This holds true for capital letters too, even non-vowels:
The other way to see a full menu of all possibilities is to use the handy Mac utility "Character Viewer". Launch it by pressing the globe (fn) key on your keyboard (if configured) or using the shortcut Command+Control+Space:
This offers a rather overwhelming number of possibilities, including the combination dipthong and macron variation of "AE", as shown on the right. Simply double click any needed from the menu, then go back to your work!
PRODUCING DIACRITICALS IN WINDOWS
Windows isn't quite as easy, but there's a similar very helpful utility that can teach you what you need to know called "Character Map". Search for it to launch it: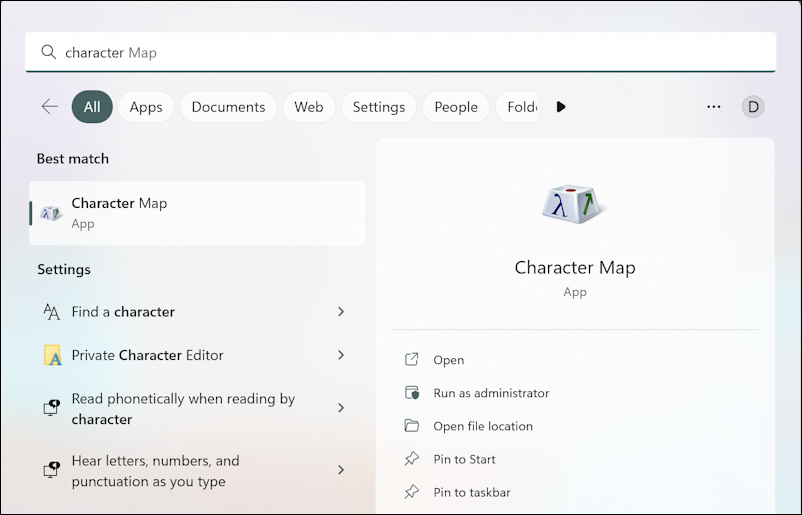 Launch it by clicking or tapping on "Open", then search for the diacritical you seek. If I want to correctly type São Paolo, for example, I need a lowercase "a" with a tilde…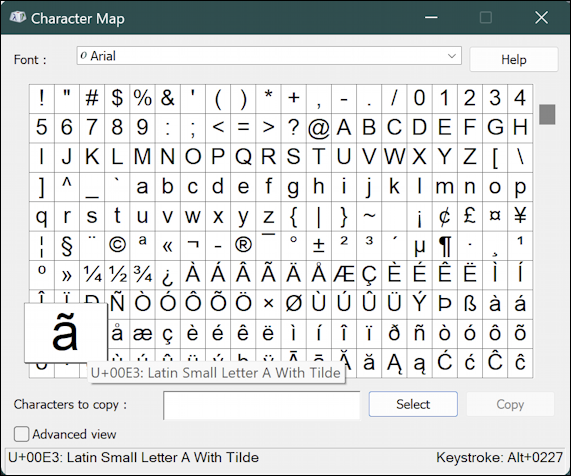 Move the cursor over it and you can see its name: "Latin Small Letter A With Tilde". Click on it once and it'll show up in the "Characters to copy" window:

At this point, simply click on "Copy", go into your app, ensure you're at the right insertion point, and Edit > Paste to add that character. Notice the Keystroke denoted on the lower right of the Character Map window too. In this instance, it's Alt+0227. This means you can also produce this with the keyboard shortcut of pushing and holding down the Alt key while typing in 0 2 2 7 on the PC keypad. You can only do this Alt shortcut if you have a keypad, oddly enough.
Copy and paste are your friend in this instance too: An easy way to deal with diacriticals in Windows is to ignore them as you're composing your memo, report, or email, then do a search and replace for "Turkiye", changing it throughout to be "Türkiye".
PRODUCING DIACRITICALS IN CHROMEOS
What about if you have a Chromebook? They're a lot like Windows, but it's fair to wonder if Google has fixed this particular input challenge. The answer, unfortunately, is no, not really. What Google recommends is that you go into Settings > Languages and Inputs in ChromeOS and enable the "English (US) with international keyboard". Even with that enabled, however, the process of producing a single character is so Byzantine and user-unfriendly that it's probably easier to just find the correctly accented word and use copy and paste.
For example, here's how ChromeOS wants you to enter diacriticals once you've enabled the international keyboard:
Disappointing. I certainly hope that the ChromeOS team has a chance to see how elegantly Apple has solved this world language input challenge and create something that's at least as straightforward, if not superior.
COPY AND PASTE IS THE WINNER
The answer to switching from Turkey to Türkiye, then, is very dependent on the operating system you are using. In all cases, once you have produced the word correctly once, copy and paste is your best friend, so one strategy that might work best is to simply have a digital note or post-it that contains all the correctly spelled words you encounter and keep it open. When you encounter Sã0 Paolo, Señorita Gonzales, or write about naïve résumé writers, you'll be ready to speed along with minimal fuss.
Pro Tip: I've been involved with online education and writing about online tech for years. Please check out my computer and Internet basics help area for tons more useful tutorials while you're visiting. Thanks!