I'm baffled. Every program I have on my MacBook Air lets me print two sided ("duplex") on my HP printer except Microsoft Word. In fact, even Microsoft Excel and Microsoft PowerPoint can print 2 sided, but not Word. What the heck?
You're definitely not the first Mac user to notice that Microsoft dropped a different printer driver interface into Word than it has in its other Mac programs. I believe it's because Word has far more complicated printing options for documents, but be that as it may, it's quite odd that you can't choose duplex / 2-sided from within the Word print settings window.
Or can you?
Turns out that there is indeed an option for two sided printing within Word for Mac, but it's in an odd place. I know, because I recently was hit by the same confusion, digging and digging without being able to find the specific setting. Thing of it is, if you were using Apple Pages (which you could do, of course, by opening up a Word doc file), that 2-sided option is very much front and center: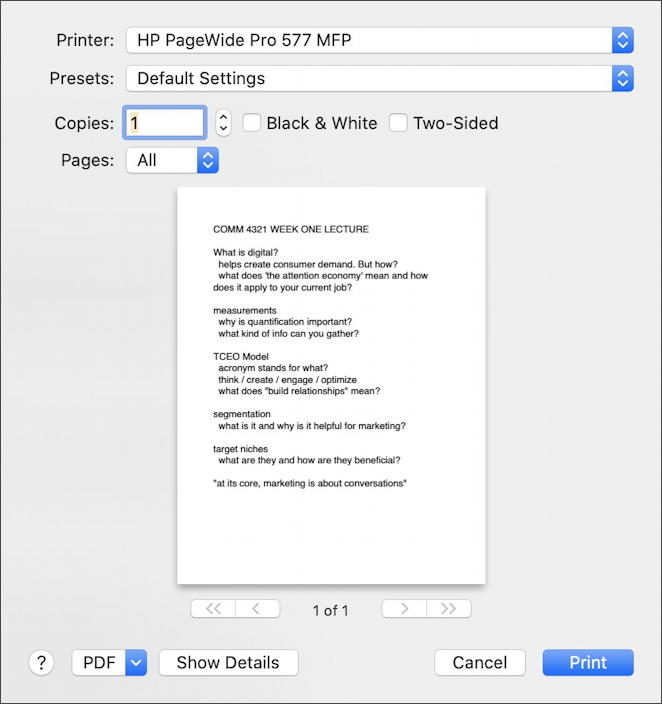 This is for an HP PageWide Pro 577 MFP printer. It's big and it does a beautiful job with prints, whether one sided or two. Compare that printer dialog window with the equivalent from Microsoft Word for Mac: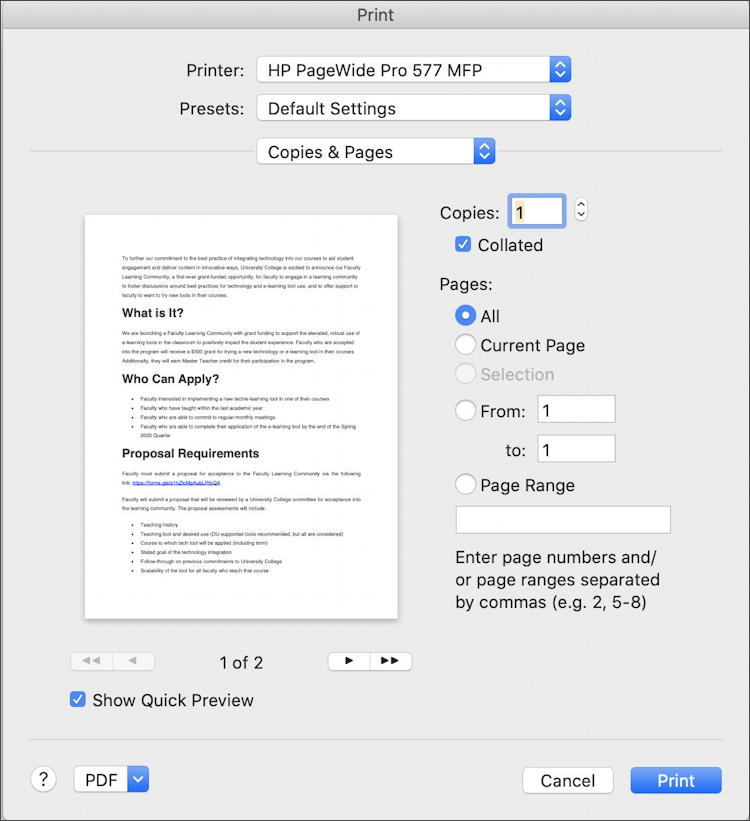 A more sophisticated way of choosing which pages to print and the option of collating them as they come out of the printer, but where's that two-sided printing option?
To find it you have to go to the Layout option:
On this settings window you finally see Two-Sided, but surprisingly, it's a menu of options rather than a simle checkbox like it is in Pages:
Remember when I said that Word has a pretty sophisticated printer model? Here's where you see that, actually, because instead of a simple 2-sided printout, you can specify different two-sided modes, reverse page orientation or even flip horizontally:
Which leads to the very obvious question of what the heck is the difference between short-edge and long-edge binding? Microsoft describes it thusly: Long-edge binding has pages flipped on the long end, while short-edge binding flips on the short end. Generally speaking, you'll be choosing Long-Edge binding for a typical duplex printout.
And now you know the secrets of two-sided printing in Microsoft Word for Mac. Why it's so hard to find I cannot say, but at least you know it's available (assuming your printer supports it) and how to select it!
Pro Tip: I've been writing about the Mac for quite a while. Please check out my Mac help library for lots more useful tutorials while you're visiting!