Used to be there was a "+" button right on the top bar of Pinterest that let me upload and add photos and content of my own. Easy. But now it's gone! How do I upload new material to my Pinboards?
Ah yes, the never-ending drumbeat of progress. Or, in this case "progress", because it really seems a step backwards to make us go through more work to post images, photographs and other content to our own Pinterest Pinboards, but somewhere in the last few weeks the handy "+" button did indeed vanish from the very top of the Pinterest page.
I can appreciate that Pinterest wants to keep tweaking and tuning the interface to make it work better for users, but this change seems to have made two primary changes: made the search box a LOT bigger (I guess they want us to search more) and get rid of the button to upload our own content. Neither seems much of a step forward in my opinion.
Still, now it's important to know how to proceed, and the short answer is that you need to go to the Pinboard onto which you want to upload the content before you can add something new.
Let's step through…
First off, here's the new top right area of a page on Pinterest:

Used to be that there was a "+" button between the search box input field (the long grey bar along the left side) and the menu options for the Pinterest user's account.
To find that functionality, click on your name to bring up the user menu:
Choose "Your Profile & Pins"…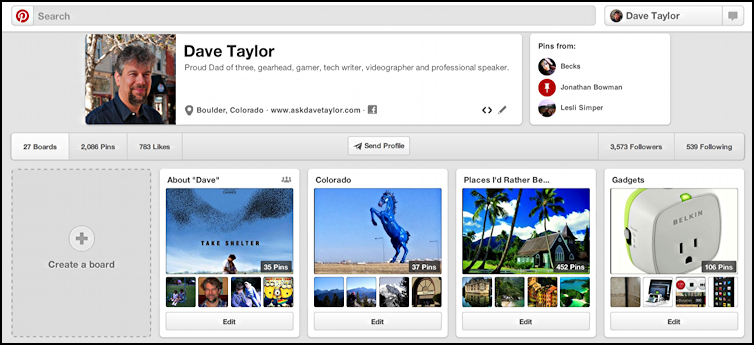 Note that if the section under your name is blank you can remedy that by clicking on the tiny pencil icon and adding additional information to make you more findable. I had to do that just before I took this screen capture.
At this point you can create a new Pinboard, but I'm going to upload an image to an existing board, so it's a matter of scrolling down to find the appropriate one, then clicking on it.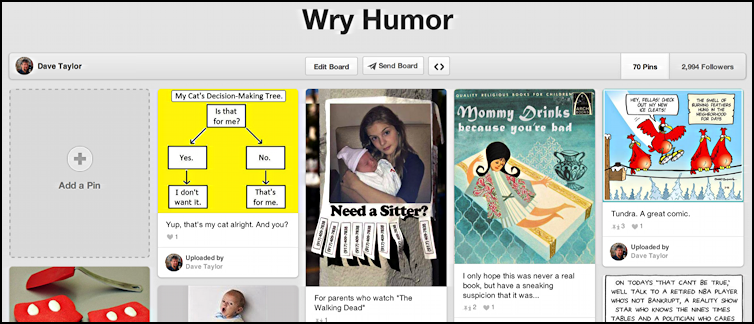 There it is! On the left side. "Add a Pin".
Jeez, could they make it harder to find? 🙁
From this point, the process is similar to how it's always been.
Choose "Your computer" and it'll prompt you to upload an image:
Click on "Choose Image". Why it has that pointless intermediate step I don't know but, again, Pinterest seems to be shifting their focus a bit from usability to, what, marketability for paying commercial clients? Not sure.
Once you find and choose the image from your computer it'll upload and let you add a caption: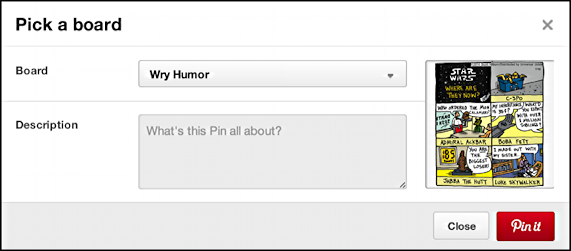 For reasons I find a bit inexplicable given that they've forced us to move to a specific Pinboard prior to uploading, at this point you can actually choose a different board. Um, okay.
More importantly, add a description and don't forget a hashtagged keyword or two to help with findability.
Yay! Done.
Oh, unless you want the image to link somewhere, in which case you'll want to click "See it now" and then click on the "Edit" link on the top right of that resultant display, which brings up a slightly different window: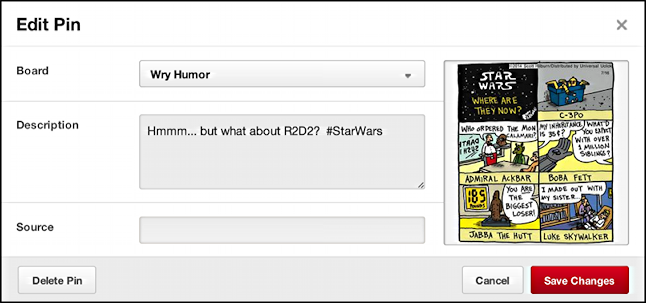 Finally, you can add the last piece, the URL to which the image should link.
Why this is all so convoluted now, I'm not sure, but that's the most recent update to Pinterest and now you know how to post new content!
And if you'd like to find me on Pinterest, that'd be grand: Dave Taylor on Pinterest.