I'm a big fan of Reddit but when I go to post an article, I can never get it into the correct group. What's the easy way to post on Reddit into a specific subreddit or subgroup?
There's something remarkably compelling about Reddit, even though the user interface and general experience owes more to early 90's online bulletin boards than any modern Web site. Having been online since before the Internet was created, I know of what I speak! The reason for Reddit's success is clear, however: lots of user posts and user discussion without a fancy interface getting in the way of interaction. You can vote posts and comments up (and down), you can reply, and that's about it. Simple, straightforward.
This simplicity has lead to a lot of third party apps to "help" make the site easier to use (like the popular Narwhal app) but in my own use, the best Reddit experience is through their Web interface. Yup, just like Twitter has a really good user experience if you just go to twitter.com in your favorite Web browser, so Reddit works really well in Edge, Chrome, Safari or Firefox.
And so, let me walk you through the easiest way to add a post to a specific subreddit group, starting on the Reddit home page!
On the home page you'll see a mix of posts from different groups you follow or subreddits that match your criteria (like "hot"). Here's a typical post summary:

I've highlighted what you want to pay attention to: The subreddit. In this case, it's r/movies. Click or tap on this and you'll be in that group with all the latest posts listed: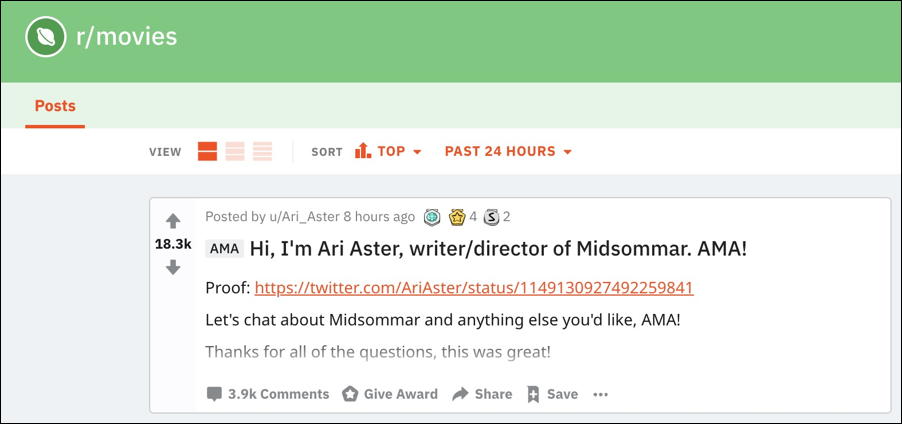 Super interesting, an "ask me anything" (AMA) with movie director Ari Aster! But I'm not going to get sidetracked, nope.
The above is where your attention naturally goes, but instead look further to the right and you'll see an info box that has a summary of the particular subreddit, along with some stats: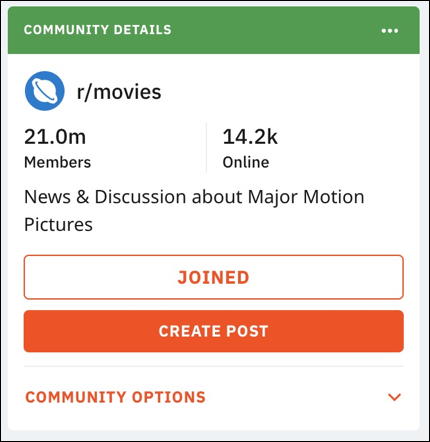 If you guessed that the "Create Post" link is what you want to use, you're spot on! This is how you can quickly and easily create a post for a specific subreddit on Reddit.
While we're here, however, let's have a look at these posts. Here's the entry template: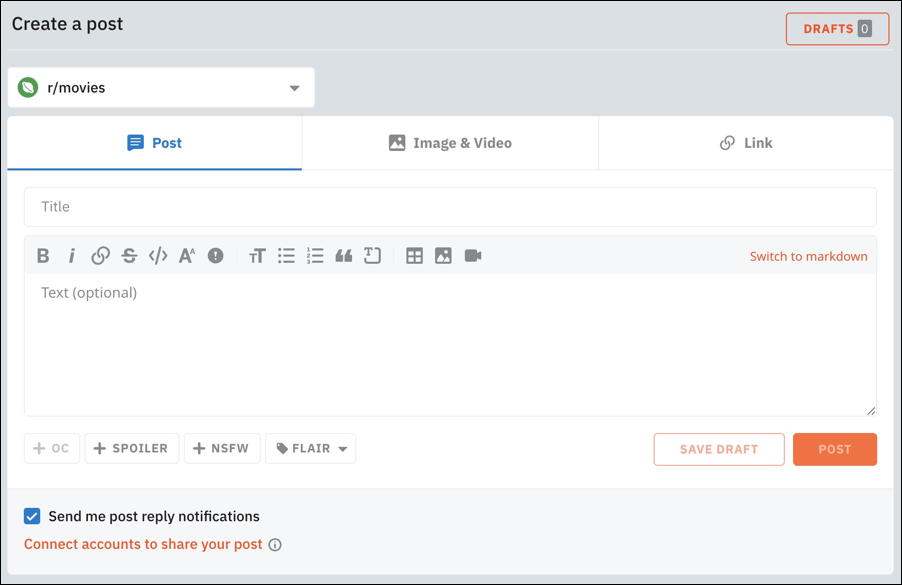 Lots to pay attention to here, but the biggest issue is to decide what of the three types of posts you want to add: a text Post, an Image & Video post or do you simply want to share a Link with other redditors? Since I'm a writer, I always choose "Post" and then add an image as appropriate so I can add some verbiage around the picture or photo.
The toolbar is where you can add various types of content. In fact, one of 'em (highlighted below) even lets you add an image even if you're on a "Post" rather than the "Image & Video" tab:

You can't resize the images, however, so I suggest you get them to a good size prior to adding 'em to the post. Once you do, however, your composition window will look like this:
You can see that the image dominates the composition window and will ultimately dominate the post itself. That's okay, it's kind of the Reddit Way to have visually interesting posts. They help gain attention and ultimately engage with other readers.
When you're ready to post, double check that "Send me post reply notifications" is checked at the very bottom, then click on "Post" and it's up and ready for its moment in the Reddit spotlight!
Of course, only you will see the "Edit Post" option (compare these options with those shown in the very first image to see what I mean).
Anyway, that's how ya do it. Quick and easy, and your posts will be in the correct subreddit. Nice.
Pro Tip: Find me on Reddit so we can connect! I'm u/AskDaveTaylor there.