I love playing Minesweeper on my old Windows PC but now that I've been forced to upgrade to Windows 10, it's all different and has advertisements. How can I just play the simple Minesweeper game without all the hoopla?
Though I suspect more people play Solitaire on their PC, Minesweeper has been a part of the Windows experience almost since the very beginning of the first OS release. In fact, it was first officially released as part of the "Microsoft Entertainment Pack" way back in 1990, and first included in the standard install of Windows 3.1 back in 1992. Windows 3.1. Those were the early days of Microsoft Windows, no question. The game itself is pretty simple, however, so it turns out that the play – and strategy – hasn't changed in all those decades.
If you've never played, it's a "find the hidden items" puzzle where you click on squares in a grid to reveal what's in the square (if it's a bomb, oops!) and what's adjacent. Your goal is to identify and flag all the bombs or click and reveal every non-bomb square without a mishap. I'll talk a bit more about it in a moment, but yes, there is a version of Minesweeper included with Windows 10, known as "Microsoft Minesweeper" now and a bit spruced up for the modern OS.
Launch it by going to the search box on the Taskbar and typing in "minesweeper". It opens up bright and cheery:
You can see that there are six ways to play: Four basic grids, an "adventure" game variation and a daily challenge. The most basic that matches the earlier versions is "Easy 9×9" on the top left, but you can choose 16×16, 30×16 and even make your own custom grid if you want something super easy or super difficult.
Notice also that, yes, there are advertisements, even an occasional video advert that takes up the entire screen. You can pay to upgrade the program to skip these ads, but it's rather stupid expensive:

Given the cost of games that take thousands of programmer hours and the cost of similar casual games for Android or the iPhone, even $9.99 for a lifetime license is exorbitant, but $9.99 per year to get rid of the ads? I'm surprised Microsoft has a price tag on such a basic game that used to be free in the OS but to have it be this expensive is just exploitive and disappointing both.
Note: There are free and much lower cost alternatives in the Microsoft Store from third parties if you want to explore them, but the good news is that the ads are rather unobtrusive and generally easy to ignore. I usually recommend people pay for licenses but in this case I recommend you either learn to ignore the ads or buy an alternative version.
Okay, back to the game. Let's jump into a 9×9 "easy" grid and I'll click on the lower left corner to reveal part of the grid:
A common strategy with Minesweeper is to start by clicking on the four corners. Of course, you could be unlucky and click on a bomb which will instantly lose the level, but the odds of an unknown square being a bomb can be pretty easily calculated: total number of bombs / total number of squares. In other words, if there are 10 bombs in a 9×9 grid, that means there's a 10/81 = 12% chance that any given square is a bomb. Roughly, one time out of ten you might click on a bomb randomly.
Now you can make inferences based on the numbers. Each number shows the count of bombs within 1 square of its location. So on the lower right, there's a blue square surrounded by '1', which means that it must be a bomb. Right-click on that to identify it. One down, 9 to go. But look at the three blue squares in the lower middle portion too. The counts above are 1 2 1, so therefore the middle of those three blue squares must be empty, while both of the sides have bombs (remember, the count factors in diagonal adjacency). Flag those and you've got 3 of your 10 already identified.
Of course, you can also click on a bomb and find out that, well, you lost: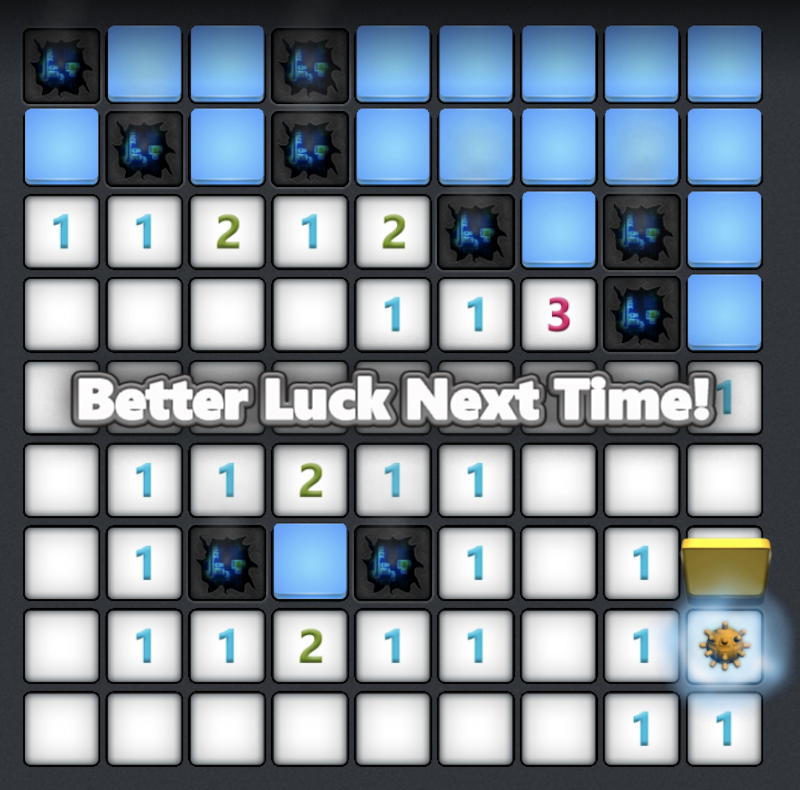 More interestingly, Minesweeper offers up some stats so you can keep track of your gradually improving approach to the game: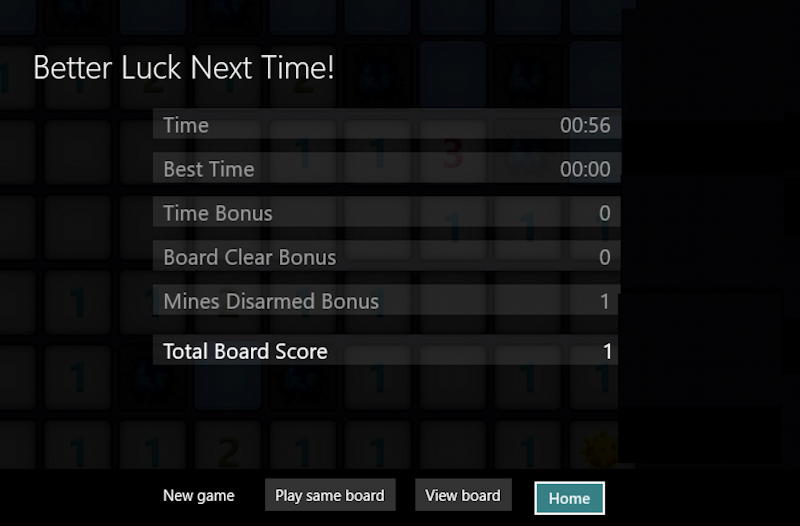 Total board score 1? Definitely need to do better. Note that it times you but if you prefer not to worry about that, just ignore it. This is supposed to be fun, right?
One thing you can explore if you want a different challenge is to create your own custom board. This lets you specify the grid size and the bomb density: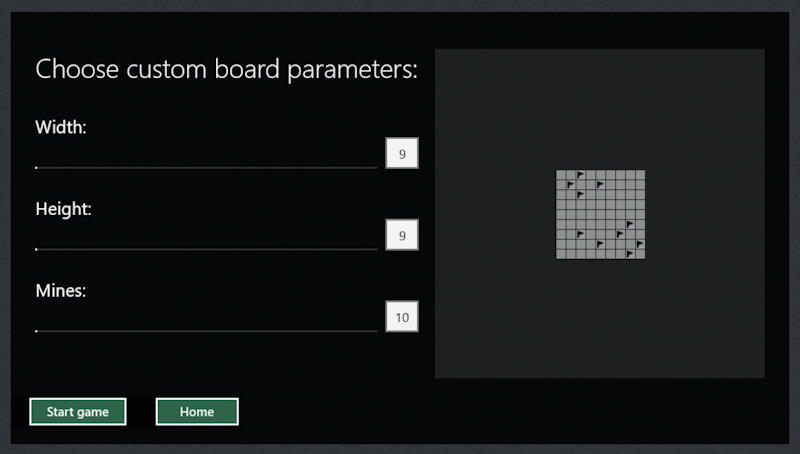 Of course, if you have a very small board with a lot of mines, the challenge increases because the odds that any given square IS a bomb goes way up.
You also get bigger numbers because there are more bombs. In fact, this looks like a safe 4×4 in a pretty dangerous grid, doesn't it?
Also do check out the "Adventure" variation. That's actually pretty fun, a sort of Indiana Jones-esque dungeon adventure that's definitely based on the underlying puzzle concept of Minesweeper, but with a bit more complexity (acquire keys to unlock doors, arrows to slay monsters, etc):
There's a good tutorial level you can play prior to the above level if you want to give it a try. That might be worth $1.99, but $9.99/year forever? Well, you can decide for yourself. Meanwhile, have fun playing Minesweeper and good luck on those bigger grids!
Pro Tip: I've been playing games on Windows and writing about how to get the most out of Windows for a long time. I even wrote about how to play Solitaire on Windows 10. More importantly, I have hundreds of Windows tutorials here on the site, so please do check out my Windows 10 help area while you're visiting. Thanks!