My boss insists that everyone in the IT department run Linux on their computer, so I have Ubuntu Linux on my laptop. But I'm not a huge fan. I might grow to like it a bit more if I could find a good backgammon game, however. How can I play backgammon on my Ubuntu Linux system, Dave?
Over the years, the Linux developer community has built up quite a library of software development tools, compilers, an office suite, and much more. Mining for bitcoin, managing blockchain, running a file server for Windows or Mac systems, there isn't much that Linux devices can't manage. But when it comes to games, it's kind of the platform that developers forgot. Sure there are open source variations of popular games, particularly the simple ones, but few open source game developers seem to put their attention into interface design. As a result, the Linux open source games tend to be really solid internally, but don't necessarily look like they've evolved since the late 1990's.
In the interim, however, the overall world of online computers and technology has expanded and grown by leaps and bounds. Nowadays you can find tons of great games to play within your Web browser. Heck, you can get a version of the popular Steam game environment from the Ubuntu software archive and gain access to lots of more complex games through that solution if you want.
But as it happens, there is a backgammon game designed specifically for Ubuntu Linux systems and it's available through the software repository app. Let's check it out!
HOW TO FIND BACKGAMMON FOR UBUNTU LINUX
One of the first programs you want to master in the Ubuntu world is the app repository, ingeniously called "Ubuntu Software". It's the program with the little orange suitcase icon. A click on its icon and you'll be able to browse through hundreds of useful, fun, and interesting programs: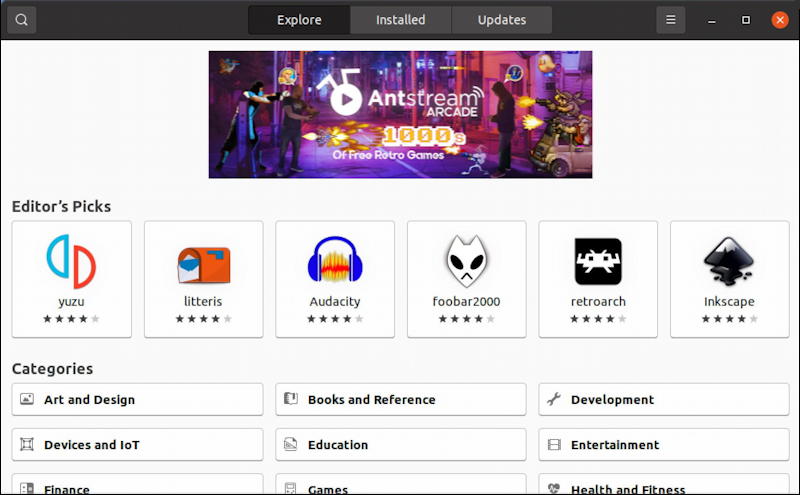 You can definitely spend some time exploring all the programs available through this app, and do check out both "Entertainment" and "Games" to see what's being featured, but we want to search for backgammon.
To search, click on the magnifying lens icon on the top left. It will open up a search box, and you can then type in "backgammon":

There's only one match, GNU Backgammon. It's not too bad once you can figure out its user interface, but you probably do not want to start with the GNU Backgammon software repository for a simple install.
HOW TO INSTALL GNU BACKGAMMON
Let's install it! Click on the app icon or name and more information about it is revealed:
With three out of five stars, it's not that highly rated. I think that's mostly due to the confusing interface, but since it's the only choice, that means it's the best choice for an app you can install on your Linux system, right? 🙂
Click on "Install" and you'll probably have to type in your administrative password again to confirm your identity. It will download, install, and you'll end up with this confusing view:

By implication, if you're seeing a "Remove" button it's because it's already installed. No "launch", no "play", you're a bit on your own.
HOW TO FIND A NEW PROGRAM ON A LINUX SYSTEM
Fortunately, you can get to the all-apps view by clicking on the dot grid on the lower left of the Ubuntu desktop. If you've moved the toolbar somewhere else, it might be elsewhere on the screen. A click and the entire screen is replaced with a widely spaced set of app and program icons. Within it you should now see our new pal "GNU Backgammon":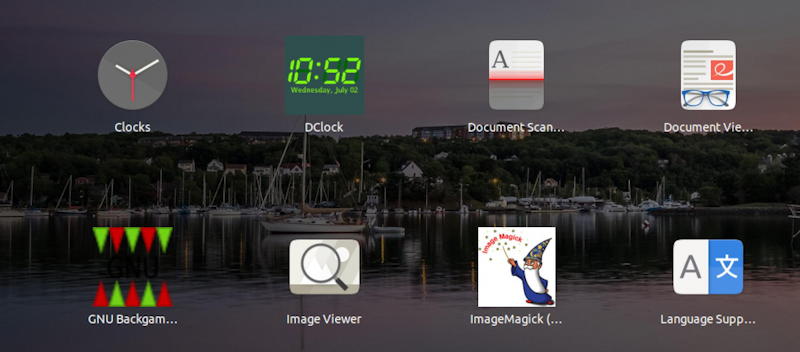 Can you see it? The gnashing red and green monster teeth on the lower left. A click and you're ready to challenge GNU Backgammon to a game: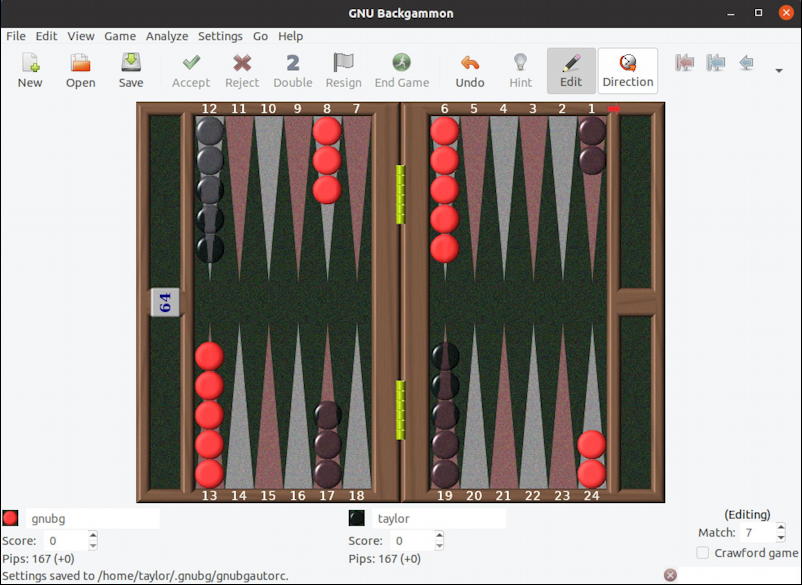 This is a pretty sophisticated program so it's smart to start by going to the Help menu and reading the basics of how to play. Be that as it may, you're ready to go. Double away!
PLAY BACKGAMMON THROUGH YOUR WEB BROWSER
Of course, there are a number of backgammon options you can check out through your Web browser too, notably the popular site and program 247backgammon.org. A click on that site and you'll be ready to play without any download required:
The ads are a bit annoying, but if you can ignore them, it's pretty darn easy to get started playing a game or two! Good luck.