I've updated to Windows 10 and just realized that since Windows Media Player (WMP) has vanished, there's no way to play DVDs. Help!
Rather surprisingly, Microsoft made the decision to omit a DVD player app in its new Windows 10 operating system, though I don't really understand why. They already have the code — it's part of Windows Media Player — so why not just create a simple DVD player app and include it as part of the OS?
That's likely to happen in the very near future, actually, because while there's so much of Windows 10 that's a solid step forward after the rather messy Windows 8 user interface experience, a whole lot of users still want to be able to slip a DVD into their PC or laptop and watch the movie on screen. Not really rocket science, is it? 🙂
Your first inclination might be to just slip in a DVD and see what happens. Here's what you'll see: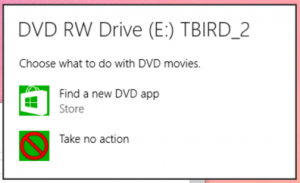 Hmm… there's no "play DVD" option, is there?
Click on the Store option and they're all apps you need to buy: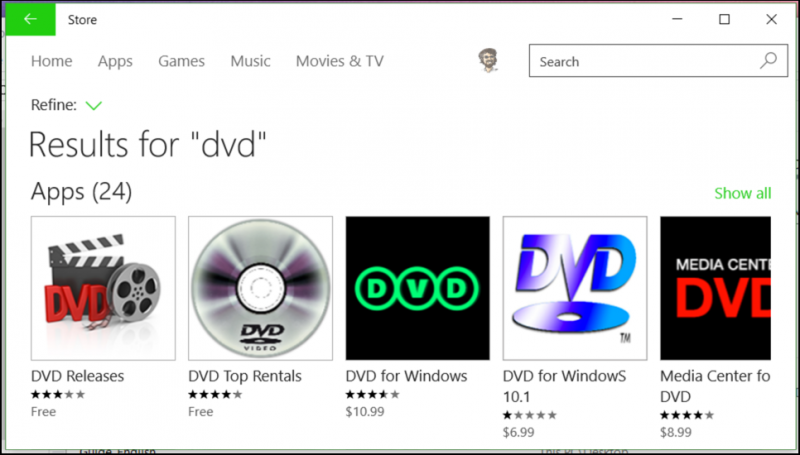 A "Whaaaat?" is appropriate at this point. Heard that Microsoft's got something up its sleeve? Well, maybe. Here's what Microsoft says on the ostensible download page: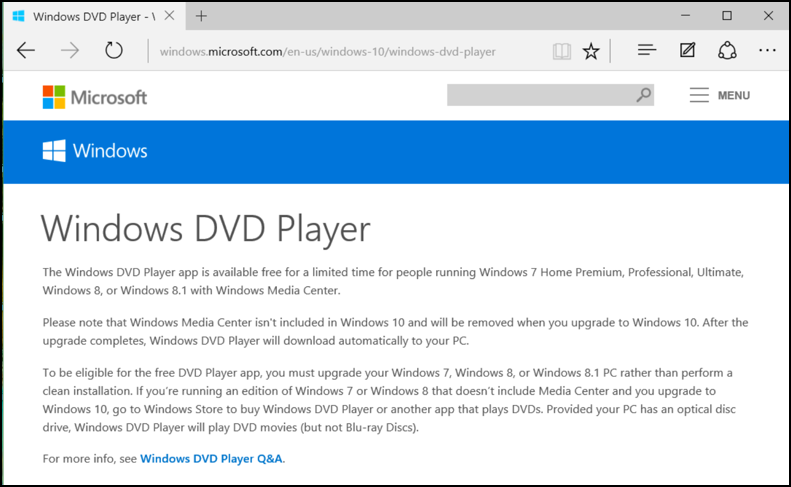 What most bugs me about this is that there's a vague "after the upgrade, Windows DVD Player will download automatically". But when? So far it's missing in action…
But don't worry, I have a great solution for you and it's free, open source code. VLC Player, available from VideoLAN.org.
It's actually my go-to player for quite a lot of different operating systems, so it's great to know it works just fine on Win10 too. To start, go to the site and download the program: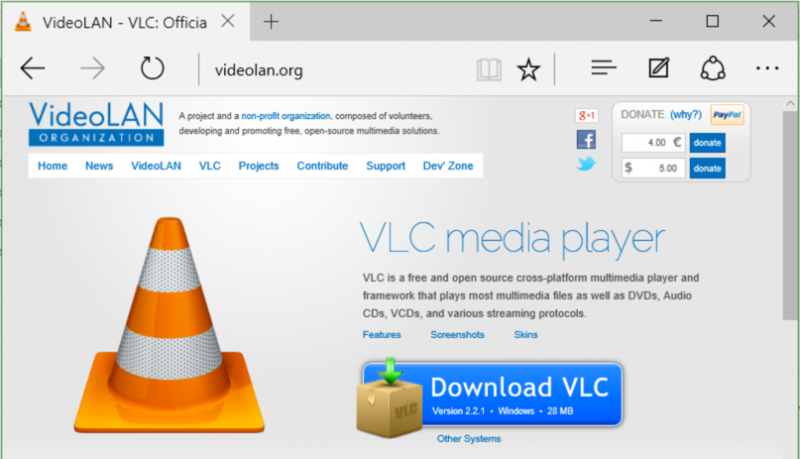 Doesn't take long to download and in the Edge browser, you'll have a slightly different prompt:

Click on "Run" to launch the installer…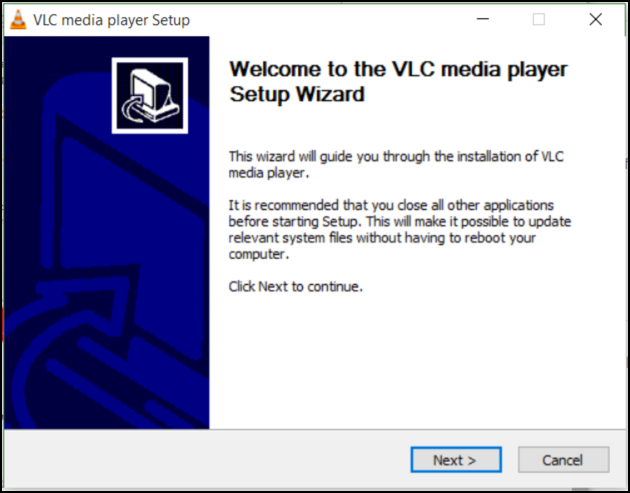 (soon enough there'll be a more Win10 friendly installer, but for now, this will work fine)
Click "Next>" and step through as needed. All the default settings are fine, including installing the 32-bit version even if you have a 64-bit version of Microsoft Windows 10, as I did.
Eventually you'll get here, where you can launch the program itself: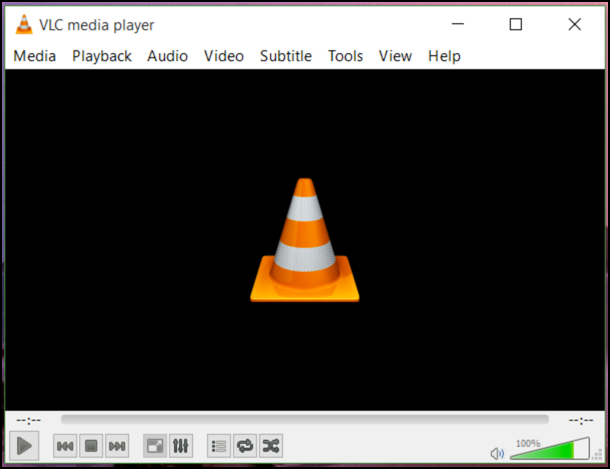 Great. It's a pretty basic interface.
To play a DVD, click on "Media"…
Then, as the HUGE arrow suggests, choose Open Disc…
You'll get this window:
It's more than a bit nerdy, but you can ignore just about everything. The only problem: On my Win10 system, the DVD is actually device E: not D: as is the default for the program.
You can change that by either typing in "E:\" or clicking on "Browse…". Either way, you'll want to choose your own DVD disk: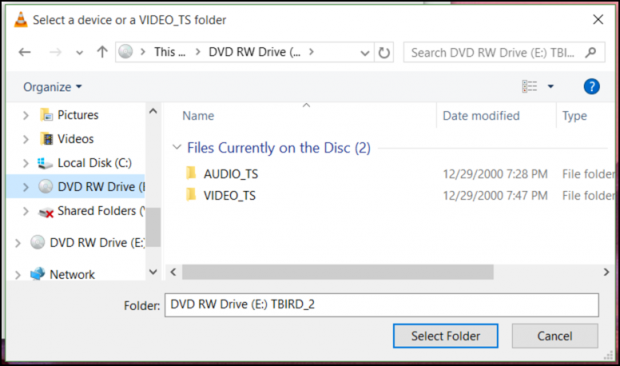 As you can see near the bottom, mine's "E:". Okay. Whatever. Choose the right one and click "Select Folder".
And that's it! VLC Player will scan the drive and show you the main menu for the movie:
Yes, I'm watching Thunderbirds. In SuperMarionation. 🙂
At this point I can click on individual regions of the DVD menu to pick episodes, bonus features, etc. I'll do that, then sit back and enjoy: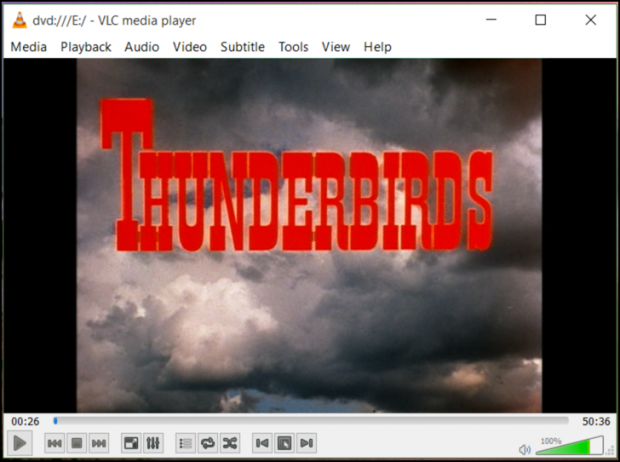 So that's the easy way to play DVDs in Windows 10. At some point Microsoft will — might? — have a better solution, but for now that's how you can keep enjoying your personal DVD library while running Windows 10.