There are a half-dozen Web sites that I visit all the time and I'd really like to have convenient shortcuts to get to them. Can I pin them onto my Taskbar?
It used to be that you could drag and drop Web sites directly from your Web browser onto your Desktop and have convenient shortcuts, but that appears to have gone the way of the dodo. You can have bookmarks within your favorite browser, of course, but that's not anywhere near as convenient. Fortunately, the Microsoft Edge development team is aware of people's approach to Web site shortcuts and there are two relatively unknown features in the latest version of Edge that give you some cool features and capabilities in this regard: Edge pinning, and, yes, Taskbar pinning.
If you're already using tabs in your Web browsing – and who isn't, at this point? – then you're going to love Edge pins. But if you're determined to have a tiny little button right on the Taskbar that lets you jump straight to a Web site, you can now do that too, and even pin a few of your most visited sites in the process too.
Let's start with Edge pins. I'll open up Microsoft Edge on my PC and jump to one of my favorite sites, the BBC News Sports: Soccer page:
Just another big tab, right? But with Edge pinning, I can make it a permanent part of my tab bar and it's easy enough: just right-click on the tab itself: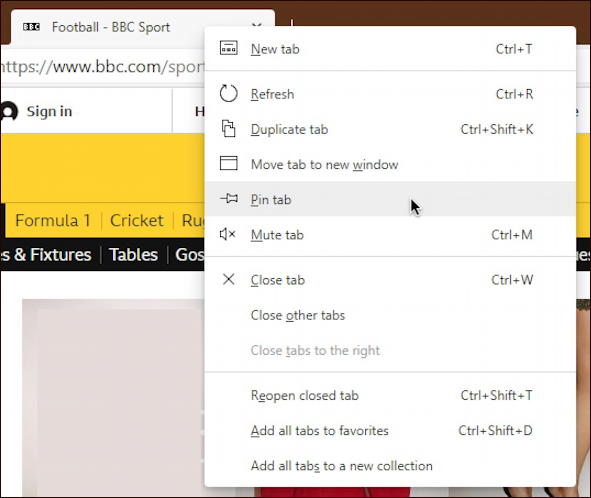 I choose "Pin tab". Notice just below it the equally handy "Mute tab" option too: if you're tired of background tabs pushing out audio, this is your best friend (and the tab doesn't have to be in the foreground to use this feature either).
If I choose "Pin tab", however, the tab appears to vanish! But closer examination shows that a pinned tab in Edge shows up on the left edge of the tab bar with a much smaller tab graphic:
Can you see the tiny "BBC" graphic? What's cool is that if you now quit Edge and restart it, that pinned tab will not only show up, but the page will be reloaded too. It offers instant and convenient access to your faves from within Edge. Definitely a win.
PINNING WEB PAGES TO THE TASKBAR
All well and good, but what about pinning a page to the Taskbar at the bottom of the page, rather than just within Edge? You can do that too, but the path is a bit more convoluted. To get to the right place, click on the "•••" icon on the top right, then choose More tools and choose "Launch taskbar pinning wizard", as shown below: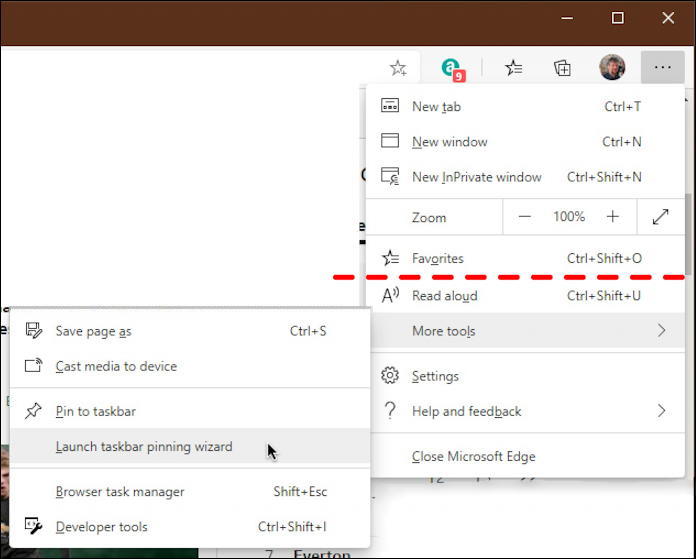 Note: The main tools menu in Edge has a lot more options. I chopped it at the dashed red line for space considerations!
Once you choose Launch taskbar pinning wizard a Window pops up with, logically enough, the wizard. It starts by analyzing your browser history to figure out what pages you visit the most often…
Then offers up some suggestions for sites you can pin to your Taskbar:
I'll go ahead and pin "Microsoft News" to my Taskbar by clicking on it. Then a click on "Continue" offers more choices…
Neither of those are appealing nor do I want to dedicate precious Taskbar space for them, so I'll just move through the rest of the wizard with a few clicks on "Continue".
But what about the page I'm actually viewing? How do I pin that page to the Taskbar instead of the favorites and those suggested by Microsoft Edge itself? That turns out to be the menu choice immediately above the "Launch taskbar pinning wizard", as shown:
You can now rename the pin or give it a helpful shortcut name as desired:
That's it. Pinned. In fact, check out my Taskbar now:
Left to right that's the Start menu, search, desktop, Microsoft Edge "e", ExpressVPN, File Explorer, Microsoft Store, Netflix and, finally, Microsoft News Web page (as a Taskbar pin!) and BBC Sports. Nice!
Decide you don't want that pin on your Taskbar any more? You can axe it as easily as any other pin, with a right click:
That's it. Two different ways to pin a favorite Web page to make it super easy for you to return and access with a single click. One is integrated into Edge, the other is just another button on your Taskbar. Heck, you could use both for the same page if you were so inclined!
Pro Tip: I've been writing about Windows and Microsoft Edge since they showed up on the scene. Please check out my extensive Windows help library for tons more useful tutorials while you're visiting! Thanks.