My friends and I use Venmo all the time to split dinner tabs, pay each other back for movie tickets, bar bills, and so on. But all the transactions are visible to everyone in our group. How can I pay someone with Venmo without that being visible to the rest of the group?
Venmo, a part of the PayPal online payment empire, is built around a curious idea, that person-to-person payments should be part of the public record. Go back twenty years and your cousin paying your brother $20 for beer was never anything you would know about, let alone have show up on your phone. It's hard to identify exactly when this sort of information went public, but if you think about it, there is something a bit weird and overshare-y about how Venmo (and many other payment systems) work.
I admit that my perspective in this regard might well be a generational thing, but still, the modern Internet generation is definitely into sharing lots more than any previous generation in human history!
While the default visibility for transactions on Venmo is "public" it turns out that you can change it to help you retain more of your privacy for payments you initiate. When a friend pays you $25 for that fancy burger? Once the transaction is complete, you can't delete it from the public record or change its visibility, so those will still stay visible to everyone else in your group – and the public at large too. Why would you want the public at large to know about your payments? I really don't get it. But… whatevs. Let's see how to limit the visibility of your own transactions!
PREPARING TO PAY SOMEONE VIA VENMO
When I start Venmo on my smartphone it immediately shows me a timeline of transactions, both those that involved me and those that are to or from anyone in my Venmo friend circle: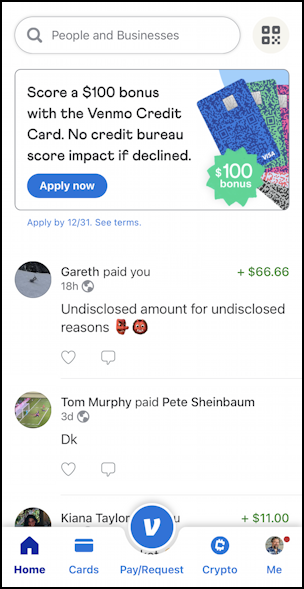 You can see that Gareth paid me $66.66 and that Tom paid Pete an undisclosed amount for "Dk", whatever that is. You can see that your friends wouldn't see the amount of the payment, but they could see that a transaction occurred, along with whatever comment is associated with the payment. Look closely and you'll see that just after the indication of how long ago the transaction occurred (18h, 3d) there's a tiny Earth globe icon. That denotes that it's a public transaction. We'll see this icon change as we proceed…
Since I can only change the visibility of transactions I initiate, I'm going to pay back my friend Ashley for dinner last night, marking the transaction as private. A private transaction will not show up on anyone else's Venmo timeline at all.
A tap on "Pay/Request" (the big blue 'v' button at the bottom) brings up a list of my common recipients and related entries:
Always good to double check that their @ Venmo address is the same to avoid imposters, but if all looks good, tap on their name or profile picture to proceed.
SPECIFYING VENMO PAYMENT AMOUNT
It can be disconcerting at first, but when you get to the Venmo payment or money request screen, you have to tap on the money amount, then tap in the amount in question, it's not the default action. Then you can tap in the comment area and add a comment if you want (even private transactions can have comments). I'm poised and ready to pay Ashley for dinner:
So far, so good. Most people just tap "Pay" at this point, but instead, tap on the tiny "Public" on the lower right.
MARKING A VENMO TRANSACTION AS PRIVATE
Tap on "Private" and three visibility choices are shown:
As you can see, there are three options: Public, Friends, and Private. Not only that, but my default – like just about everyone else on Venmo – is "Public", which can be changed in Settings. Notice the three icons shown too: a globe, two silhouettes, or a padlock. For now, let's just mark this transaction as Private by tapping on that option. Notice that the display has changed (subtly):
See the difference on the lower right corner of the white section? Now that it's Private, I'm going to go ahead and pay by tapping on "Pay"…
I can turn on protected transactions for payments to companies – worth reading about if you pay for items through the mail especially – but for now I'm confident that Ashley will accept payment and heck, I've already eaten the dinner!
A tap on "Pay Ashley" and the transaction is completed.

What's worth noticing is that in my Venmo timeline, the transaction shows up, but with a padlock icon:
That's how you can mark a specific transaction as private in Venmo – or friends-only – but if you want to change all the transactions you initiate to be private, just go into Settings (Me > Gear icon > Privacy) to make that change.
Pro Tip: I've been writing about online payments, shopping and online systems for many years. Please check out my online shopping help area for content on Paypal, Venmo, and related too!