I've finally gotten an invite to Clubhouse and have it running on my phone and it's interesting listening, for sure. What I don't understand is how I get to speak and participate, rather than just listen. Can you help me out with the basics, Dave?
Ah yes, Clubhouse, the latest social media phenomenon. For those of you just showing up at this party, it's an iPhone-only application that lets groups of like-minded people join "rooms" and chat about whatever they want. Of course, you can't just enable 500 microphones without it being complete chaos, so there's a method to the madness; you generally only see rooms where someone you're following is participating and within a room there are moderators, speakers, and listeners. The moderators are the people who have created this particular room and they get to invite people up onto the "stage" to speak and can also kick 'em off stage when it's time for someone else to get a turn.
First off, though, good news for Android device owners: Hot rumor has it that by May, 2020 there'll be an Android version of the Clubhouse app so millions more people will be able to join the fun. Or chaos. One of the two. 🙂
HOW TO JOIN A CLUBHOUSE ROOM
The most basic skill to know once you've signed in to Clubhouse and set up your profile at least a little bit (adding at least a 1-2 line bio really should be task #1) is how to find rooms and enter a specific room. Personally, I tend to follow educators, game designers and entrepreneurs, and that's reflected in the list of rooms I see:
The top portion shows scheduled rooms that are either from "clubs" I'm in or have been created by someone I follow. For example, "Coaches Corner" at 4:00 pm. The main section here, however, is the active rooms, shown in the white areas. Notice that the first one offers up quite a bit of info before I even proceed: It's from the "Game Industry" club and the title or ostensible theme of the room is "Game Industry Cocktail Hour: Celebrate gaming 24×7".  Don't be surprised when this happens; in my experience, most discussion topics wander from the designated topic, exactly as if it were a "topic table" at a professional conference lunch event.
Look at the very bottom line of the first white section: 25 [people] / 18 [balloon]. This means that there are 25 people in the room total, of which 18 are "on stage" and able to talk. These numbers are a good indicator of whether a room is going to feature a few people talking or be a more open free-for-all conversation. Certainly, if you want to hear a group discussion and there are only 2-3 on stage, that's probably not the room for you. Finally, Clubhouse shows a list of people in the room, trying to show those who you follow so you can hopefully get that serendipitous "Rebekka! Definitely want to hear what she's got to say about this subject" synergy.
You join a room by simply tapping on it. And you're in!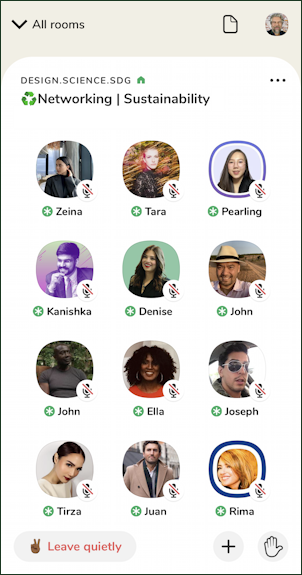 You can see that rather than the game designer's cocktail hour, I've moved into a "Networking | Sustainability" discussion that's part of the "Design Science SDG" club (all along the top). What's most important once you're in a room are the few icons along the bottom. But be aware that people on stage have larger icons (three across instead of four) and that there'll be a slowly flashing circle around their icon if they're currently speaking. Note also the tiny icon on the lower right of the user's icons in the above image too: This means that they've muted their mic and are listening, not speaking.
Perhaps the most important buttons are along the bottom, though. Want to bail on a boring convo? Tap on "Leave quietly". You can invite your Clubhouse friends to join you in the current room with the "+" and you can request to be invited on stage to speak with the raised hand icon. Tap on the "+" and you can easily invite one of your friends who's currently active to join you in the room: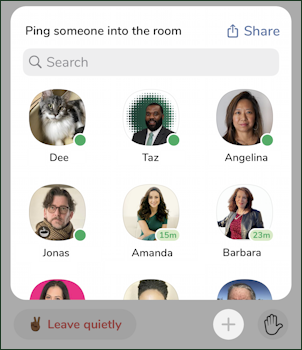 If I wanted to invite Taz to join us in this Networking and sustainability conversation, it's a single tap. Handy! Decided you dont' want to invite anyone? No worries, tap on the "+" again to hide that window.
This brings us to requesting to jump on stage and talk…
HOW TO MOVE ON STAGE AND JOIN A CLUBHOUSE CONVERSATION
As already mentioned, tap on the raised hand icon on the lower right to request the opportunity to speak. Note how I phrased that: You don't just move on stage, you ask to be invited up. Some room moderators will ignore or deny people the chance to join a conversation – indeed, you might find some rooms have the "raise hand" feature disabled! – but most will invite you when there's a logical break.
Once you tap on the hand icon, you'll get a confirmation along the top:
Notice also your raised hand icon is now skin tone, not white, as a visual confirmation that you have your hand raised.
Tip: You can change the color of the raised hand by tapping and holding on the hand icon until a row of skin tone variations appears!
Hopefully, eventually, you'll be invited to join the conversation by going "on stage" in the Clubhouse room. You'll know that has happened when this appears at the top of your screen:
Notice that there's a back and forth here: You ask to be on stage but don't get to immediately move and talk, then the moderator accepts your request and invites you on stage, at which point you can defer with "Maybe later?" or "Join as speaker".
Important to know is that by design, Clubhouse adds you on stage with your mic enabled which means that instantly everyone in the room can hear you and any environmental noise in your location. It's a best practice to tap "Join as speaker" and then immediately tap on the mic icon on the lower right to mute yourself until you're ready to talk!
Here's what you'll see when you're on stage as a Clubhouse speaker:
Notice the microphone icon on the lower right! Mine has a red slash through it because, as per etiquette, I am muted. It wouldn't surprise me if one day Clubhouse changes things so that by default you join as a speaker muted and have to take an action to unmute, but for now, just keep in mind that you'll want to remember the "Join as speaker" -> mute sequence!
Now that you are on stage, you'll notice that the audio gets a little bit louder. When invited to speak, or when you want to add your own views, opinions or perspective, tap on the microphone icon on the lower right to unmute yourself and have fun participating! By convention, a lot of people start their longer introductions or comments with their name, then end with something similar to "This is Dave Taylor and I'm done speaking." to help avoid too much chaos. You can choose to do that or not, of course.
Done speaking and want to just move back into the audience? No worries. Tap on your own icon in Clubhouse and your mini profile will appear:
The lower button – "Move to audience" – is what you want. Tap on that and you're back off stage and if you want to speak again, you'll have to go through the raise hand / accept invitation sequence again.
Oh! and while you're in a room, a tap on anyone's icon will bring up their mini-bio and a few different buttons to what you see with your own profile, as my friend Jeremiah demonstrates in his profile info:
Notice the "Follow" button. Tap on that and you're now following that particular person. Clubhouse also has an asymmetrical follow model like Twitter: You can follow someone without them following you, and vice versa. That's how Jeremiah has 29.4k followers, but is only following 947 people himself.
This gets you up to speed with how to join Clubhouse rooms and discussions, how to request the opportunity to contribute, how to move back to the audience when you're done and how to find and follow people too! Now, go have fun. And if you want to find me on Clubhouse, I'm @askdavetaylor and findable with a quick search. 🙂
Pro Tip: I've been writing computer and app help articles for quite a while, including Clubhouse help as it has gained in popularity. Please check out both my computer basics help and iPhone help areas while you're visiting! Thanks.