I have a new Windows PC and have heard that there's a cool way to pair it with my Android phone. I want to try it! How can I get them to work together so I can see phone notifications and photos on my PC?
Since Windows and Android are from different companies, I feel like they have kept things pretty quiet about interoperability, but in fact there's a really cool Android app that lets you tie directly into a Windows 11 computer. Once you have Phone Link, as it's called, set up, you can send and receive text messages, check your photos, control the Android video and audio player remotely, and more. It's kind of a game changer allowing such cool features as having an Android device plugged into your stereo with all control being done on a remote PC that's wirelessly connected. But you sure don't read much about how it works!
Of course, setup is a bit tricky because you have to keep bouncing back and forth between your PC and your Android device, but I can show you how I hooked up my Google Pixel 6 Pro phone with my Windows computer and you can follow along. Ready? Let's do it!
START OUT ON YOUR WINDOWS COMPUTER
On your PC, simply go to Settings > Bluetooth & devices: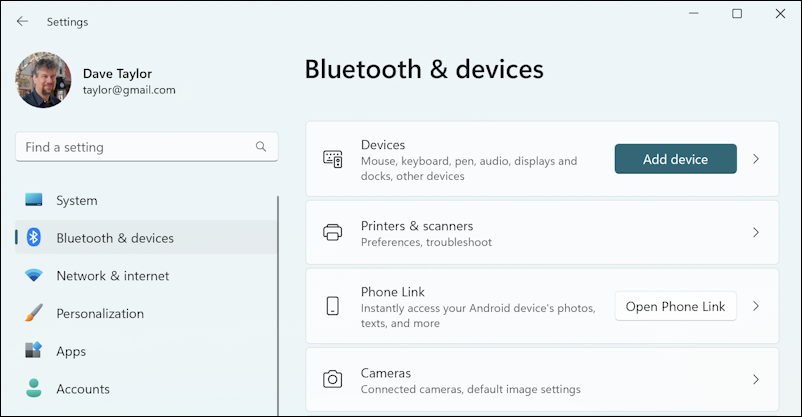 The third entry is what we seek: Phone Link. Since there's no phone set up yet, it'll launch the configuration utility, but as you can see, it's tightly integrated into Windows, not a separate download. Click or tap on "Open Phone Link".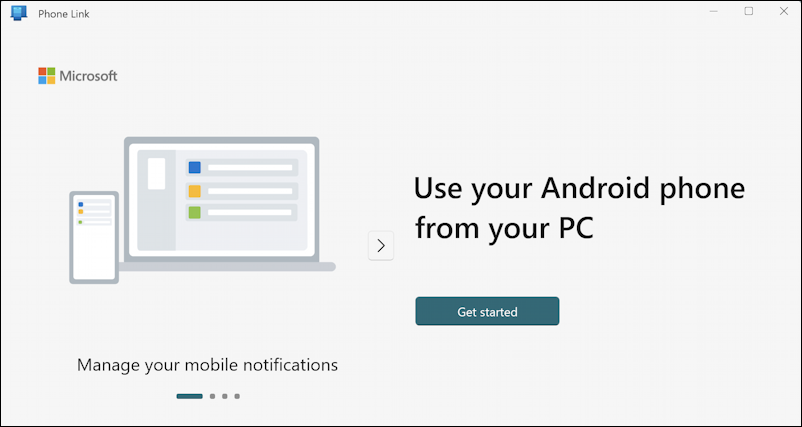 You can sit on this screen for a few moments to see a list of features, or you can just jump into the digital pool by clicking "Get started". I'm a leap-then-look sort of person, so I immediately click on the green "Get started" button.
Ah, okay, time to switch to the Android device!
SETTING UP PHONE LINK ON AN ANDROID DEVICE
On my Pixel 6 Pro I enter the specified URL – www.aka.ms/yourpc – and see this:
(I've rotated my phone 90º for convenience but it all works just fine if you keep your own device in portrait mode)
Notice at the very bottom of the PC screen there are two buttons: "Pair with QR code" and "Pair manually". I'm going to tap "Continue" on the phone, then click on "Pair with QR code" on the computer.
On the PC the window now shows a big QR code:
And on the phone, I have switched to the camera and it's asking me to center the QR code in the box:
Once you point the phone's camera at the QR code, it will quite rapidly scan and analyze it, showing something like this:
After a few moments, the Android app figures out what's what and it changes to:
Ah, so you're done on the phone. Time to turn back to your PC again!
FINISHING UP SETUP ON YOUR PC
The PC screen, meanwhile, has changed to this:
Hurray! On your phone tap on the blue "Done" button, and the "Continue" button on the Windows computer. You are indeed done and ready to test things out. A bit tedious with the back and forth, but hopefully it's only something you need to do once and then it's done.
TEXT FROM PHONE LINK ON YOUR PC
Now that you have everything set up, you don't really need to do anything more on your Android device. Now it's all remotely controlled by the Windows app, and it's glorious! For example, you can view, send, and even receive text messages directly on your PC:
I've blanked out the number for privacy, but you can see that I sent "testing 1 2 3" from the app, and a few moments later my friend Harry responded with "test received, mate!". I never once touched my Pixel 6 Pro Android phone during the entire process.
VIEW ANDROID PHOTOS FROM YOUR WINDOWS PC!
There are controls along the left side that allow you to manage media, make phone calls, etc, but notice along the top there are common controls too: Messages, Calls (in preview) and Photos. A tap on Photos and I can see and manage the photos directly off the phone:
There's lots more to explore and learn about with Phone Link, and you can start with this info page from Microsoft if you want. Good luck!
Pro Tip: I've been writing about Windows since the beginning. While you're here, please check out my Windows help area for hundreds of other useful tutorials and how-to articles. Thanks!