Can you take me through the steps of pairing a Bluetooth speaker with my Google Pixel 3 Android phone? Thanks!
With generations of Android phones and generations of the Bluetooth protocol, it's no surprise that the process is generally pretty straightforward. The greatest challenge for most bluetooth devices is figuring out how to get it into what's known as "pairing" mode. Making this even more confusing, most speakers and headphones behave differently out of the box when they've never paired with anything versus when they're already connected to a phone, computer or other gadget. You can tell: power up and it's immediately ready to pair, with a flashing light or audio tone indicating such.
Older bluetooth devices are even worse because they only pair with a single phone or other system at a time, so you had to actually unpair it before you could pair it with a new phone, computer, etc. Fortunately I haven't seen that sort of hassle for years now!
For this demo, I'm going to pair a Wharfedale Exson M external bluetooth speaker with my Google Pixel 3 XL. The Wharfedale is already paired with another device, but as is common, powering up the device but holding down the power button shifts it into pairing mode after a few seconds. How do I know? Audio feedback.
Now, on the phone, jump into the Settings app: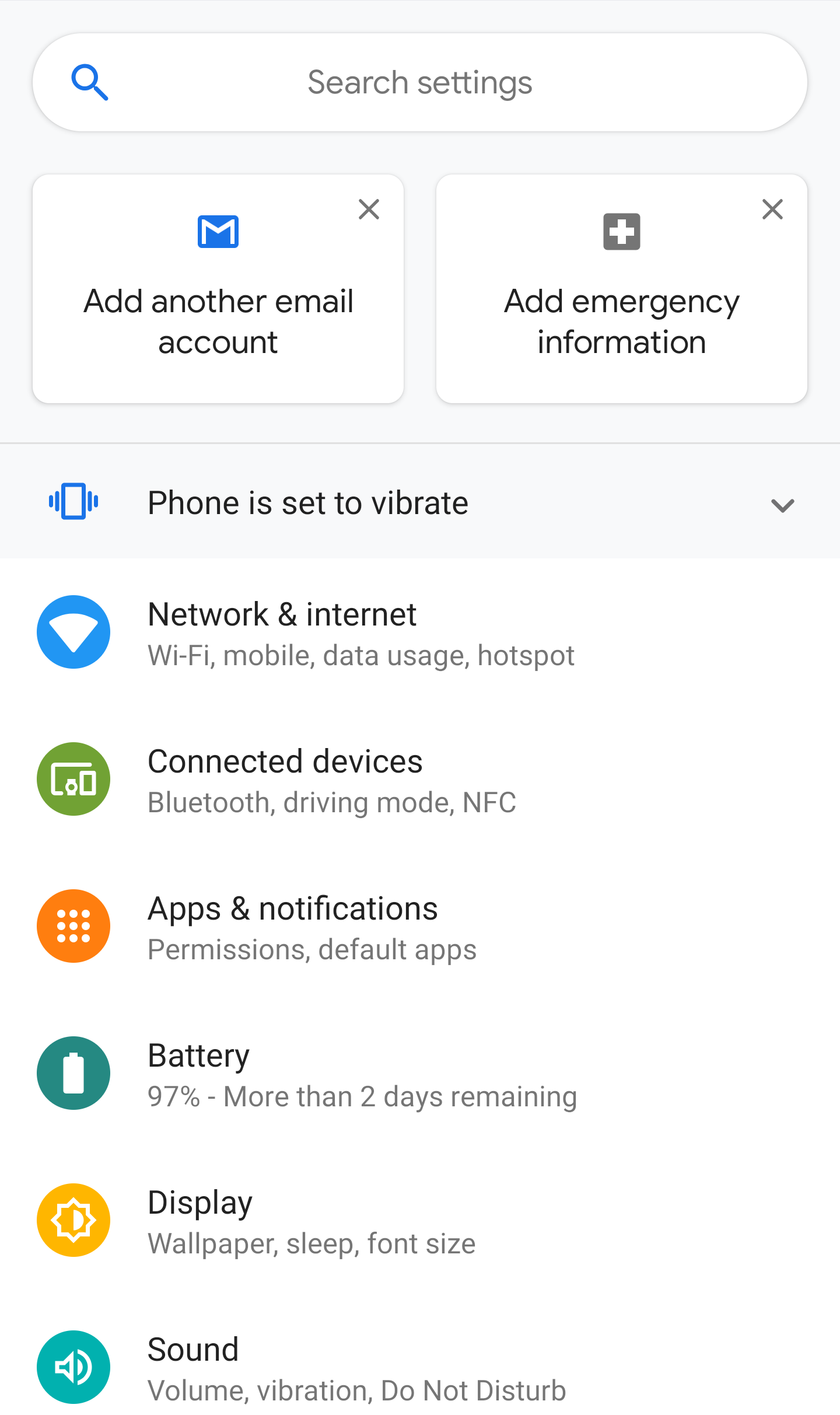 You can see that the second category of options is "Connected devices" and includes Bluetooth. That's what you want.
Your display a bit different? You might be running a different version of Android. The same process should work, however, so follow along as best you can!
Tap on Connected Devices and you'll see this short set of choices: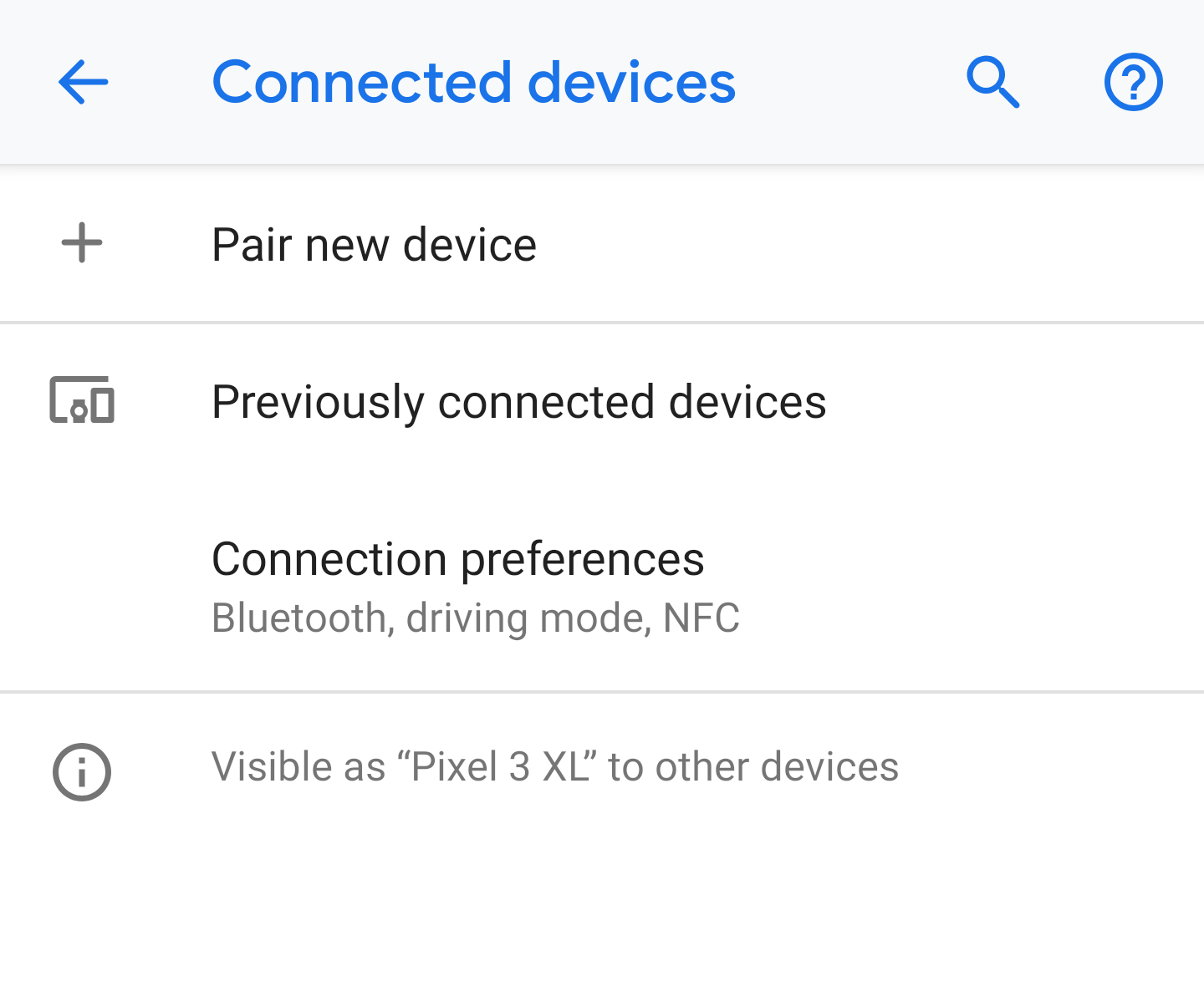 I'm obviously trimming these images to have just the key elements displayed. Your screen will be longer 🙂
Tap on the "Pair new device" to get your Android device into pairing mode too. It'll show a list of available devices:
Your speaker not showing up? Tap on the curling arrow on the right and it'll refresh the list.
Once you do see your speaker show up – like "Exson M" for me – then tap on it.
There it is, all ready to go! To test it, I'll just launch Spotify and fire up a playlist.
Here's what's shown on the screen as I hear the music out of the speaker:
What's really interesting about this is that the very same view on Spotify on the iPhone actually shows the Bluetooth device being used for the audio output (on the very bottom line). Compare: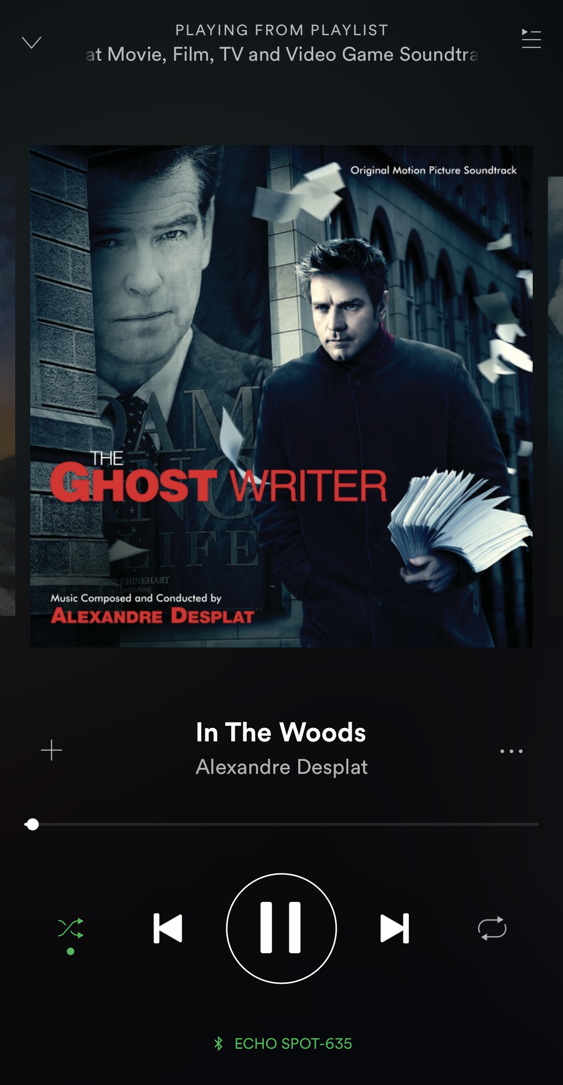 Can you see the difference on the very bottom lines of both images? Android shows "Devices available", while the iPhone shows "Echo Spot 635", the external bluetooth speaker in use.
I know, not a big deal. In any case, you now have your bluetooth speaker paired with your Android phone. Rock on!
Pro Tip: We have a metric ton of Android help here on the site. Please take the time to check it out while you're here!