Got a cool new bluetooth speaker and want to use it with my Windows PC. How do I pair them so the PC sees it as an audio output?
Congrats on the new gear, always fun to get a speaker or other audio device to beef up your computer. Heck, while computer speakers have improved quite a bit in the last decade, it's still true that even the best laptops and tablets are pretty darn weak in the audio department. Headphones? Good. Earbuds? Pretty good. Speakers, though? A smart addition!
Bluetooth is a simple and straightforward wireless connection that also lets you carry the speaker around, a great benefit! But… it doesn't work if you don't pair it with your computer or tablet, and that's what we'll focus on. It's pretty easy once you get to the right place in Win10, however, so let's start there…
Go to the search box on the Start Menu (or adjacent, depending on Win10 version) and search for "bluetooth". It's a fast way to get to this point, the Bluetooth control panel: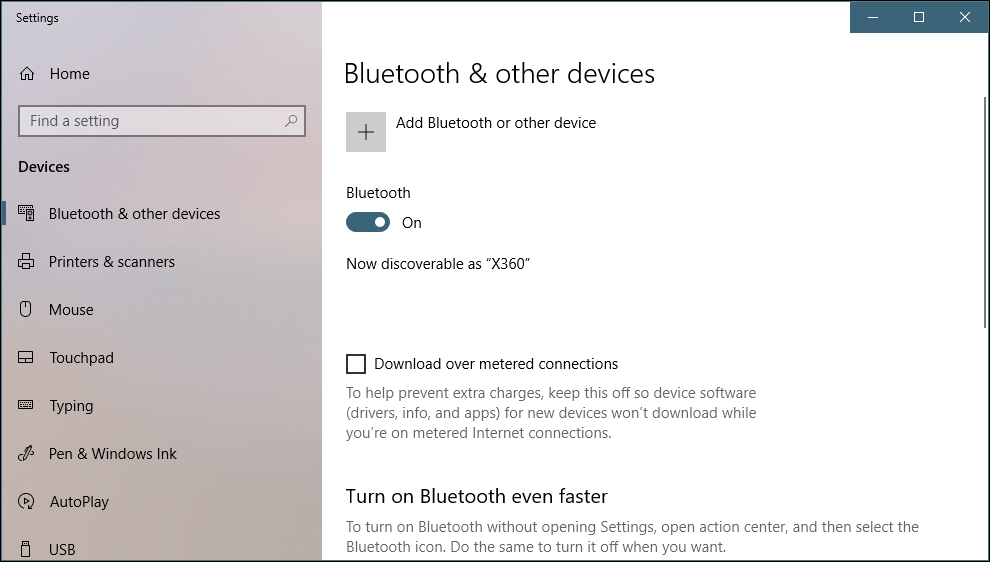 Bluetooth works both as a way to connect peripherals to your computer and for you to access your computer from bluetooth devices. Ensure it's turned on (see above) and if you check from another computer looking on bluetooth your computer will show up. No worries, you still have to approve any connection!
What you want to do, however, is click on the big grey "+" adjacent to "Add bluetooth or other device" prompt. At the same time, turn to your speaker and put it into pairing mode. Usually there's a bluetooth button that you push and hold, but check the manual as needed.
The Add a device window will give you a variety of ways you can connect: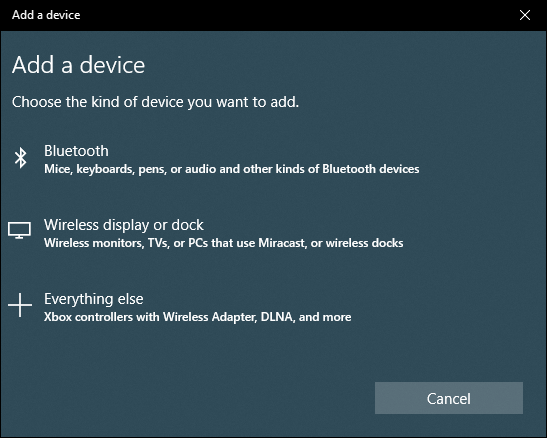 Choose "Bluetooth" by simply clicking on it…
I have a lot of bluetooth devices in my office, so I'm sure I'll have more listed than you would, but here's what you'll see next: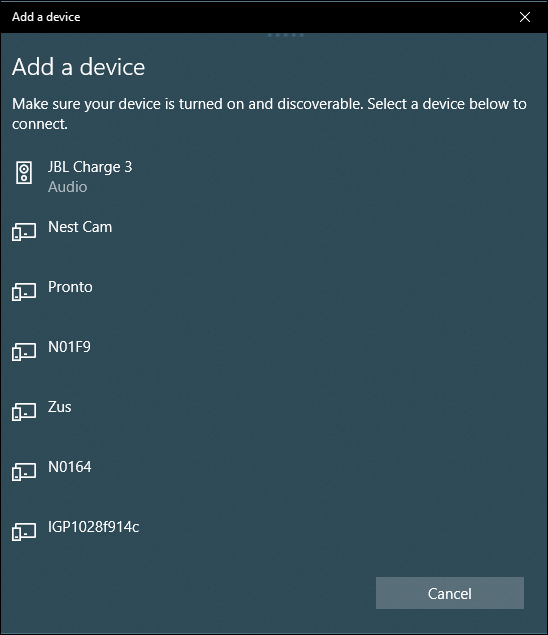 Amongst all the choices you can see the first item is my speaker: JBL Charge 3. If your device isn't showing up after a few seconds, double check that you have it in pairing mode and, again, check the user guide as needed.
Once your device has shown up, click on its name to proceed. And that's it!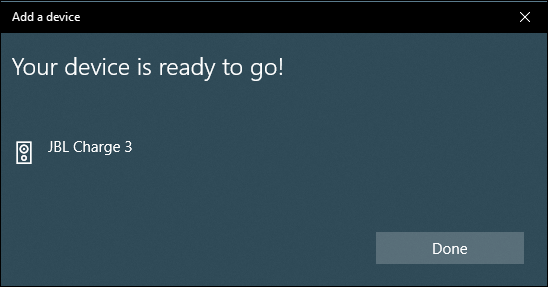 You'll also get some reinforcement with a pop-up that shows the OS has seen it and knew what to do with it:

If that all happens but your music or audio is still playing through the computer's built-in speakers, that's another problem and it too is easy to fix: You just need to select a different output device for sound. That's most easily done by clicking on the tiny speaker on the TaskBar and choosing "Open Sound settings" from the resultant menu:
This produces the following:
In my case, you can see that the new bluetooth output device — JBL Charge 3 Stereo — has correctly been selected, but if yours isn't shown there, simply click on the menu and you'll see the various output options:
Weirdly, notice that the JBL Charge 3 offers two possible connections, mono and stereo. Not sure why it'd do that as you'd always want to choose stereo, but you can see that the built-in speaker is "Speaker/HP" on this particular HP laptop. Choose it if you're done with the bluetooth speaker, otherwise choose your new speaker and enjoy!
Pro Tip: I've been writing about Windows since it was known by its single-digit version number. Which means I have a lot of Windows help here on the site. Please do take a few minutes to check it all out while you're here. Thanks!