I believe that my Chromebook includes Bluetooth support, so I want to pair my earbuds with my Lenovo Chromebook. Doable? If so, what are the steps to get it done within ChromeOS?
Bluetooth has become so ubiquitous that almost every device nowadays seems to support it, from cars to TVs, tablets to smartphones. Sometimes support just shows up out of the blue too, like how Vizio updated the firmware on my TV and suddenly it could pair with headphones! Suffice to say, I haven't heard of any Chromebook systems that don't have built-in Bluetooth support, both through ChromeOS and the device hardware. That's the good news. The other good news is that it's pretty easy to work with if you are comfortable exploring the Settings area.
For this demo, I'm going to be using a pair of Beyerdynamic "Free Byrd" earbuds but this process would be identical if you were trying to pair a keyboard, headphones, a speaker, or even something like Apple AirPods. Keep in mind that you will need to know how to put the unit into "pairing mode" when it's broadcasting its identity and prepared to connect with a remote device. Otherwise, 99% of Bluetooth devices are only visible to devices that have already paired with the unit. Let's get to it!
BLUETOOTH SETTINGS IN CHROMEOS
First off, make sure you're running the latest version of ChromeOS on your Lenovo Chromebook. Here's how: Check for Updates on a Chromebook.
Now go into Settings, most easily done by clicking on the widget tray on the right side of the "Shelf" along the bottom to bring up the pop-up window. On the top of that window is a gear icon. Click on it and you're in Settings.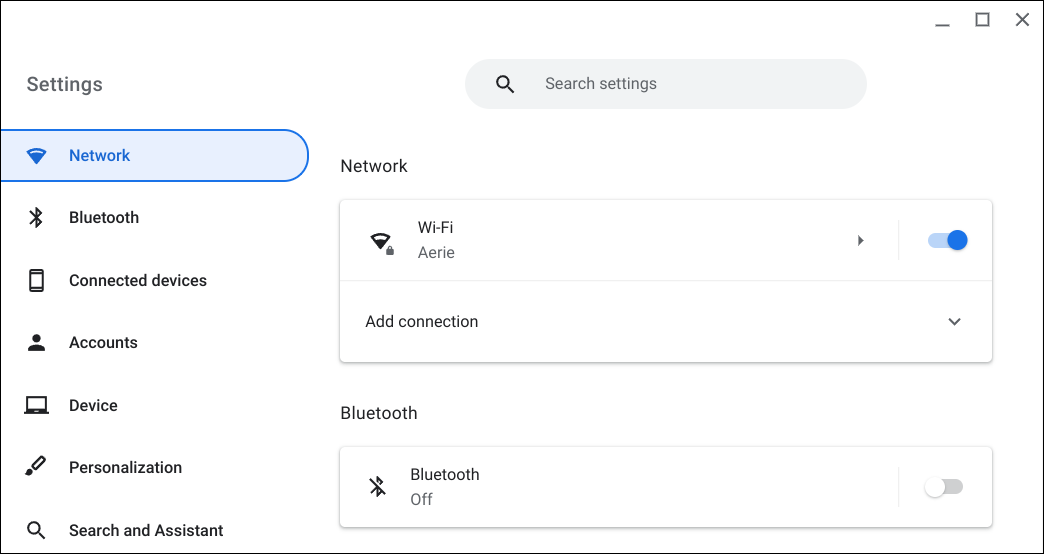 You might have Bluetooth right on that home screen, but click on "Bluetooth" on the left side to ensure you're in the right place. It will probably be off:
Notice that there are some devices I could easily connect like an Android phone. That's not the correct path through this, however, so instead click on the slider switch icon to turn ON Bluetooth.
Once you turn Bluetooth on then the "Pair new device" option appears. That's what you want!
PUT YOUR BLUETOOTH DEVICE IN PAIRING MODE
Now you'll want to pick up your Bluetooth earbuds, headphones, keyboard, speaker, or other device and put it in "pairing mode". With many devices there's a Bluetooth button that you push and hold down for about 5 seconds, but with the Beyerdynamic Free Byrd earbuds, you place them in the case then hold the buttons down: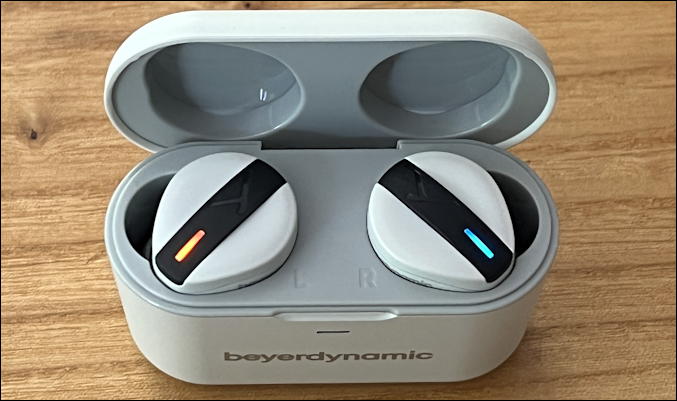 They indicate that they're in pairing mode by alternating blue and orange, as you can see.
PAIR YOUR BLUETOOTH EARBUDS WITH YOUR CHROMEBOOK
Now, back to the Chromebook. Tap on "Pair new device". If you did this correctly, your device will show up on the Available devices list. You can see the Free BYRD earbuds have appeared, even if the icon is a pair of headphones. Ignore that; it's the only audio graphic ChromeOS seems to use:
If your device still isn't showing up, double check you have it in pairing mode, go back to the Chromebook and wait 15-30 seconds to see if it will appear. If it still doesn't work, try pairing your device with an Android or iPhone device to see if it is indeed working properly. If so, then it might just not be compatible with ChromeOS, though I haven't heard of many devices that don't work nowadays.
Hopefully it shows up without incident. Click on it to pair and after a few moments it should be all hooked up. On the Chromebook screen you'll now see this:
Done! Woot! But… let's not part ways quite yet. See that tiny ">" triangle near the on/off slider? That means that there's more info available. Click on it and you'll find you can see more about the Bluetooth device:
The most useful info is the battery status: My Free BYRD earbuds are at 90% battery. Look closely and you'll see another of those ">" icons. Can you click again and get yet more information? Yes you can!
If you need to unpair (disconnect) or remove (forget) the device, now you know where those buttons are hidden. Perhaps more usefully, you can change the device name for your Chromebook only. Might be useful for them to be known on this system as "Dave's Free BYRD earbuds", for example.
One more trick: If you go back to the main System window on the lower right of your Chromebook, you'll find yet another of those ">" icons by the volume slider. Click on it and you'll see that the Bluetooth device is being used for output and input both!
Pretty handy to know. Turns out that ChromeOS has a very good integration with Bluetooth devices!
Pro Tip: I've been writing about operating systems for many years. You can find a lot more useful tutorials about Chrome OS in my Chrome OS and Chromebook help library here on the site. Why not check it out while you're visiting?