I want to pair a pair of Bluetooth headphones with my new 4K AppleTV device. I have heard it's pretty easy but would appreciate a quick primer so I know what I'm doing. Thanks!
After a few major revisions to the AppleTV hardware, it's become a pretty solid set-top media device. As you might hope, it works really well with Apple audio gear – you can pair it to AirPods with a single button tap, as I'll show – but it actually works with any Bluetooth device. Headphones, external speaker, soundbar, they're all straightforward to set up. The most difficult part might just be getting your device into pairing mode since there's no standard way to do that.
As always with this sort of thing, make sure that your device has the very latest version of the operating system. In this case, Apple calls it tvOS, rather predictably. You can check for updates from the Settings app on your AppleTV, just go to Settings > System > Check for Updates. The latest version is tvOS 15. Done? Good, let's get into it.
PAIRING APPLE AIRPODS WITH AN APPLETV
To pair AirPods or AirPods Pro with your AppleTV is ridiculously easy; just open up the box and pull them out within a dozen feet or so of your TV. A tiny window will pop up on the top right of your TV screen (assuming you're viewing the AppleTV signal):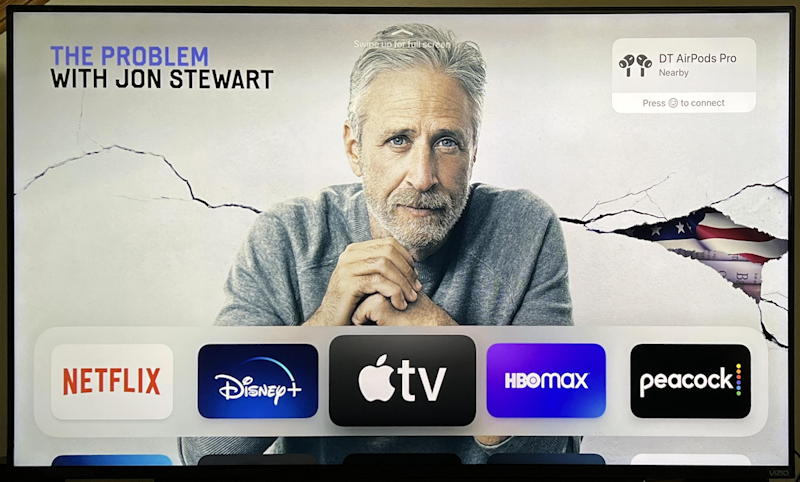 Don't be distracted by Jon Stewart staring at you, notice the "DT AirPods Pro" window that says "Nearby" and invites you to tap on the tiny TV button on the AppleTV remote to connect them to the AppleTV unit. Easy, right?
But what if you don't notice this ephemeral window and want to set this up through the AppleTV Settings app? You can do that too, and it's only a bit more tricky…
PAIRING BLUETOOTH DEVICES WITH APPLETV 4K
If you miss that fleeting link, head over to the Settings app on the AppleTV…
Choose "Remotes and Devices" and you'll get to a number of interesting settings you can tweak. I find that the "TV Button" setting is useful to switch to Home Screen, but you might prefer having it take you to Apple TV instead.
Here are the options:
As highlighted, choose "Bluetooth" to proceed.
Now you'll not just see those AirPods (if you own some) but any other Bluetooth device in pairing mode:
If you don't want to get that pop-up window about pairing your AirPods, notice that you can disable the feature by turning off "Suggest Nearby AirPods".
At this point, pairing a known device (which all Apple devices are by default since you're signed in through your AppleID) is as easy as a single tap. Other devices that aren't yet paired can't be connected to the AppleTV device, so they're in the "Other Devices" list.
I'll choose "DT AirPods Pro" so you can see what's on the next screen. It's pretty straightforward:
Once connected, the first option becomes "Disconnect Device", as you might suspect.
CONNECTING THIRD-PARTY BLUETOOTH HEADPHONES WITH APPLE TV
What if I want to connect a third-party Bluetooth device, however? I'll use the terrific Harmon Fly ANC Bluetooth headphones for this example. They show up on the Bluetooth screen (shown earlier) as "HK FLY ANC" [HK = Harman Kardon, if you're curious]. If I chose them from the list with the AppleTV remote, they're automatically paired and connected.
In fact, I even get a helpful pop-up confirming connection status on the top right:
Turn off the TV, turn off the headphones, then turn them both back on and the AppleTV seems to auto-reconnect, which is really helpful. Notice that the HK FLY ANC have also moved up into the "MY DEVICES" area, confirming that they're now paired, whether connected or not.
Confused by 'paired' versus 'connected'? Paired means that the source device knows the existence of the device and how to communicate with it. That's all. Connected means that it's actually being actively used by the source device. Some systems require you to pair, then connect, but AppleTV offers a convenient shortcut. Subsequent uses you'll just need to "Connect"; you only have to pair a device once.
That's it. Now go and enjoy some great programming on your AppleTV device!
Pro Tip: I've been writing about devices and basic computing, including car systems, for many years. Please check out my computer basics and tutorials to see what other helpful articles I've written!