I've been wondering if my Comcast Xfinity service is targeting my viewing habits with advertising. Is that possible? If so, how can I opt out?
Since Comcast's Xfinity service can encompass both your Internet and television usage, and since it's already clear that the service monitors Internet usage [to track whether you're using your connectivity to download illegal torrents, for example], it's a simple step for them to track your usage. Tracking then becomes part of the great data pool of each of our online lines which then leads to targeted advertising. Yes, you guessed it, Xfinity is indeed tracking and targeting you.
Getting it to all work smoothly and efficiently with millions of customers, however, is not so easy and what I've heard from inside the company is that while they're set up for targeting, fact is that Xfinity isn't yet doing much of it. Speaking personally, however, I still would prefer turning off any sort of tracking while I still have some level of control over my personal information and online habits.
Figuring out where these settings are found is a bit tricky, though. I started by logging in to the tv.xfinity.com site and clicking on the "•••" button on the top right of the screen, which reveals this menu: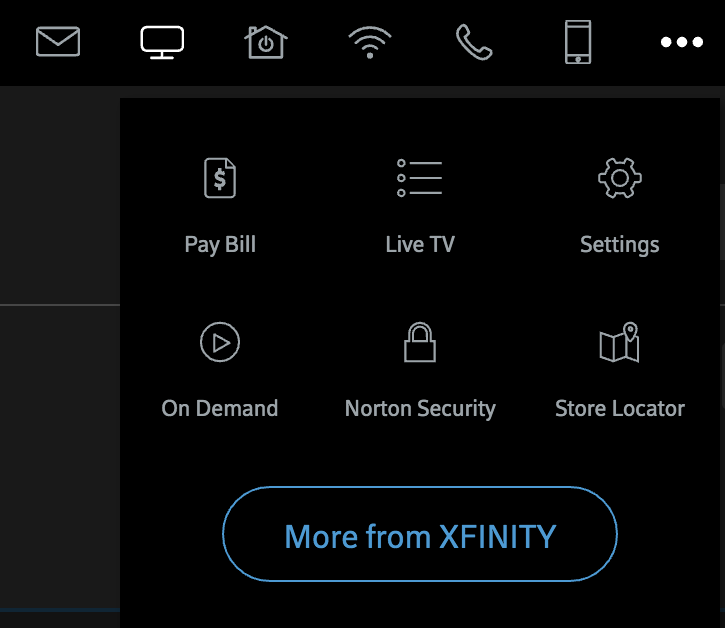 You'll want to choose "Settings", the gear icon on the top right. A click and you'll now need to log in to your account again (you probably did to get to the TV listings in the first place) since you certainly don't want someone else changing your account settings!
Once logged in, you'll get to a screen of various settings, but you want to look at the menu on the left side. It has quite a few options, as you can see:
Lots to look at, but for our task, you want to go all the way to the bottom and click on "Communications & Ad Preferences". This reveals two main sections you have control over (you'll need to scroll down to find them, probably). The first is Advertising Preferences:
The second are Marketing Preferences, though it's a bit of a head-scratcher to figure out how they differ:
My experience with trying to change Marketing Preferences is that it fails, and it's not really the question you asked me, so let's just focus on Advertising Preferences. If you have a few minutes, check out the marketing settings too, and perhaps you'll have better luck tweaking the settings.
Click on "Edit" adjacent to the section "Cable Targeted Advertising" because, really, do you want to see ads on TV that are based on your personal usage patterns both with Xfinity TV and Comcast Internet?
And so, welcome to legalese hell: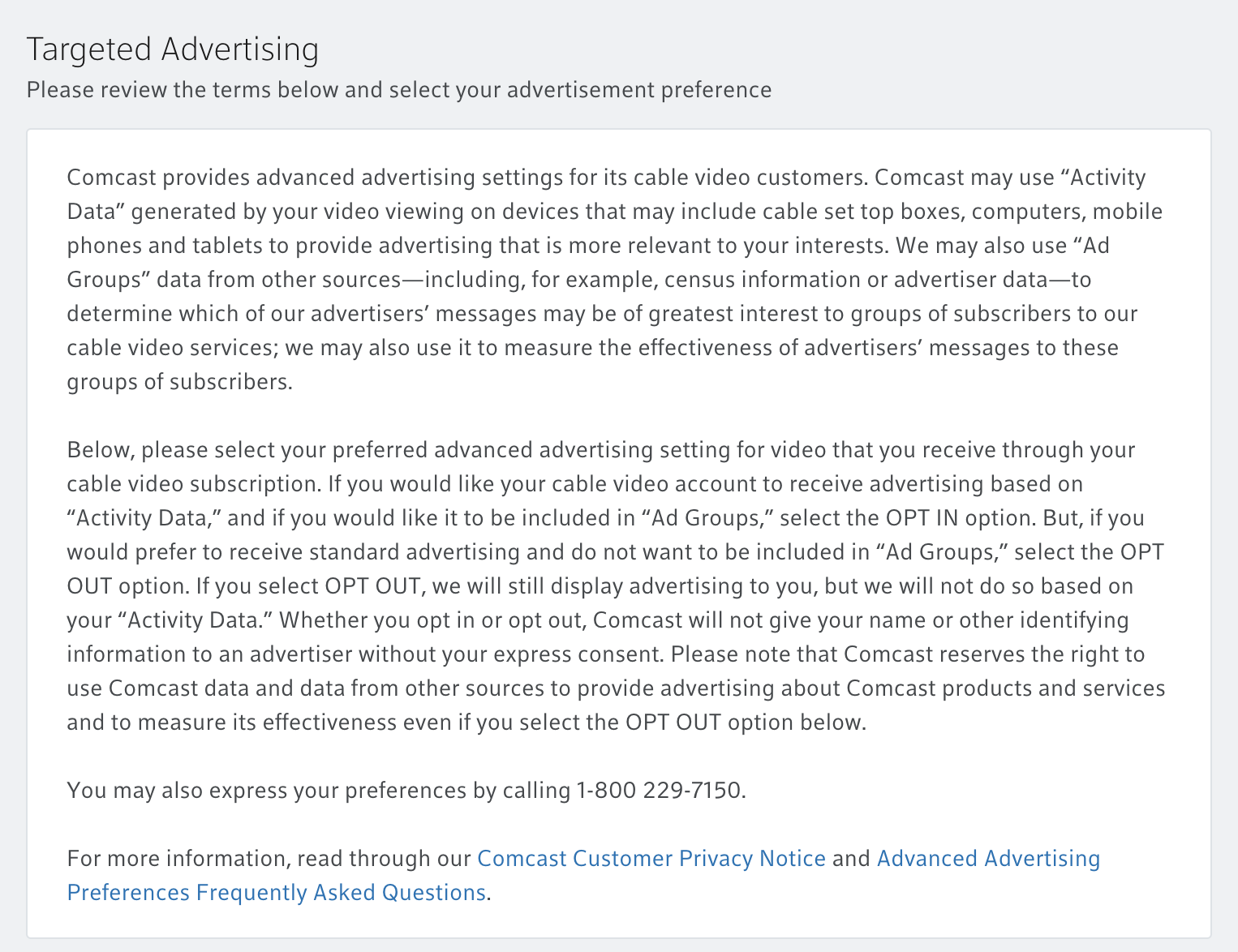 That makes my head swim, personally. Fortunately you can just skip down to the bottom of the page and sidestep this gobbledygook entirely. At the bottom it shows two settings:
Obviously, my recommendation is that you choose "Opt out for advanced advertising preferences: activity data and ad groups." Click Save to change the setting if you so desire.
Now back up one level and choose "Digital Targeted Advertising" and you'll find that there are two different settings you can adjust: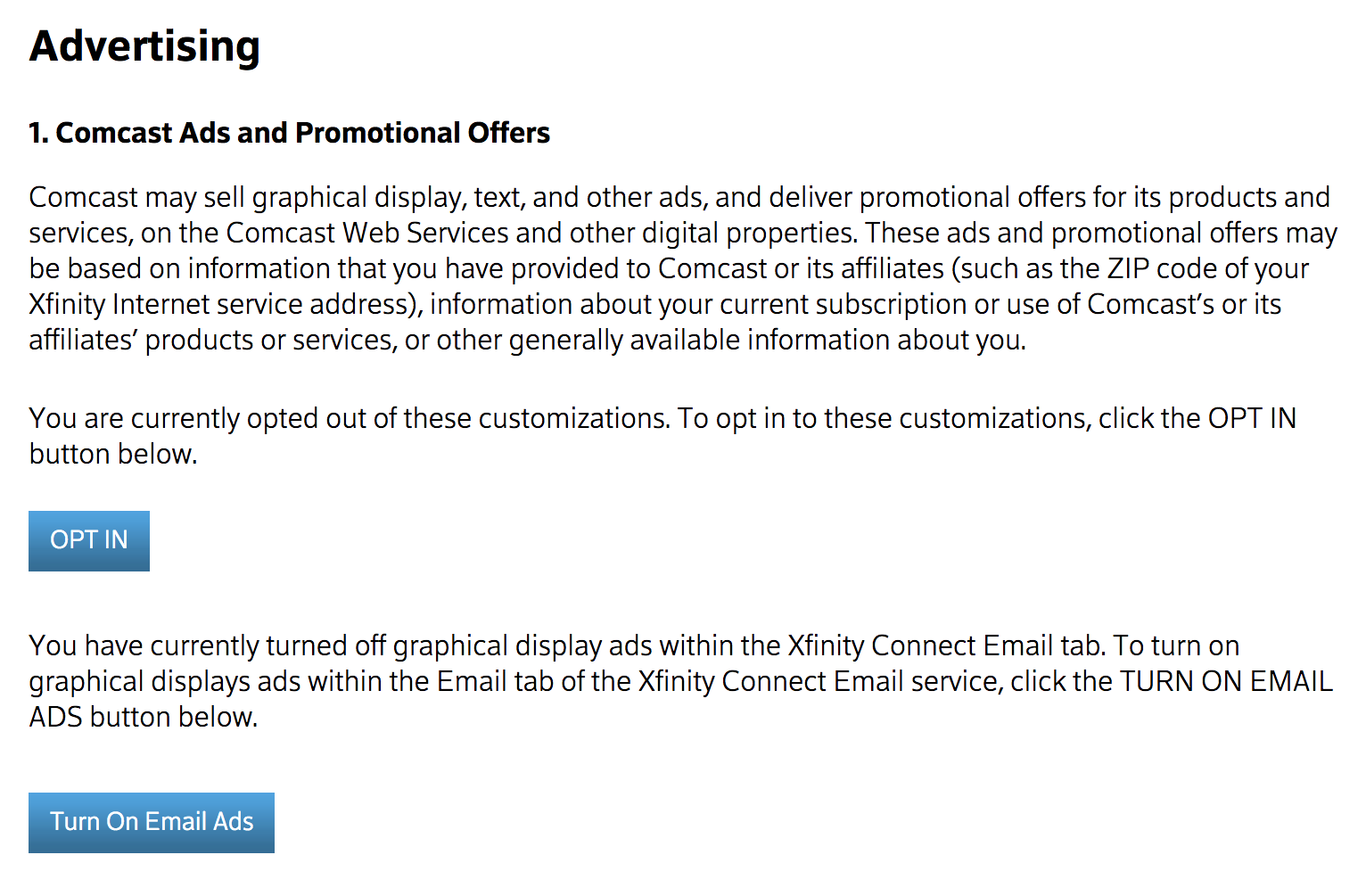 If you read this and think that your setting is exactly what you want, then you're good. Otherwise, you might want to change the settings to match what I have above: I've opted OUT of customizations and turned OFF email adverts.
Keep digging through your Comcast Xfinity settings too, there might well be additional options that you want to opt out of – or join!