I was just reading about "Amazon Sidewalk" and I don't like it. I don't want my neighbors using my Internet connection for their devices. How can I disable it or opt out of Amazon Alexa Sidewalk, Dave?
The concept behind Amazon Sidewalk is really interesting and allows the creation of smart neighborhoods, instead of just smart homes. As Amazon describes it, "Amazon Sidewalk is a shared network… that helps devices like Amazon Echo devices, Ring Security Cams, outdoor lights, and motion sensors work better at home and beyond the front door. When enabled, Sidewalk can unlock unique benefits for your device, support other Sidewalk devices in your community, and even open the door to new innovations like locating items connected to Sidewalk."
Cool, right? This also means that if your Internet connection goes down, your security system and Ring doorbell could theoretically keep working by tapping into your neighbors connection through a BLE (bluetooth low energy) connection. Amazon further explains that Sidewalk "creates a low-bandwidth network with the help of Sidewalk Bridge devices [that can then] share a small portion of your internet bandwidth which is pooled together to provide these services to you and your neighbors."
The company assures potential customers that the network usage is capped at 500MB/month ("about as much as 10 minutes of HD video streaming", according to TechHive.com) and that everything's multi-level encrypted to ensure the privacy of your security data on your neighbors network and of your own network if neighbors are accessing it through their own security devices.
Still, it's no surprise that privacy advocates are not enthusiastic about the utilization of personal network bandwidth for people and devices not included in your own smarthome setup. The biggest issue is that you're automatically opted in to be part of the program unless you manually opt out. Kind of a strange approach for a company assuring you that privacy is important.
HOW TO OPT OUT OF AMAZON SIDEWALK ON YOUR DEVICES
Fortunately you can easily opt out of participating in Amazon Sidewalk – even if it's just while it's being deployed – with a few taps on the Amazon Alexa app on your smartphone…
Start by launching Amazon Alexa. If your setup is like mine, you'll see a home screen that indicates what you're listening to currently and what you've done most recently:
What's cool is that I've enabled voice for the Alexa app on my phone so as long as this is in the foreground, I can say "Alexa…" and specify a command as if I were in the home. This means that, yes, I can turn on lights and adjust my thermostat before I head home on a cold evening, or turn on the lights as I pull onto my street. Handy!
For this task, however, tap on "More" on the lower right corner. You'll go to this menu:
You're likely familiar with this set of options from adding skills, defining routines and adding new smarthome devices too. To disable or turn off Amazon Sidewalk, tap on "Settings".
As you can see, you'll then want to tap on "Account Settings":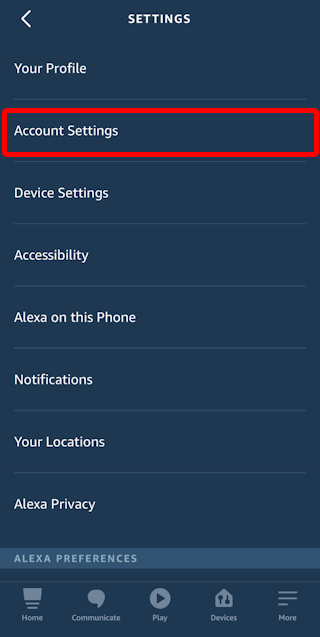 It is interesting that Amazon Sidewalk isn't located under the Alexa Privacy entry, as would make the most sense. Nope. Account Settings.
Tap on that and swipe down just a little bit to find "Amazon Sidewalk":
While you're here, you might also consider disabling Voice Purchasing, as I have done. Just in case…
Now you're rockin'! Tap on "Amazon Sidewalk" and you can read a bit about the service:
It says "Coming Soon!" but any day now it'll be turned on: Amazon has said it wants the system online by the end of 2020 which is only 29 days from now as I write this post. Read through what they state here and decide; are you sure you want to disable Amazon Sidewalk?
If so, it's easy enough, tap on the little blue slider so that it switches appearance:
Done. You've now opted out of participating in Amazon Sidewalk. For now, at least. If you want to rejoin a few months after they deploy and shake out all the bugs, it's easy enough to follow this same path in the app and re-enable the Sidewalk feature.
Now, what's your choice? Let me know in the comments whether you've opted out or stuck with it and why!
Pro Tip: I've been writing about Amazon Alexa and smarthomes for years and review smarthome products on my YouTube channel too. Start by checking out Amazon Echo Help, then visit AskDaveTaylor on YouTube too! Thanks!