I get a lot of update notifications from Web sites through Microsoft Edge on my PC. I don't mind them, but I do mind the sound they make. Is there a way to "mute" Edge notifications without turning them off?
One of the newer additions to the Internet is the ability for websites to send you notifications on your PC, Mac, even your mobile devices. This can be really great, but it can also be a real pain if you get too many of these notifications and they end up endlessly disrupting your work and flow of thought! Fortunately, there are a couple of ways you can manage the flow of notifications on your PC screen, though most involve turning the service off, not just muting it.
There are two areas to check for you to fine-tune your notification alerts, within Microsoft Edge, and with Windows 11 settings themselves. Interestingly, you don't need to have Edge running when a notification arrives to receive the notification but if you're like most people, your Web browser is running 24×7 anyway.
NOTIFICATION SETTINGS IN MICROSOFT EDGE
You can navigate through the "•••" menu to Settings > Cookies & Site permissions or you can use the sneaky URL shortcut! Just click on edge://settings/content to get to the correct spot: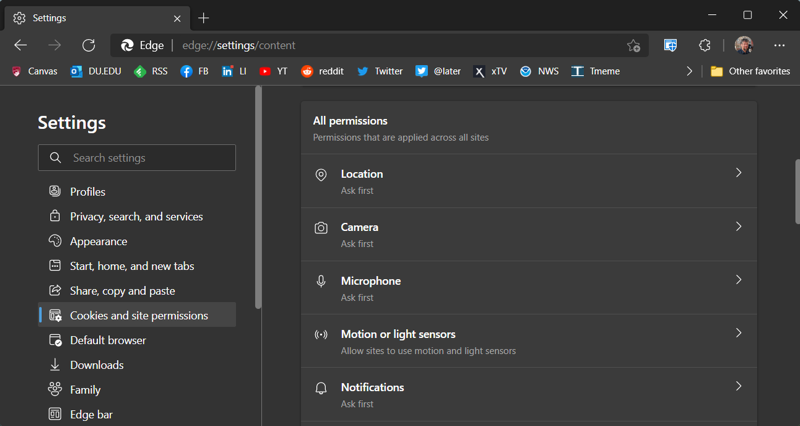 It's the bottom of those options: "Notifications". You can actually have them accepted from Web sites without approval, but that seems a bit like an invitation to way too many notifications. I have it set to "Ask first". A click on the ">" adjacent to Notifications…
Here you can block sites that are too enthusiastic and quiet notifications, but that doesn't just stop the bing or beep sound, it stops the notification entirely. Not exactly what you seek.
Instead, let's jump over to Windows 11 system settings instead.
MUTE NOTIFICATIONS IN WINDOWS 11 SETTINGS
Jump into Settings then go to System. On the right, just below the name, Display and Sound options is "Notifications":
Another click on another ">" adjacent to another "Notifications", but this time the results are a bit different: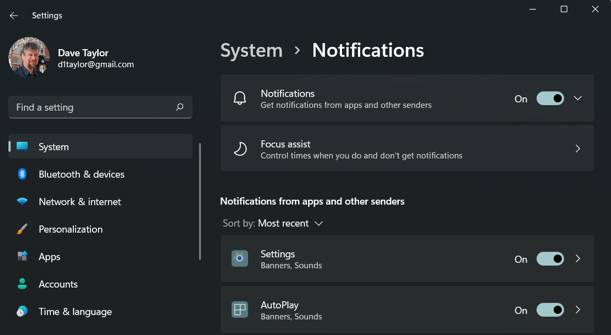 At this point, you can completely turn off all notifications from all apps and programs if you really, really don't want to see them. You can also configure focus assist so you can set "work" or "study" mode and limit notifications. [I also have a tutorial on Focus Assist for Windows. It's pretty slick!] Or… just scroll down to see the app-specific notification settings. A bit lower down you'll find Microsoft Edge:
Again, you can turn off all notifications from Edge, but click on the ">" on the end of that line instead and you'll find you have a lot more control over those notifications:
Almost there. Scroll down just a little bit and you'll finally – FINALLY! – see the setting you want:
There it is, right in the middle: "Play a sound when a notification arrives". Quite a journey to get here, but no worries, you just click on the "ON" to switch it to "OFF" and you're done. You've muted the audio component of Edge notifications. Well done.
Pro Tip: I've been writing about Windows for many years and now have an extensive Windows 11 help area. Please check it out to find lots of additional tutorials and guides while you're here. Thanks!