I'm hosting a group discussion and all the participants have emailed me their presentations. In PowerPoint. Rather than bounce around, I'd like to just merge them all into one big presentation deck. That'll also make sharing slides afterwards easier too. How can I do that in Microsoft PowerPoint?
It would be a really cool feature if PowerPoint let you open up a folder that contain multiple presentations and knew what to do. Unfortunately, that's not the reality. So there's a little bit of manual labor involved in creating one big deck from a set of separate PowerPoint presentations. It's pretty easy to accomplish, just a little tedious. The real trick is if you have some that were created on a Macintosh and others that were created on a Windows machine you might end up with some font incompatibilities or multiple sizes of slides in the final presentation. But that too can be fixed with a little bit of effort.
I actually teach a college level class on marketing, and my students had to produce mini PowerPoint presentations that I then merge into one big deck for them all to have as a reference. So it's very much the same task as what you're talking about. Let me show you how we did it, and you'll see just how you can proceed to whether you're using PowerPoint on a Windows PC or PowerPoint for Mac.
To start, here's my folder on the MacOS X system thtat contains all the individual PPTX files:
(I've redacted identifying information for my students for their privacy, but you can see, it's pretty neat and consistent, with every file in PPTX format. Except for two. Two students turned in PDFs instead, but I'll explain how I dealt with those after we've merged all the others).
While it would be great to select them all and click 'merge into single presentation' that's not quite how it works…
What you're going to do is create a new presentation in PowerPoint, then import each and every presentation into it, then save it as the new, bigger, merged presentation deck. Reasonable, all in all, though if you have 20 or more PPTX files that might not sound too fun.
Start by just launching PowerPoint. On the Mac platform the latest version looks like this:
Along the top are the primary function areas for the program: Home, Insert, Draw, Design, Transitions, Animations, Slide Show, Review and View. We need to switch to Insert and reveal that ribbon of buttons and functions:
Once you get the hang of the "ribbon" design of Microsoft Office, it's pretty easy to work with. In this instance we want to pull up the menu associated with "New Slide", so click on it leftmost on this Insert ribbon. This offers up quite a few options: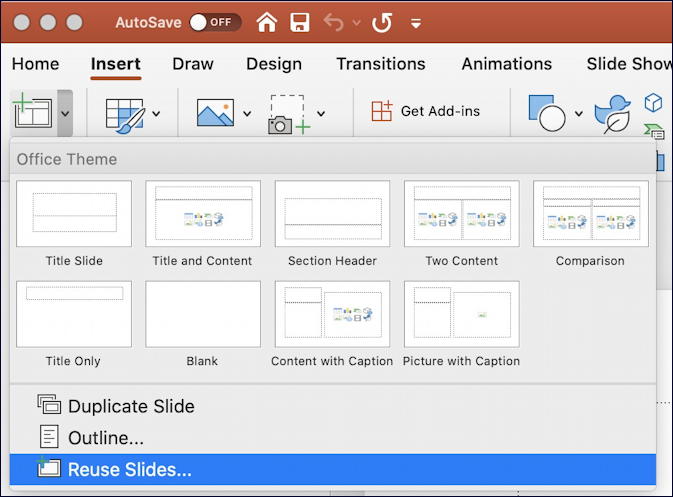 Don't get distracted by all the different types of slides we can add because it's the confusingly worded "Reuse Slides…" option at the very bottom that we want to choose. Why "reuse" instead of "import"? No idea. But that's our menu choice.
Now the system will prompt you with a standard Open File window to select the existing presentation from which it should import slides:
Unfortunately we can't shift-click to choose multiple files here. Just one at a time. So yes, there's a bit of tedium involved, as I warned at the beginning.
Choose one, click OK and it'll be imported into the current presentation:
Like a good shampoo label, this is where you get to rinse-and-repeat, importing decks again and again until you finally have all the presentations imported into this new PowerPoint slide deck. Tedious, but doable. And those two PDF files that students submitted? I took the lazy path: A screenshot of the page that then was pasted onto a blank slide and resized to fit.
Finally, once you're done, switch to the View ribbon and you can go into Slide Sorter:
Slide Sorter is really great for presentations with lots of slides because you can click and drag to reorganize individual slides to your heart's content and even hide or delete slides entirely. Here's how it looks for my students' combined work: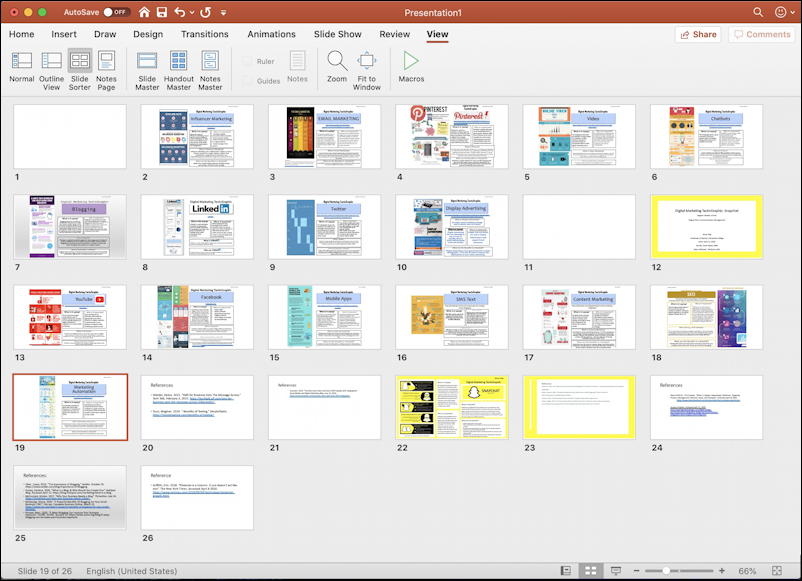 A few blank slides, like #11, and a few that are references and don't need to be in the final deck (#20, #21, #23, etc). In this instance, I also reorganized the slides so that they were in alphabetical order by click-dragging them around. It felt like I was playing Solitaire!
Done with everything? Perhaps go back and complete the first slide to make it a proper title slide, save the new merged presentation and… you're done.
Pro Tip: I've been using and writing about Microsoft Office for quite a while. Please check out both my Mac help and Windows help for lots of how-to articles and tutorials while you're here!