Is there any way in Gmail for Mobile (my iPhone) for me to read through an email message then mark it as "unread" so that when I get to my computer it shows up as not having been read? I tend to preview things on my phone and then forget to respond later when I'm in the office…
Sounds like you have a very similar workflow to me, actually: I often preview or read through email as it arrives in the Gmail for Mobile app on my iPhone, but want to return it to the incoming, unread list so that when I get on my main computer I can respond. Problem is, while Gmail's Web interface offers this feature off the main message menu, the mobile app doesn't have this feature on any of its menus.
Or does it?
Turns out that there are two ways you can mark an email message in Gmail as unread, but neither are at all obvious. Indeed, I stumbled into the first approach purely by accident, so you'll get to benefit from my experimentation within the app. I suppose that since it's Web-based the Gmail development team can measure which menu items are used the most and focus on those features for mobile, which suggests people are more likely to apply a label, print or delete a message than "mark as unread"?
MARK EMAIL MESSAGES AS UNREAD IN GMAIL FOR MOBILE
Once you're looking at an email message, whether in your inbox or a folder (label, folder, I use the words interchangeably) there are precious few options at the folder overview level: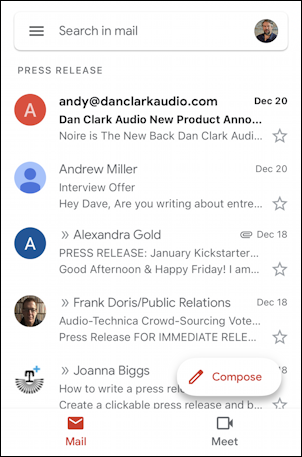 My goal is to mark that email message from Andrew Miller as unread. A logical first step is to go into the message itself, which produces two different accessible menus, both off "•••" icons. The lower one, closer to the message body, produces this menu of options: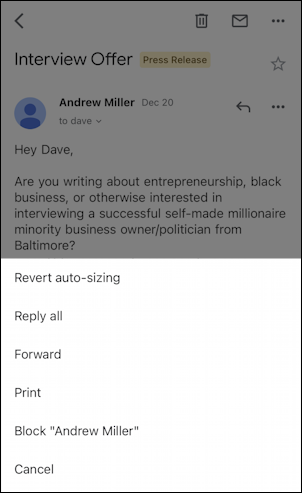 Seems like an entirely logical place to have a "Mark as Unread" but it's not there. Hmm… perhaps it's the higher "•••" button instead?
Another useful menu of options, but no joy. The "Mark as Unread" feature is lurking on this screen, but let's jump back one level to demonstrate.
Without any obvious clue, it turns out you can operate on multiple messages at once within Gmail for Mobile. Simply tap and hold on a message until a check mark appears: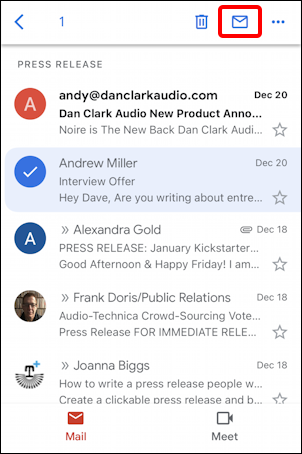 Now tap on the envelope icon on the top and — ta daa! — it'll be marked as unread: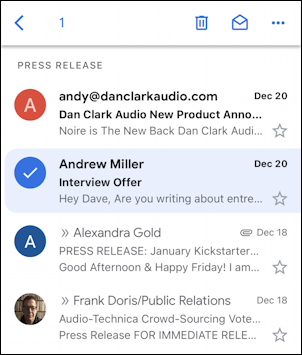 Neat, eh? Now if you look closely at the individual message view you'll notice that it too has that tiny envelope icon. In fact, you can mark an email message as unread while you're reading it too. So the feature is included, it's just not at all obvious.
But there's a cooler way to set things up to allow you to easily mark a message as unread too, since you have gestures on your smartphone, not just taps…
SET UP SWIPE TO MARK UNREAD IN GMAIL FOR MOBILE
Hopefully you already know that you can swipe right to delete a message and swipe left to archive an email message? Of course, if you use folders / labels as extensively as I do there's no value to archiving a message that's already archived, so why not reassign that gesture to allow you to mark a message as unread?
To do that, start by going to the main menu in Gmail for Mobile, accessible from the three horizontal lines menu on the top left of the screen. Swipe to the very bottom:
Choose "Settings" and you'll see the surprisingly few options in Gmail for Mobile:
As highlighted, choose "Mail swipe actions" and you can see your current setup:
The default is to trash an email by swiping right and archive by swiping left. But you can change these behaviors!
Tap on "Left swipe" near the bottom and you'll see all the possibilities:
Choose "Mark as read/unread" and when you go back to your email, you'll find that you can swipe right to trash a message as usual:
but now you can also swipe left to mark it as unread:

Pretty sweet, eh?
Pro Tip: I've been writing about both Gmail and the iPhone for years and have quite a library of help articles. Please check out my Gmail help and iPhone help areas while you're visiting! Thanks.