I just bought myself what Dell calls a 2-in-1 tablet and it's pretty cool: with the keyboard, it's like a laptop, but I can pull off the keyboard and just use it as a tablet. Nice. But I'm a bit confused about how it decides which mode I want to use. Can you walk me through the Windows 10 tablet settings?
Used to be there was one type of computer: a box, a keyboard, a display adding up to a personal computer: The PC. Then they become "transportable" (look up the Osborne 1 to see what those clunkers looked like), then portable and evolved into the sleek, slim, light laptop computers we have now. Somewhere along the way, our devices lost their keyboards too. With phones, they started out with a tiny one-line screen and a big number pad, changed to having a square screen and tiny little keys, then turned into all screen, no keys. The bigger version of that is what turned into our modern tablets and from the iPad Pro to the latest Samsung Galaxy Tab, they're pretty amazing.
That's why I find the 2-in-1 designs rather amusing, like a step backwards on the evolutionary journey of devices. If you want a tablet with a keyboard, get a laptop. If you want a laptop without a keyboard, get a tablet. I know, I know, it's handy to have both but doesn't it strike you as just a tiny bit odd? Microsoft got so excited about tablets that it decided that the tablet OS it invented needed to go on all its Windows PC devices back when Windows 10 was introduced, which is why the humble little Start Menu became the much belittled Start Screen. Which… as it turns out,… is still the default in tablet mode in Win10!
With that brief tech history out of the way, let's look at how Windows lets you switch between laptop and tablet modes…
WINDOWS 10 TABLET MODE
The easiest way to get to the tablet settings is to do a search for "tablet". Here are some of the results: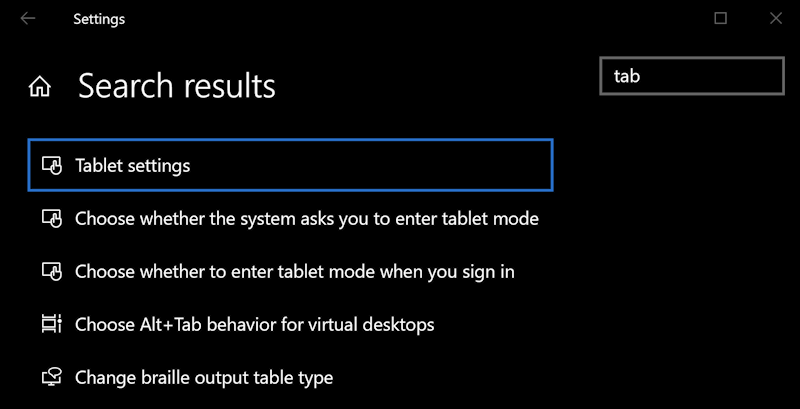 The highlighted choice is what you want: Tablet settings. That brings up two key setting options: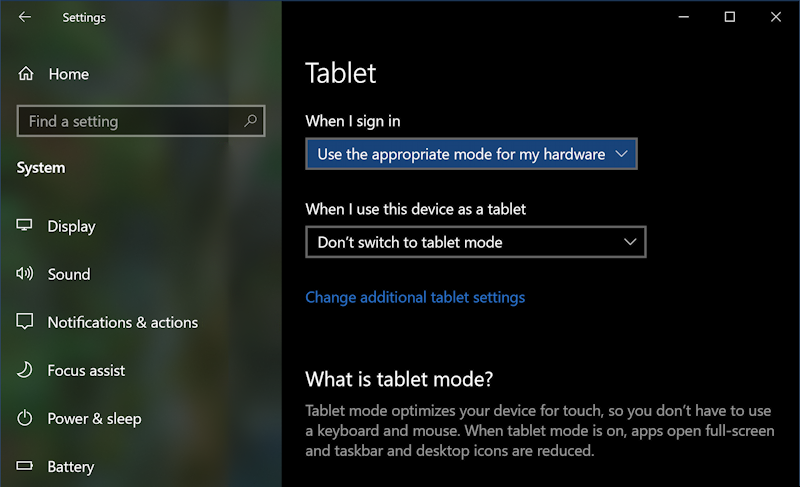 These are really about how you want to use your 2-in-1 more than anything. When you sign in, are you going to want to jump straight to PC mode where it assumes you have a keyboard, or do you want to go to Tablet mode where it'll pop up a keyboard any time there's an input prompt? Let's look a bit more closely at these two options.
First off, When I sign in offers these three choices: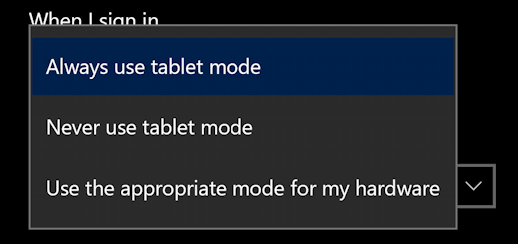 What I recommend is that you choose Use the appropriate mode for my hardware, which means that if you have the keyboard attached, it will use PC mode. If you don't and you're just using the screen as a tablet, it'll enable Tablet mode. Easy enough.
What about When I use this device as a tablet?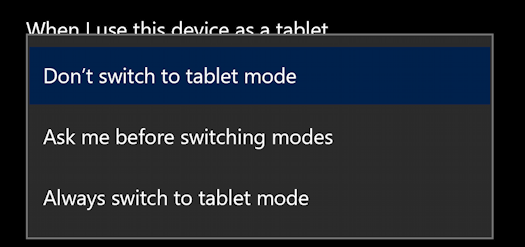 I've never really understood why you would choose Don't switch to tablet mode if you pull off the keyboard, but that's an option. Since I like to have control over my device, I usually pick Ask me before switching modes, as you'll see.
Those should be the most functional settings. Now let's see what it does and how PC and Tablet modes differ!
WINDOWS 10 TABLET MODE VS. PC MODE
There are a couple of big differences between the two, most notably that the on-screen keyboard shows up when needed. But apps tend to be full screen in Tablet mode too. You can see I'm in PC mode here: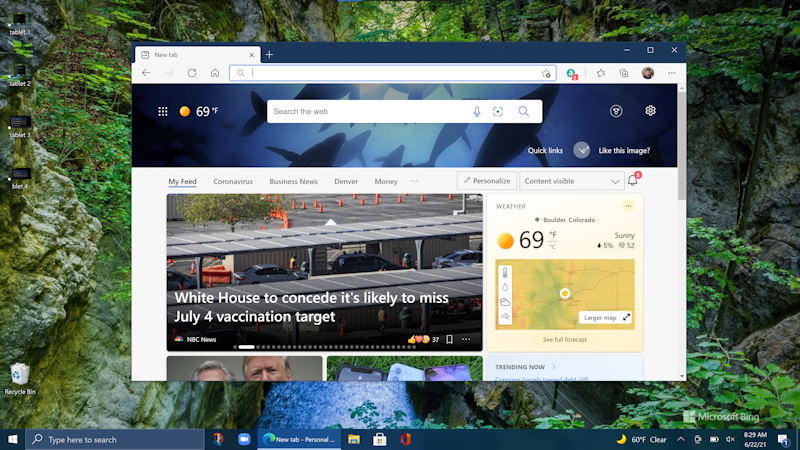 TaskBar along the bottom, Edge window not full screen, all looks pretty Windows 10 desktop, doesn't it?
If I unplug the keyboard, however, this pop-up appears on the lower right:
You can see that "Always ask me before switching" setting appears (and you can change it if you want from this very window). To switch to tablet mode, tap on "Yes". Easy enough.
Now the screen will change: The foreground app will immediately stretch out to be full screen: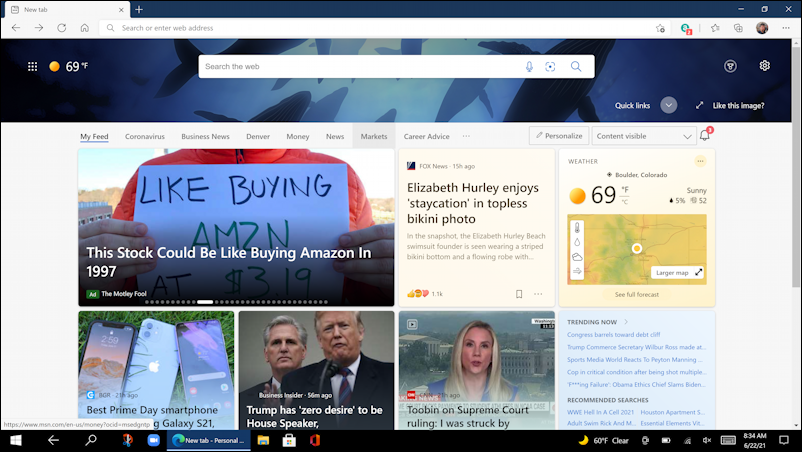 In this mode, you can opt to auto-hide the TaskBar if you'd prefer a bit less clutter. Tap on the search box and since you're now being asked to enter text, the on-screen keyboard will show up: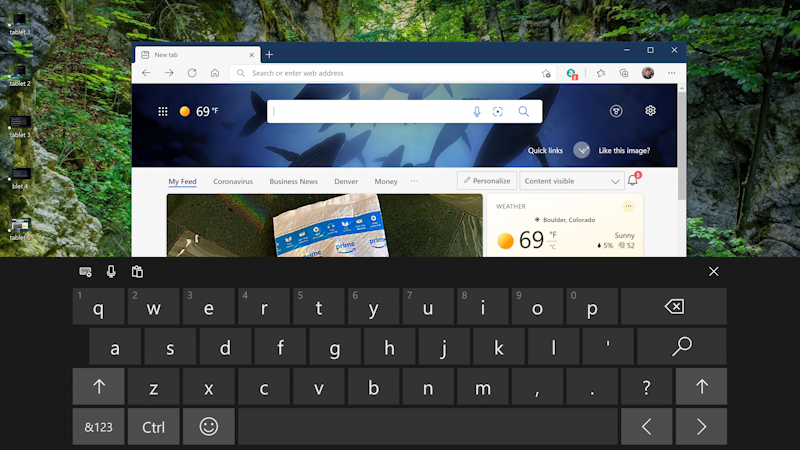 Notice the three icons on the left and the "x" on the right, offering some level of additional control over the on-screen keyboard. In this context, the search icon (the magnifying lens) is the Enter or Return key, it's just automatically customized since it's a search box. Not sure that's a great user interface choice to have the key change, but the on-screen keyboard offers one great feature: The emoji keyboard. Tap on the smiley face on the bottom and you'll find it's great fun to pick out the perfect emoji!
Oh, and the Start Menu? In Tablet Mode, you're back to that glorious Start Screen!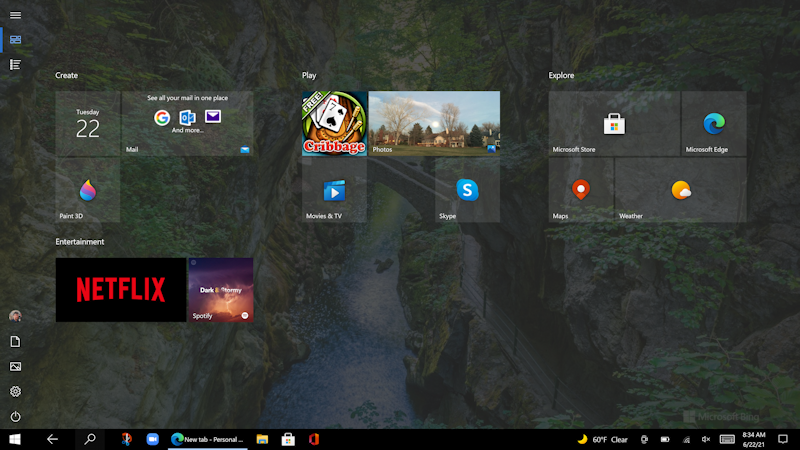 Ah, don'tcha miss it? Be honest. 🙂
And, finally, plug that keyboard back in and you'll be prompted again about whether to change out of tablet mode: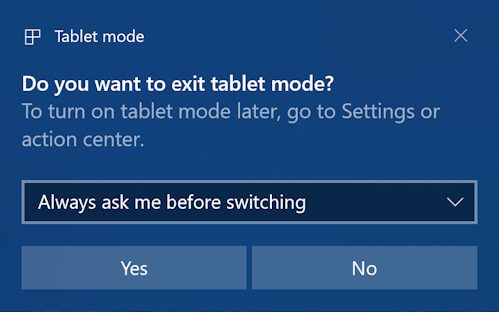 That's it. You should now be able to tame that Dell 2-in-1 and get your system set up perfectly for Tablet Mode vs. PC Mode. Have fun!
Pro Tip: I've been writing about Windows 10 for quite some time and earlier versions of Windows before that. While you're visiting, why not check out my Windows 10 & PC help area? Thanks!