In the old Facebook interface, it was really easy to manage featured videos on my Facebook business page. With the new UI, however, I can't figure out where all of these controls have gone. How can I remove a video, promote a new one or reorganize the order that they're shown on the page?
When Facebook foist the new user interface design on us Facebook page owners late in 2020, it was quickly obvious they hadn't thought through all the functionality required. For many weeks afterward there was a link to the "classic interface" available for page managers for just this reason. Heck, there are still some features I haven't figured out in the new UI too, notably including how to edit the longer of the two page descriptions. Featured Videos have also seemingly been renamed Spotlight Videos, and they were problematic too until Facebook's UI team slipped video management into a later update of the new user experience. They then removed access to the older UI.
What are Spotlight videos? Well, for those of you who are just getting started with managing a Facebook business page, you already know that you can upload videos and have an entire video area as part of your online presence. Featured videos, uh, Spotlight videos are a small subset of those videos – currently limited to five – that are given prominent placement at the top of your main Facebook business page. But how do they get there and how do you sort them in the order you prefer? Turns out that it's fairly easy to work with once you understand their thinking…
CHANGE YOUR FACEBOOK SPOTLIGHT VIDEOS
To demonstrate how to manage spotlight videos, I'll use my own AskDaveTaylor page on Facebook. While I'm linking to it, I also invite you to subscribe too! Thanks.
Okay, back to business. If you go to my FB page, you'll see a Spotlight that moves one video, in this case a review of a LumiCharge Universal Wireless QI Charger, right at the top of the page:
Close examination shows that there's a tiny '5' adjacent to the word Spotlight showing how many videos I have in what Web page designers would call the spotlight video carousel. In fact, did you see the ">" button on the right? A click and you can see the second Spotlight video, and so on, revolving through all five promoted and featured videos on this page.
Since there's a maximum of five videos you can spotlight, to add a new one, it's necessary to remove one that's already being featured. Now it makes sense to me that there should be some sort of Settings > Video sort of option, but you can dig around in the page management settings all you want and you won't find anything useful. It turns out that the controls are all accessible from the menu that appears if you click on the "•••" link within the description of the current spotlight video. In other words, to add other videos to the spotlight or even reorder them, you have to go to the current video's options menu. Here's what shows up:
To remove the current video from the spotlight (but not remove it from your video library) choose "Remove from Spotlight". To add an additional video to the Spotlight carousel or to delete a different video than the one currently shown from the Spotlight, choose "Add Video" or "Delete video" respectively.
Choose "Add Video" to proceed, even if you already have five selected, and the same Spotlight window shows up that was part of the older user interface:

This proves to be a list of every video you've uploaded to your Facebook business page: Those with the blue checkmark are on the Spotlight featured list. To unselect one – which doesn't delete it from your page – just click on the blue checkmark itself.
The prompts can be a bit confusing, though, as you can see if I move the cursor over one of these blue checkmarks to unselect it:

Not sure that "Unselect a video before adding this one" is the correct prompt when it's already selected and I want to unselect it. But… okay. Facebook is a pretty complex world, right? So we can cut 'em some slack…
Click to unselect a video, then scroll down to find the new video you'd like to add to your featured spotlight and move the cursor to where that check mark would be:
Move the mouse to get the unchecked checkbox, then click to check and select it and you've just added a new video to your featured spotlight video list.
REARRANGE FACEBOOK FEATURED SPOTLIGHT VIDEOS
Which leads to the obvious question: Okay, now how do you rearrange the order of the videos in the spotlight? That's done with the "Organize videos" link on the right side of this window. Once you've selected all five of your featured videos, click on that and you'll see just their thumbnails:

This part is pretty easy: Just click and drag a thumbnail to move it elsewhere in the ordering. For example, if I do that with the video thumbnail for that universal charger, here's how it'll look just before I push it down to last position in the carousel: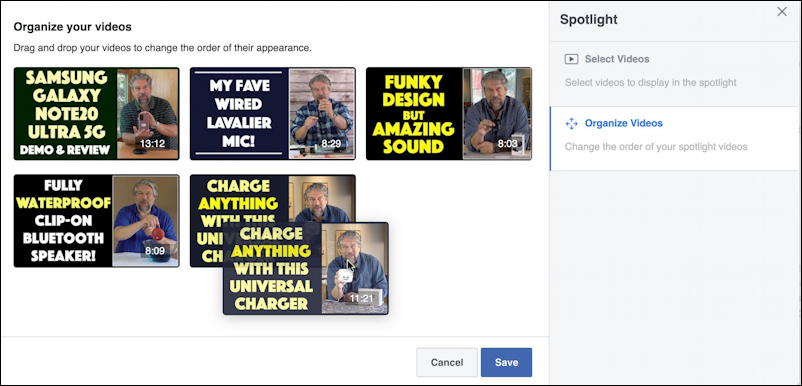 Once you've reordered these to your heart's content, click on "Save" and you're done. Not too difficult once you figure out how to actually find the video spotlight window on your Facebook page.
To show that it worked, notice my home page now has a different video in the #1 position: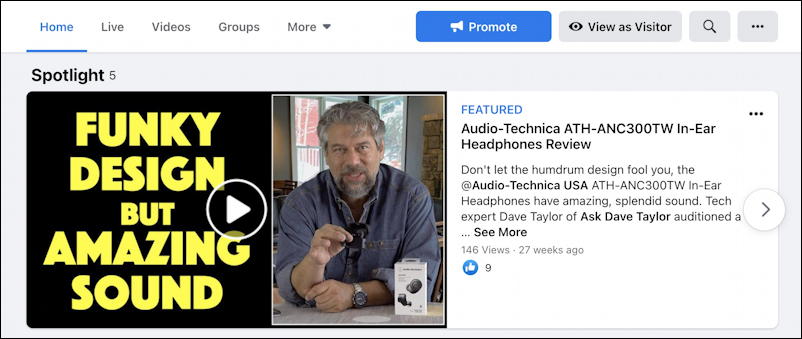 Mission accomplished. Now it's time to upload at least a couple of great videos and put 'em in the spotlight for your page!
Pro Tip: I've been writing about Facebook since the very early days of the platform. Please check out my quite extensive Facebook help library for hundreds of other useful tutorials and how-to guides while you're here. Thanks!