Love my new Apple Watch and really like being able to track my activity, but every time I get a notification it's really loud and other people are bothered by it, especially in meetings! How can I make the alerts softer?
The engineering and user experience on the Apple Watch keeps improving, but there are still some basics that most people probably should adjust to have it work best for them. Top on my list is alert volume, followed by customizing your watch face and learning how to enable and disable theater mode so you can mute your watch and turn off the screen at a movie, concert, or another venue where it would otherwise bother people. Like your meetings.
Almost every setting can be accessed on the Apple Watch itself, which is really helpful, but they tend to be easier to understand and set if you use the Apple Watch app on your iPhone. One big difference: On the Watch itself you have to remember the difference between a swipe up – to access the control center – and using the crown to get to the main Settings area, while in the Watch app on the iPhone the settings are all organized more neatly and you can see more of it at once. Let's check it out…
LOWER ALERT VOLUME ON THE APPLE WATCH
To start out, here's my Apple Watch showing me the time. Pretty standard stuff:
Tap on the screen and swipe upward and you'll get to the Control Center, which offers a rather bewildering array of icons: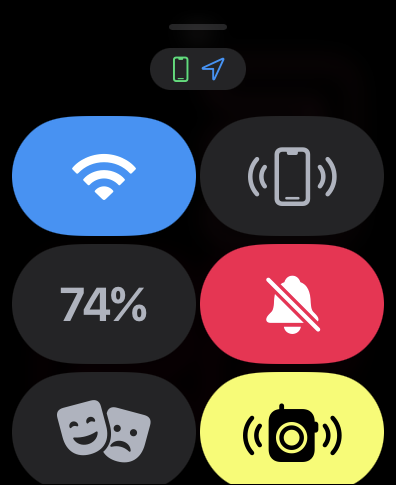 Do you know what all of these mean? Luckily, Apple has a cheat sheet that explains each: How to Use the Control Center on the Apple Watch. Based on that info, from top left to bottom right, these are Disconnect from Wi-Fi (blue), Ping your iPhone, battery status, Silence Apple Watch (the red icon), Enable Theater Mode, and Walkie-Talkie (yellow). Yours might be in a different order and you might have other ones shown since this is a customizable screen.
Before we go further, let's talk about that Theater Mode, because it's fantastic. Heading to a movie? Tap on Enable Theater Mode (the happy/sad masks) and it will prevent the Apple Watch display from turning on when you raise your wrist. The screen stays dark. It also enables silent mode, so you get haptic (vibration) feedback, but nothing audible. Enable it, then cover the screen with your hand for a moment and your Watch will be dark. To turn it off, push on the crown to wake up your Watch, then Disable Theater Mode from the control center. Easy. Fellow theater-goers will greatly appreciate it too!
Now, getting back to the alert volume, one solution would be to just enable Silent Mode (the bell icon with the line through it), which is actually how I have my own Apple Watch as a default. That hasn't lowered the volume, it's set it to zero!
To adjust the volume instead, you'll need to get to Settings on the Apple Watch. No worries, push on the crown, find the gear icon on the resultant apps screen, and tap on it. Then swipe down to find this:
Lots and lots of settings! You want to tap on "Sounds & Haptics". Then, right at the top, volume!
Adjust it to your preference. Done. Prefer to make this setting in the Watch app on your phone? You can do that too…
ADJUST APPLE WATCH ALERT VOLUME IN THE WATCH APP
On your iPhone, launch the Watch app, go to "My Watch" (on the bottom toolbar), then swipe upwards until you see "Sounds & Haptics":
Uh oh, looks like I have a WatchOS update (the tiny '1' in a red circle adjacent to "General"). I'll get to that in a moment. For now, however, tap on "Sounds & Haptics".
There's that slider control. Easy. And much bigger if your fingers aren't quite so petite to easily manipulate the on-screen controls on the Watch itself. While you're here, notice that "headphone Safety" setting too. If you use Bluetooth audio gear paired to your Apple Watch I encourage you to check that setting out too.
That's it. Two different ways to adjust your alert volume on the Apple Watch, and a bonus explanation of Theater Mode!
Pro Tip: I have quite a few Apple Watch tutorials here on my site too. Please check out my Apple Watch Help for lots of useful content in this regard!