I just moved to Florida from Manchester and miss my British radio stations! Is there any way on an iPhone that I can listen to BBC radio or BBC World Service? I'd prefer not to install new applications, if possible.
Back in the early days, the "iTunes" app made it very clear that it was for your own music library, music you'd purchased and downloaded, audiobooks, and streaming radio stations. Then that split into multiple applications and we ended up with "Books" for audiobooks and a "Music" app that seems to endlessly promote the commercial Apple Music pay service. But Apple never did break out a separate "Radio" application or similar. Why? Because it turns out that there's still a streaming music service within the "Music" app.
Worldwide listenership for over-the-air radio, whether AM, FM, or MW, has been slowly declining, however, so there are fewer channels than there were twenty years ago. The Internet itself has sped up too, however, so it's easier to listen to uninterrupted audio streams from anywhere, whether hundreds or thousands of miles away. Including listening to top UK channels from Florida!
BROWSE STREAMING AM/FM/MW STATIONS IN MUSIC
For those of you who don't know, AM = "amplitude modulation", FM = "frequency modulation" and MW = "medium wave" and is essentially the same as FM. There's also a new over-the-air audio tech called "DAB" which offers higher quality audio, but that's a bit beyond the scope of this tutorial. For our purposes, streaming = streaming, so let's have a closer look!
To start, launch the "Music" app on your iPhone (or iPad):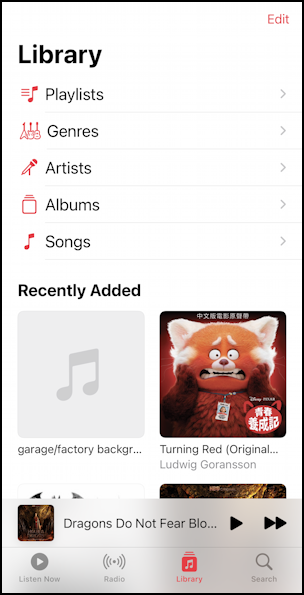 I have a large library of music on my own iPhone – and am busy listening to the House of the Dragon soundtrack (you can see it at the bottom with the track "Dragons Do Not Fear Blood". But below that is the toolbar and the second option on that bar is "Radio". Tap on it!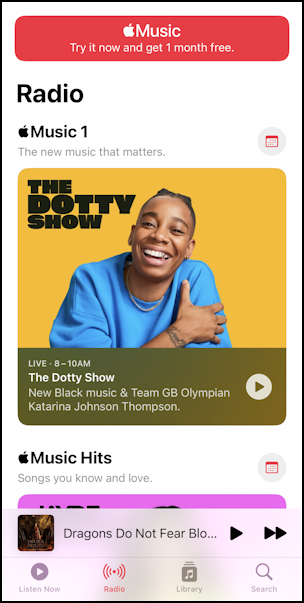 Look! You can subscribe Apple Music. Ummm… we want to listen to streaming radio stations, not pay for another streaming service. No worries, swipe up to move a bit further down on this screen and you'll find that there's a listing of available channels:
Notice in the lower "International Broadcasters" area that BBC Radio 1 is the first choice! That was easy, right?
Actually, there are lots and lots of choices, both locally and from international streaming sources. Local stations are going to be those from Florida and the surrounding area:
Look closely and you'll see that just about all of them are either from TuneIn or iHeartRadio; those are two of the largest radio conglomerates in the United States and own the majority of all broadcast stations. You can download either of the two apps if you really want to explore their music, but I find that there's a lot of homogeneity across their regional stations. You don't need to get either, however, because Music offers access to their catalogs too.
You can also explore International Broadcasters, but since you're interested in the Beeb (the British Broadcasting Corporation, BBC), let's check a different feature…
SEARCH FOR STREAMING CHANNELS IN MUSIC
Turns out that the "Music" app has an excellent search feature that can not just search for music in your library, but radio stations by keyword too! Tap on "Search" on the bottom, then look for "bbc radio":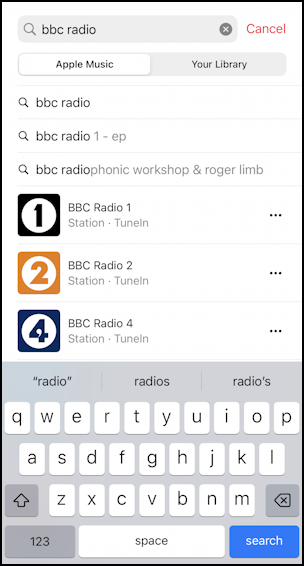 Turns out that the Beeb streams every single channel, including the "Extra" channels that you might not have even known about when you were living in 'ol Blighty! BBC also offers a live stream of BBC World Service too, which you can enjoy with a single tap: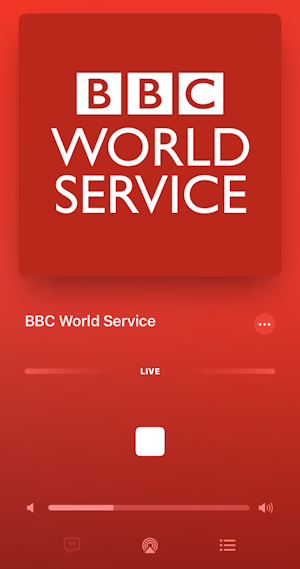 Plug the phone into your car – or pair it with Bluetooth – and you can continue to listen on the move too. Easy enough!
Pro Tip: I've been writing tutorials for the Apple iPhone since it was first released. Please check out my extensive iPhone help area for lots and lots of useful content.