I've switched to Google Chrome on my MacBook Air and it's great, but the text is often really small. What can I do to make Web page text bigger and easier for me to read?
I'm also a fan of Google Chrome and find that it works well on Mac and Windows systems, letting me keep multiple computers easily in sync. Have you noticed that if you're logged in to your Google account it keeps your bookmarks in sync from device to device? Or that you can see a list of open windows on other devices if you want to migrate a task from one system to another? Darn handy.
But while device screens are getting bigger, from phones to tablets to laptops to desktop monitors, somehow the default typeface sizes seem to be shrinking at the same time. One culprit: Higher resolution screens. Unless you compensate in the settings, the same size screen running at, say, 1920 x 1200 is going to have smaller text than the very same screen, same size, running at 1024 x 680. Web designers are also moving to smaller fonts too in many cases as they want to fit more and more on the screen without users having to scroll. If they can read it, that is!
Fortunately, Chrome makes it really easy to change your text size at any point, either changing the default sizes for text or simply zooming in when you're reading a page that has particularly small fonts in use. Let's look at both.
HOW TO CHANGE DEFAULT FONT SIZE IN GOOGLE CHROME
If you're using Google Chrome, you probably have all the default font sizes and typefaces chosen for your display. Many of the biggest Web sites override your choices, however, specifying a web-based font family for display at a specific size. The first step is always to tweak your default Chrome settings, however, and see if that improves things.
That's done by going to Chrome > Preferences… off the menu bar on a Mac (or the three vertical dots icon on the right and choosing Settings… from that menu instead if you're on a PC). You'll get this list of setting options:
Lots to tweak and explore – notably Privacy and security – but for our purposes, choose Appearance.
The first main box of appearance settings will include what you seek:
As you can see, the default Font size is "medium", which is reasonable. There's also Customize fonts, which we'll check out in a moment, and Page zoom, which you can use to change the default zoom on Web pages you visit (which makes the entire layout of the page bigger, including graphics, not just the text on the page).
There are a number of different font sizes you can try, all accessible from the pop-up menu:
Try choosing "Large" and see how the page changes its layout as all displayed text gets just a bit bigger. Looks good? You're done. But there's a bit more to check out here too…
One additional setting I recommend you modify is the smallest font size you want to be rendered on your device. That setting is accessible through the Customize fonts link. Click on that…

The first option – font size – only changes the default size of type on a page that isn't otherwise already specifying a font and typeface size (most do), but the minimum font size setting is more useful: move the slider along and pages with ridiculously tiny text will be forced to render in a larger size. A very useful setting if you like to read terms of service and user agreements, for sure!
ZOOMING IN ON SMALL WEB PAGE TEXT IN GOOGLE CHROME
The other thing you can do if you are finding that some pages look great while others are too small is to zoom in on those small pages with tiny text. You can do that on a per-site basis and Chrome will even remember next time you visit. I use this all the time to make things easier to read.
The easiest way is to use keyboard shortcuts. On the Mac version of Chrome, for example, Command = will zoom in one step, while Command – will zoom back out. Try it, and Chrome will show you a tiny window listing the current zoom level:

Notice the Reset button as a shortcut for going back to 100%, and that the tiny magnifying lens with the even tinier "+" is a shortcut for getting to the zoom setting (when it's visible, it's not always displayed).
NOTE: On a PC, the keyboard shortcuts are Ctrl = or Ctrl – to zoom in or out, respectively.
You can also access the zoom level from the main Chrome menu accessible from the three vertical dots icon on the top right. Click on that, the menu appears, and smack dab in the middle is zoom: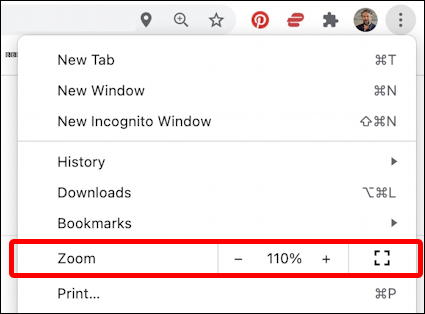 What's the mysterious four corners icon on the far right? It lets you jump Chrome to full screen if you want.
Between the zoom and default font size settings in Chrome, you should find that every page you visit is now going to be easier for you to read. Have fun and stay safe out there.
Pro Tip: I've been writing about the Mac since, well, the very beginning. Please check out my Chrome help, as well as my extensive Mac help library for hundreds of useful tutorials and how-to guides. Thanks!