Ever since I was laid off at my job, I'm spending a lot of time on LinkedIn looking for a new position. Which means I'm looking at my newsfeed a lot more closely. How can I get rid of the junk and add more good content to my LinkedIn feed?
Like many social networks, LinkedIn is only as good as you make it. Which means you do have to curate what people you follow, what businesses you follow, and even what hashtags you follow. A little bit of work goes a long way however, and even a few minutes could yield a much more helpful, useful and interesting feed on your LinkedIn account. Unlike many other sites (Facebook especially) LinkedIn also has a number of different ways that you can limit bad content and add more good content.
When you are looking for a job on LinkedIn that quest becomes your primary focus and things like the latest industry news might well take a back seat to your job hunt. Then again, industry news of companies getting funded, hiring or expanding into new markets might be critical to finding a new gig. With all that in mind, let's have a look at some of the ways you can fine-tune your LinkedIn newsfeed to give you the best possible results for your current focus and interests.
To start, when you see a post in your feed that's not of interest, whether it's a person, business, or group, you can mute it or even unfollow the source. For example, consider this post:
Bob and I are connected but maybe right now I don't care much about user experience research and would like to have Bob fade more into the background. To adjust his visibility on my feed, I can click on the "•••" link on the top right of this box to produce the following menu:
There are good choices – like being able to Save this post to read or share later – and there are options to hide the post (I do this if people use obscenities or have crude or unsettling photos or images) without affecting their frequency in my feed or to unfollow Bob. Let's say I unfollow Bob entirely by choosing that. He'll simply stop showing up in my feed; he's not notified and in fact would have no way I have decided to mute him.
There's also an entry in that menu "Improve my feed". It's not the best way to actually accomplish that task, but if you choose it you will get a list of some recommended pages. here's what I get (though how NMHC is relevant to my professional interests is a bit baffling to me):
I can add any of those to my feed with a click of the "Follow" button (though there's no indication of how frequently they post to LinkedIn so it might not have much effect at all or might be a huge contributor).
The better way to add great new content to a LinkedIn feed is to go through Settings & Privacy. I do that by clicking on my mini profile pic and choosing "Settings & Privacy":
Now choose "Account" from the top set of choices and there's a set of Site preferences associated with an LI account: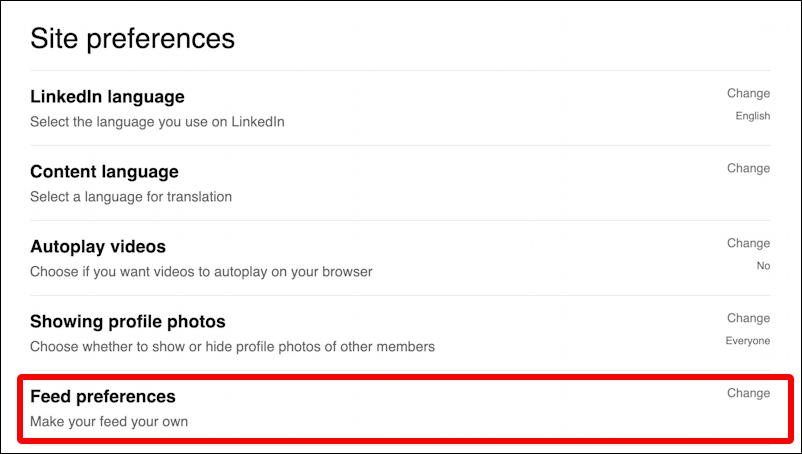 There are other areas worth exploration on this page, but I'm going to jump straight to "Feed preferences" because that's really the best place to really fine tune what's in your feed…
The first thing I'll see are a page of suggested "fresh perspectives" that are ostensibly in my areas of interest but people I am not connected with nor follow: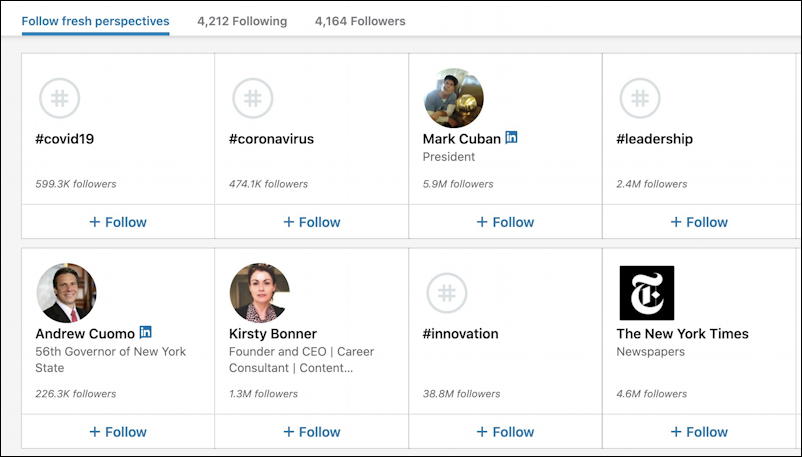 Notice that it's a combination of hashtags, people and businesses. I suggest you take a close look at these suggestions to see if any match your own interests or are related to your job search. It does bring up the question: do people with more followers post better content? Maybe, maybe not. But if the CEO of a company you're interested in pops up, well, that's an easy yes!
I can also fine tune who shows up on my feed out of the pool of people I'm following (essentially my connections, but the subset of those that I am still following given that I do occasionally hide someone from my feed). That's visible by clicking on the "4,212 Following" link along the top.
What I think is most interesting about this view is that it's sorted by their frequency of posting on LinkedIn. Notice Paul in the #1 slot: He shared 260 posts this week. That's over 37 posts each day. That would completely dominate my feed to the exclusion of seeing anyone or anything else. He's an example of someone I might want to unfollow to increase the variety and diversity of entries in my feed. And remember, as the page says "Unfollow to stop seeing their posts in your feed. Don't worry, they won't be notified."
I can also filter this view to see specific categories of who (or what) I'm following by clicking on the three horizontal lines with dots icon on the right:
I'll start with filtering by Companies: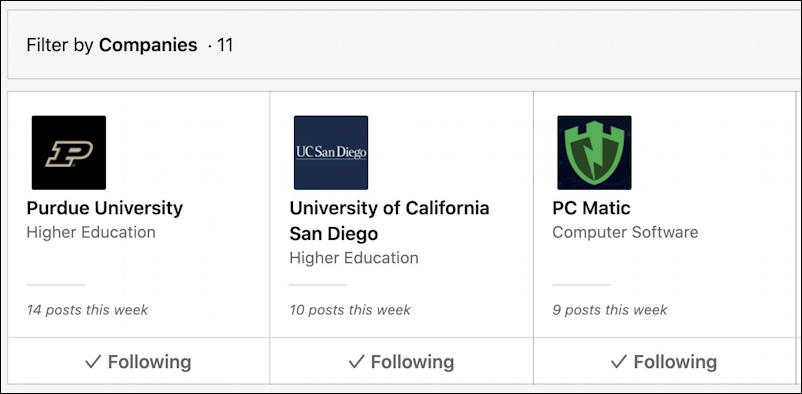 Apparently I only follow 11 companies (and two are institutions of higher ed), so that's one area where I might improve my feed by adding some additional companies, institutions and organizations to keep up on their news too. This is also where you can see companies that have a presence on LinkedIn but don't post any content. Hmm…
To finish up, I'm going to add a new organization to my feed. That's done by searching for the company name, institution, organization or similar in the LinkedIn search box. I'm teaching online at the University of Denver's University College, so that's a great institution for me to add to my feed, starting with a search: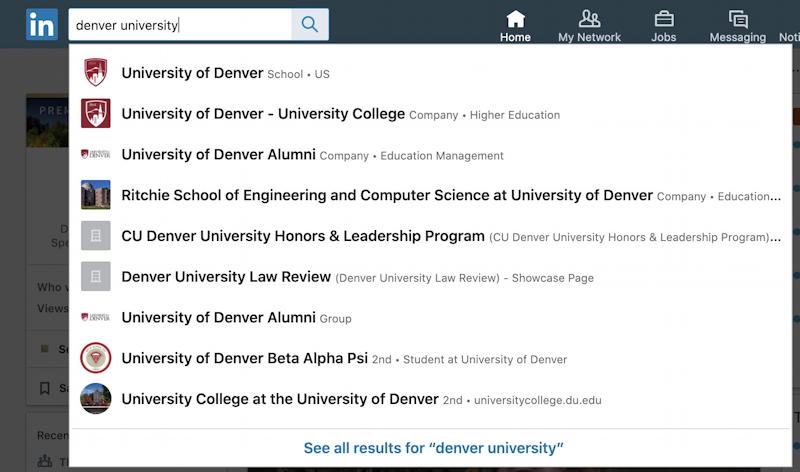 The institution I seek is match #2 so I click to choose it and get to the University College page on LI:
There are two things of interest on this top banner: First is obviously the "+ Follow" button – and I do click on it to add it to my feed and profile – but there's also the ability to 'See all 144 employees on LinkedIn" link. That's worth checking out and indeed is a smart way to learn about the people behind a company or institution and request connections to some key people. That's just a smart job search tactic because you can then reach out to them and ask about positions, status of hiring, etc.
Between all of these techniques shown, I think you are now well set up to fine tune your LinkedIn feed to maximize useful information and minimize dull, boring and off-topic content. Good luck on your job quest!
Pro Tip: I've been writing about LinkedIn since the very beginning of the site. Please do check out my extensive LinkedIn help area for lots more tutorials while you're here!